In Rolla, Missouri, A Slice of Pie is known for its generous helpings of pie and cheesecake. Owner Ryan Warnol says that the shop's pie is a tradition that locals and alumni of Missouri S&T want to pass down and share with their kids. The restaurant and dessert shop, which has been in operation since 1986, offers a place to enjoy hand-crafted desserts and to reminisce.
The restaurant blends tradition and progress: the pie case is a historical piece dating back to the 1800s, but the store continues to expand its menu and influence. After a fire occurred at the original building in May 2018, A Slice of Pie moved its operations across town, where the baking and dining now take place under one roof. Even though the storefront looks a bit different, "the lady who has been making the crust for 25 years is still doing it the exact same way," Warnol says.
Recently, A Slice of Pie has been able to offer frozen pies in grocery stores across Missouri and even Arkansas. Customers from all over the U.S. can order a pie or cheesecake and have it shipped to their front door. Warnol dreams of expanding the business into more stores and mobile units.
Warnol's great-grandparents owned a bakery in Dixon, and he has carried the family tradition onward. He says "I remember my first slice from A Slice of Pie in 1987 – I was hooked. I would go up there in high school and get two slices and coffee and debate eating a third slice. One of my greatest joys is the fact that it is still a family-owned business." Warnol says that he and his wife, Katherine, bought the shop because they were customers first.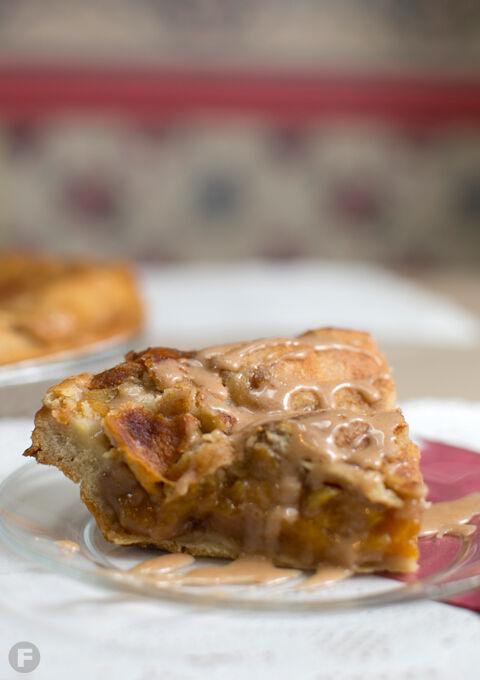 Warnol says the Slice of Pie team prides itself on "large slices, quality products and building and keeping relationships." Year after year, the best-selling pie is the coconut cream pie (a slice is $6.95; a whole pie sells for $31.95) that's topped with a thick and rich housemade cream. Another classic is the apple pie, drizzled with a special cinnamon sauce (a slice is $6.95; a whole pie is $29.95). The buttermilk Southern-style pie is another customer favorite, and the shop also offers cheesecake and carrot cake. Pie of the month flavors range from Bailey's Irish Cream cheesecake to mint-chocolate chip.
Hungry groups often stop by the restaurant after traveling down I-44, so Warnol added something hearty to the menu: the Reuben sandwich and Turkey Club. "That Turkey Club is one of the hottest things we've got," he says. Pot pies are also available for lunch, along with quiche, salads and soups.
But A Slice of Pie isn't just for locals. Warnol tells a story about two retired teachers who traveled all the way from Washington state just for a slice of pie. They told Warnol they had the stop planned for a year. Another customer from France asked Warnol, "Are you bringing this to Paris?"
"It's a family," he says. "This is just a family, and it's quite a privilege to get to be the head of that family and make sure that everybody's pie fix is satisfied."
A Slice of Pie is open for dine-in service and carryout daily from 10am to 8pm. 
A Slice of Pie, 634 S. Bishop Ave., Rolla, Missouri, 573.364.6203, asliceofpie.com