Ten years ago, Dolores Coble opened the doors to Mama Loca's Cafe & Cantina in Ash Grove, Missouri, a tiny town outside of Springfield with a population of just about 1,500. Customers drive, bike and walk to Mama Loca's to enjoy an inventive blend of traditional Mexican fare, pizzas and burgers in a friendly, warm atmosphere.
"It can be challenging to operate outside of a metro area," says Coble, "but it's neat to look at our guest books and see that we've had guests visit from six different continents and 27 different countries." Guests often visit after traveling on Route 66 or the TransAmerica Bike Route, which runs from Virginia all the way to Oregon. In fact, some bicyclists have blogged that this is "one of the best places to stop on the whole route," Coble says.   
Menu favorites include traditional Mexican carne asada tacos and fajitas. Ash Grove locals recommend the queso-smothered burrito, and Coble's favorite dish is the Sonoran-style cheese enchiladas.
While Coble designs new dishes, her husband, Marc Schwenn, has steadily been growing the café's beer selection. "We try to promote Missouri beer and German beer," Schwenn says. Mama Loca's has the distinction of being the first location in southwest Missouri to carry KC Bier Co., a German-inspired brewery located in Kansas City.
Schwenn also crafts Margaritas, Mojitos (garnished with fresh mint from the café's garden) and other made-to-order drinks behind the bar. Instead of using pre-made mixes, each drink is mixed to suit the customer's taste.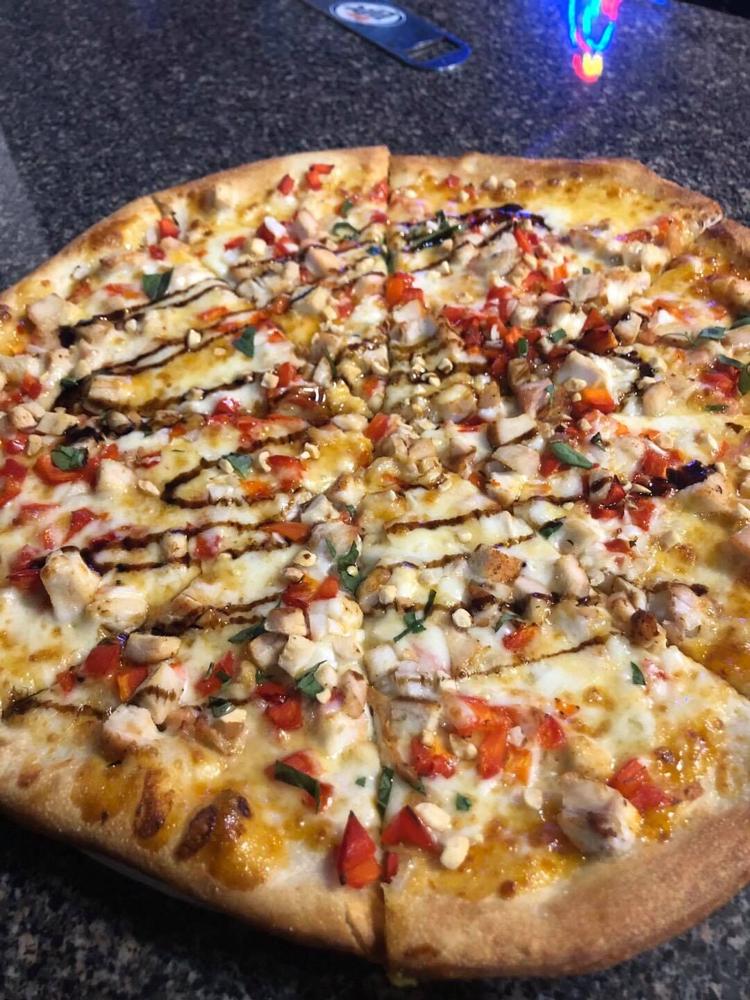 Mama Loca's menu also includes a hand-tossed cheesy bacon pizza topped with goat cheese, a pesto pizza and a taco pizza. Pizzas can be made on a cauliflower crust without an extra charge. "We really try to help people who have food allergies and not make them feel ostracized," says Coble. 
Housed in a tall, 1890s-era brick building, the restaurant is filled with Coble's collection of matador paintings. "It has its own energy," she says. Schwenn adds that "it's a completely unique experience that you won't find elsewhere and you won't forget."
Coble is a second-generation restaurant owner, and after managing her mother's Mexican restaurant in Cabool, Missouri, she decided to open her own restaurant – but not before life threw a wrench in her plans. In 2006, Coble suffered a traumatic head injury, and doctors told her that her future would be limited. "The restaurant became a purpose for me to rehabilitate and to have a reason to get up and go every day," she says.
For Coble and Schwenn, the restaurant is more than a place to serve excellent fajitas and fresh Margaritas. It's a place to build real, lasting connections. "So many people we've met have made an impact on us," Coble says. 
"At Mama Loca's Cafe, we all fit in," she adds. "When people come in, they feel love, and they walk out full. The restaurant brought me back to life – it's where I learned to live again." 
Mama Loca's Cafe & Cantina is open Wednesday through Sunday from 4 to 8pm.
Mama Loca's Cafe & Cantina, 111 W. Main St., Ash Grove, Missouri, 417.672.2200, facebook.com/pages/category/Mexican-Restaurant/Mama-Locas-Cafe-Cantina-185030508190611/