If you've had a taste of pho, tagine or doner kebab in the Midwest, you can thank an immigrant. American food culture has long been enriched and broadened in delicious ways by immigrants who have made this country their home. In this series, A Taste of Home, you'll meet the chefs and entrepreneurs who are bringing a taste of their cultures and backgrounds to our communities – and making them all the better for it.
Noel, Missouri, looks like most idyllic Ozarks getaways – a beautiful river, American flags on every lamp post, nostalgic turn-of-the-century storefronts. But the tiny town of less than 2,000 people is also home to a booming immigrant population. In addition to the Harps supermarket, there's also a Mercado, an African grocery and a mosque. One of downtown's newest additions is the Oriental Fusion food truck, owned and operated by the Hers, a local Hmong family.
Like many Hmong in Missouri, Mao and Kao Her arrived in pursuit of the poultry house rush during the mid-2000s. They settled on a scenic hilltop just outside of Noel where they raised chickens and their five children. In the summers, they tended a massive vegetable garden and sold produce at area farmers' markets. It was no cakewalk, but farm life was an American dream-come-true for the Hers, who fled Laos during the Vietnam War and spent years in refugee camps before arriving in the United States in 1980.
As time passed, gardening became increasingly more difficult on Mao. Last year, the family decided that instead of selling Asian produce, they'd try selling Asian cuisine, and that's how their food truck came to Main Street. I sat down with Mao and her son Tommy, who helped translate, to learn more about their story, eat eggrolls and snack on their General Tso chicken.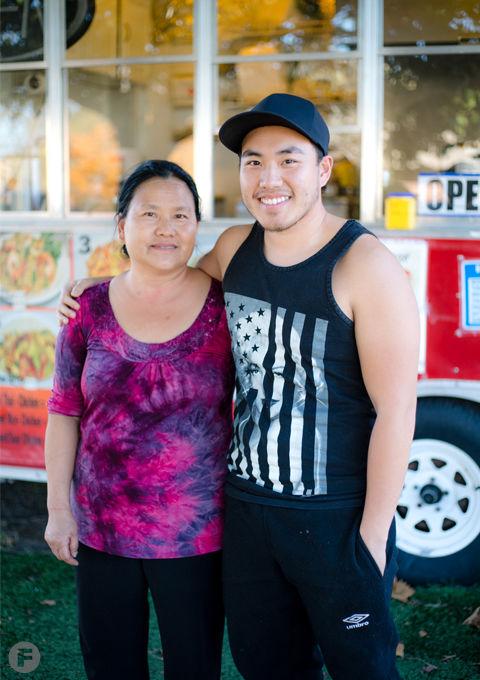 Why did you decide to open Oriental Fusion? When we did farmers' markets, we'd have to drive 20 or 30 miles every time we went to the market. With all the work that we already had to do on top of waking up at 4am, it was just tiring. My mom is getting older and the garden work was too much of a load on her. The restaurant is a little lighter. We open from 11am to 6pm, so it's only roughly seven hours a day.
The thing that my mom likes most about it is that there's not too much travelling. It's a food truck, but we have it stationed in one area. It's just a lot more freeing for our family.
Tell me about your food. It's unique in the way that it uses different options in everything from Chinese to Thai cuisine. There's things like cashew stir fry, pad Thai, chow mein and fried rice, but we cook it with Hmong techniques. And then we even have our own culture's eggrolls in there, too.
What are some of your favorite dishes to make? My mom loves cooking the sweet and sour chicken and the General Tso chicken, just because they're easy and not so time-consuming to cook. But my mom's eggrolls are the best. I can't even eat other people's eggrolls. They're special because they come from our culture and you don't see these often since the Hmong community here is so small.
The biggest difference is the quality. If you go eat Chinese restaurant egg rolls, they usually only have a few ingredients like carrots and cabbage. Our eggrolls have a lot of ingredients like meat, noodles, carrots, onions, more veggies and the sauce. They're more filling and have more variety in taste and are just overall better. The process of actually making them can take up to one whole day just for one batch, which is about 300 eggrolls. When we first opened up, we sold out every day because everybody was so excited about the new food truck in town.
What does it mean to you to cook and share your food with diners? It makes us happy to share it with the community because it brings smiles to people's faces. They enjoy it and come back for more.
What have been some meaningful moments and experiences you've shared with diners and people in the community? There have been a lot of people who have never tried any of the food that we have, so when they come they're unsure if they even want to buy. But when they do try our food, then they keep coming back. We've made many friends like that.
There was a veteran from the Vietnam War who came and bought our eggrolls. He said it brought back good memories from that time even though it was so long ago, and it just made him so happy. He came back later and bought more. We don't know if he lives here or was just traveling, but it was a really good experience.
Have you experienced any challenges along the way? Before we had the food truck, we sold at farmers' markets. We've basically been vendors for 12 years now. There's usually no problems with the public when it comes to people who approach us themselves, but there are problems with the ones who don't approach us. Like, people will be driving by and then they just yell racist things at us. That's happened at the food truck quite a few times, actually.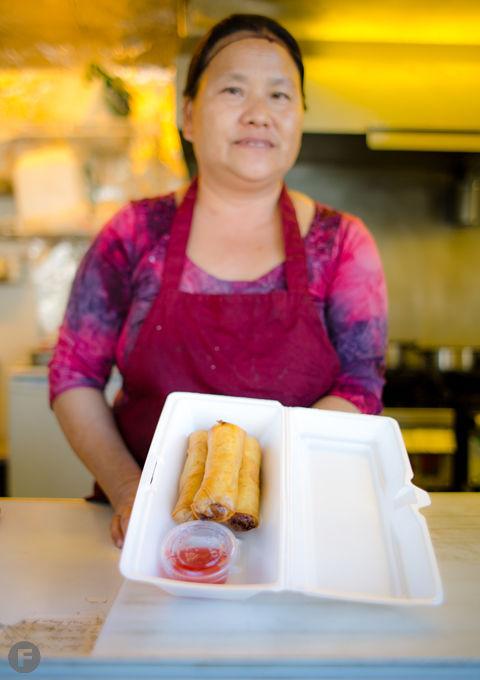 What was the process of coming to this country like for you? We had no idea what to expect before moving to the U.S. It was very hard before we came here. We were really poor so it was hard to get by. There was a war going on in Laos at the time. But it was really good coming to America. We actually had things like food and diapers. I'm happy to be an American, but sometimes I think because we're a different race, people treat us differently. But I'm still happy here.
Why did you come to Noel and what do you love most about living here? There were rumors that we would make a lot of money in Missouri, but that was not true. To be able to have a family and just pay off the bills, that's good enough for us. We don't make a lot of money off of [the chicken] houses, but we make enough to live comfortably – pay the bills, buy propane, just be happy. The town isn't like Laos, but the hills and the mountains and the trees remind me of Laos, and I like that.
What does it mean to you to live in the United States? It's great. I love it. I don't miss Laos or Thailand because of the poverty and the wars. This is my home now and I don't want to go back. America is home.
Are the dishes you serve inspired by family recipes? Some of them were inspired by our family and our culture, like the eggrolls, but most of them are the fusion recipes that my mom made herself. And everything in the restaurant is homemade.
Most people are not accustomed to our traditional foods so there's not much profit in them. We've tried different recipes before like kapoon, a very delicious dish that's kind of like a red curry. It's a savory, coconut-based soup with chicken and bamboo, really creamy and very filling, but I guess because people don't know what it is, they won't buy it or even try it, so we got rid of it.
When we first opened, we didn't have most of the stuff that people were asking for – things like orange chicken and General Tso chicken – and so we changed some of our menu just so we could pull in more customers. But at the same time, we didn't just grab random recipes off the Internet and take cheap shortcuts just to satisfy demand. My mom actually spent time figuring things out, and she did it all on her own, tasting and making and re-making different recipes.
What do you eat when you're at home? We eat some of this same stuff at home, but the majority of the time our family eats a little bit more healthy. The meat in the food truck is mostly fried or stir-fried, and we eat lots of chicken stock soups with boiled chicken and boiled pork and even beef – just less fatty foods with lots more veggies.
What are three staples that you always keep in your kitchen? Fresh green and white onions, fresh garlic and fresh ginger.
Your General Tso chicken is out of this world. The meat is tender and the crust is super crisp and thin, but still stands up to the sauce. What's your secret? I'm sorry, but I can't tell! I don't want to give away my secret.
Oriental Fusion, 102 Main St., Noel, Missouri, 417.669.2464, facebook.com/Oriental-Fusion-1674032356206488/