In Poplar Bluff, Missouri, residents and visitors alike bypass the line of fast-food chains and head to Bread + Butter for breakfast, lunch and dinner. Whether you're in the mood for a homestyle classic, a meal with more international influence or simply a coffee and dessert, the rustic-chic eatery promises to satisfy your craving.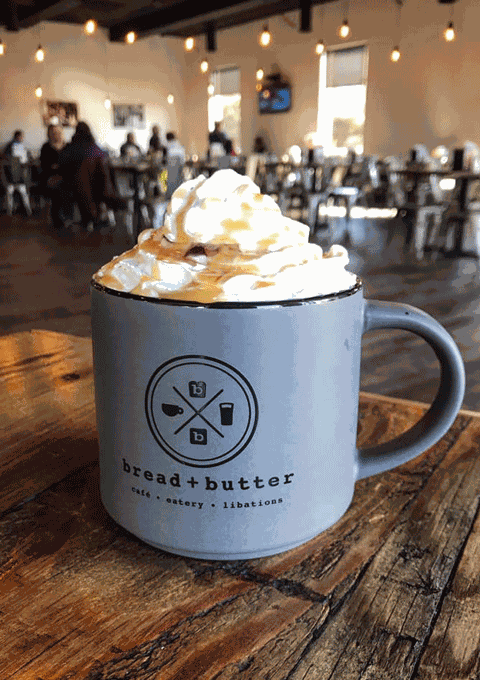 Sop up the chicken and dumplings soup with a hot roll, or for something lighter, try the Berry Nut Fruit Salad with pineapple, grapes, honeydew, cantaloupe, Craisins, almonds, candied pecans and poppy seed dressing. The Pork Pork Chick – pulled pork, bacon, an over-easy egg, barbecue sauce and mayonnaise on sourdough – is another standout, but all the sandwiches and wraps are loaded with goodness.
Diners find it hard to leave Bread + Butter without also indulging in one of its from-scratch desserts. Options range from a slice of carrot or chocolate-peanut butter cake to chocolate chip cookies to the Mile High Brownies (one giant scoop of vanilla ice cream sandwiched between freshly baked chocolate brownies and topped with whipped cream, a drizzle of chocolate sauce and a cherry) – good luck choosing just one.
For owners Erin and Matt Dodd, the restaurant is indeed their family's bread and butter. Almost five years ago, the husband-and-wife team moved back to Matt's hometown to begin their culinary adventure. Besides developing a real knack for crafting hearty meals and decadent desserts, they've also found joy in serving the southeast Missouri community.
If you can't stop by for a bite, Bread + Butter also caters events, big and small.
Bread + Butter, 2586 N. Westwood Blvd., Poplar Bluff, Missouri, 573.785.8500, breadbutterpb.com