Blueberry picking is a summer tradition in the Ozarks.
At Persimmon Hill Farm in Lampe, Missouri, the fields are studded with plump blueberries. The U-pick operation tucked in the Ozark hills opened for the 2019 picking season on Wed., June 5.
"The blueberries are loaded," says Martha Bohner, who owns the farm with her husband, Earnie. "They look great. The blueberries and blackberries look wonderful." 
The couple started the business in 1982 and have eight acres of blueberries and half an acre of blackberries, as well as other acreage. The Bohners plant 13 varieties of blueberries, which continue to ripen through July. The blackberries ripen seven to 14 days after the blueberries, and this year it's a bumper blackberry crop.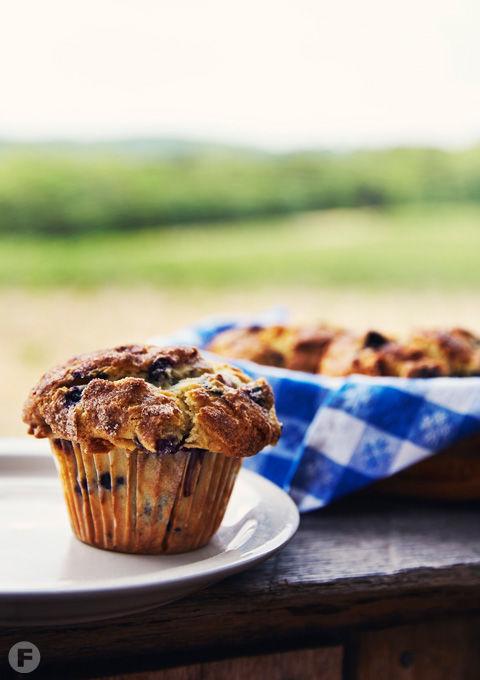 "They are just loaded, loaded, loaded," Bohner says. "There is no way you can pick all the blackberries in that half acre. The blackberries are thorn-less, which is always a plus."
Both berries are available at $3.75 a pound for U-pick or $4.90 for already picked berries, which are sourced from nearby farmers. Later in the season, typically around July, the Bohners bring in fresh blueberries from Michigan farmers.
The farm features 75 acres of blackberries, elderberries, shiitake mushrooms and, of course, blueberries. 
While blueberries are the main attraction, the farm also grows a limited number of gooseberries. "The frost gets them a lot because they are an early bloomer," Bohner says. "We have some very dedicated people who come every year; they can't wait, and they pick them clean." 
Families flock from all over to pluck berries and then amble to the farm's restaurant for refreshments. In particular, Persimmon Hill's café is famous for its colossal Thunder Muffins, a moist cake-like blueberry muffin packed with fresh blueberries and sprinkled with cinnamon sugar. During the summer, Bohner says they sell around 1,200 muffins a day. A few years ago, they introduced a blueberry cinnamon roll that has gained its own following.
Thirsty pickers can gulp down a Blueberry Sleet, which is a frozen blueberry lemonade, a refreshing recipe invented by the Bohners, or sip on a blueberry milkshake. The quaint restaurant features multicolored hardwood floors and panoramic views of the field, and the walls are stocked with berry jams, syrups and sauces. Customers who prefer to take their spoils outside can eat at a picnic table under the shade or a tree.
Bohner believes it's the overall farm experience that keeps people coming back to Persimmon Hill.
"You can come out here; it doesn't cost anything to visit, the family can pick blueberries and have a blueberry muffin, cinnamon roll, milkshake," she says. "You have a total farm-to-table experience right here. It's a great family experience."
During berry season, Persimmon Hill Farm is open Tuesday through Saturday from 7am to 7pm.
Persimmon Hill Farm, 367 Persimmon Hill Lane, Lampe, Missouri, persimmonhill.com