Eating at Boondocks Kitchen in Phillipsburg, Missouri, is a picnic. With a laidback atmosphere, ample space to linger and enjoy nature and creative pizza combinations, the restaurant has captured the tone of a leisurely weekend. Boondocks is known for its award-winning outdoor dining space that turns a meal into an experience with firepits, cornhole boards and twinkling lights. The outdoor patio features a small stage where different musicians perform live music on the weekends, providing a soundtrack for guests.
Owner Brian Hash says that "Boondocks exists to provide delicious food to folks in a relaxed atmosphere" and to serve up what he describes as a "better-than-homemade experience." Regular customers say that it's not just the pizza that keeps them coming back; it's the warm welcome.
While the menu offers a wide variety of different items, the restaurant's specialty is house-smoked meats and made-from-scratch pizza. The pizza is cooked in a stone oven, and unique pizzas are always being added to the menu to keep things fresh. Across the patio, guests can purchase a beer from sister business Boat Town Brewing to pair with their choice of pizza or barbecue.
On Fridays and Saturdays, food trucks can be found on premise to pair delicious food with Boat Town's beers.
Popular pizzas include The Rob, which is topped with the barbecued meat of your choice on a barbecue sauce base, and The Buffalo Girl, Boondocks' take on Buffalo chicken. True to its name, The Trashcan, another crowd-pleaser, is topped with "everything we have in the kitchen," says Hash.
Hash calls manager and chef Carl Jackson, who adds new pizza creations to the menu each month, an artist. "He's incredibly creative," says Hash. "He's always coming up with something new. I get to be his guinea pig and taste tester, which I enjoy a great deal."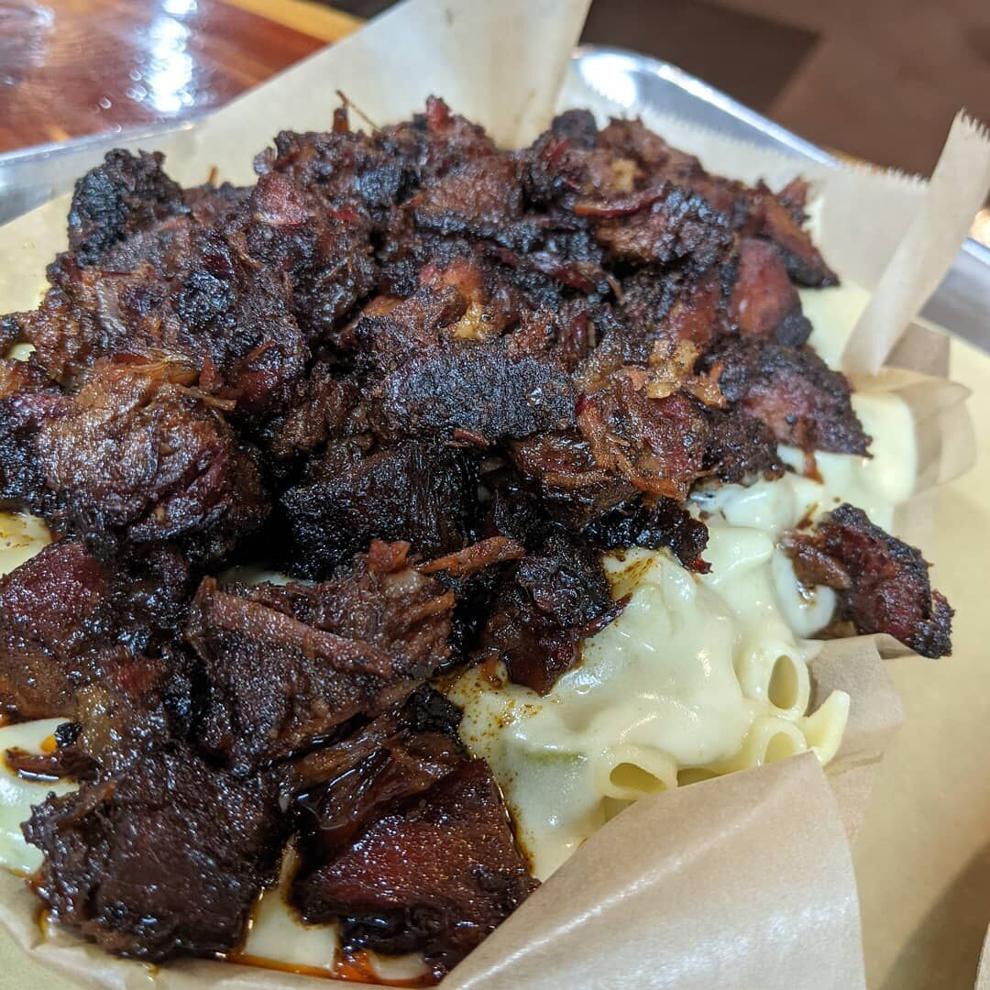 Guests who aren't in the mood for pizza might opt for burnt ends mac 'n' cheese or house-smoked chicken wings or pulled pork. Boondocks also branches out from pizza to what Hash refers to as pub grub: fish and chips, pork tenderloin, steak, burgers, loaded nachos and all the sides – crispy fries, onion rings and sweet potato fries.
"I would describe it as a family-friendly place," says Hash. "We get customers from all over the state, and we love to feed a big group of family and friends. We get to meet so many incredible people."
Boondocks Kitchen is open Thursday through Saturday from 5 to 9pm and Sunday from noon to 3pm.
Boondocks Kitchen, 18146 Campground Road, Phillipsburg, Missouri, 417.664.5386, boattownbrewing.com/boondocks-kitchen