The True/False Film Festival, Columbia's much-loved, ever-growing documentary fest, is a whirlwind of activity from Thursday afternoon to the wee hours of Monday morning. Films, parties, music, activities – there's often so much going on that food takes a backseat. But just because you're on the move doesn't mean you have to settle for PowerBars and bottled water. Downtown Columbia is full of interesting bites – here's how to find them.
Food on the Move
Trying to see six films in 12 hours is a daunting task leaving little time for lunch, but these places will have you in and out in a hurry. If you really need to grab and go, try a slice from Pizza Tree, the avant-garde pizza artist of downtown. Pies such as the Banh Mi, Truffled Crimini and Charredachoke Island are in regular rotation and they will be flinging out by-the-slice versions of their creations from 11am to 2am (10pm on Sunday). Several downtown restaurants plan to offer special menus catering to those in a hurry. Sycamore will offer boxed sandwich lunches to go and will also have a select number of their locally-sourced menu items that can be prepared quickly. Sycamore will also open 11am to 2pm for lunch on Sunday to accommodate festival attendees. Glenn's Cafe, adjacent to the Tiger Hotel, will offer a special 15-minute guaranteed menu with many of their regular specialties along with a few extras, including vegetarian and vegan options. Local grocer Root Cellar, known for its fresh local produce and Missouri-made products, is creating a pop-up deli for the weekend. Stop by for eat-in or take-out wraps, salads and "hand pies" – flavorful fillings baked inside a buttery housemade pie crust. The pop-up location will also feature Missouri wines and beers.
Pizza Tree, 909 Cherry St., Columbia, Missouri, 573.874.9925, pizzatreepizza.com
Sycamore, 800 E. Broadway, Columbia, Missouri, 573.874.8090, sycamorerestaurant.com
Glenn's Cafe, 29 S. 8th St., Columbia, Missouri, 573.447.7100, glennscafe.com
The Root Cellar, 1023 E. Walnut St., Columbia, Missouri, 573.443.5055, rootcellarmo.com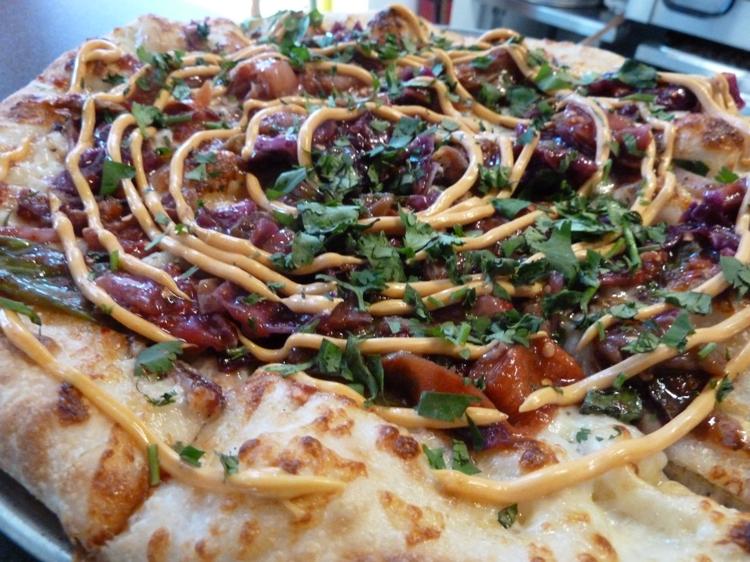 Dietary Considerations
Nearly all of Columbia's downtown restaurants have vegetarian options on their regular menus. International cuisine is always a good bet for vegetarian dishes: think tofu Pad Thai at Bangkok Gardens, falafel and hummus from Coffee Zone, or the lunch buffet at India's House. For the widest selection, try Main Squeeze, Columbia's only vegetarian kitchen and organic juice bar, which is open for breakfast, lunch and dinner. Dietary restrictions are always in mind at the newly opened Range Free, an allergen-free bakery and cafe. The bakery will have an entree special along with True/False logo sugar cookies during the fest and will also extend its regular hours until 9pm on Friday.
Bangkok Gardens 811 Cherry St., Columbia, Missouri, 573.874.3284, bangkokgardens.com (closed Sunday)
Coffee Zone, 11 N. 9th St., Columbia, Missouri, 573.449.8215, columbiacoffeezone.mobi
India's House, 1101 E. Broadway, Columbia, Missouri, 573.817.2009, facebook.com/indiashousefinedinning
Main Squeeze, 28 S. 9th St., Downtown, Columbia, Missouri, 573.817.5616, main-squeeze.com
Range Free, 110 Orr Street, Ste. 101, Columbia, Missouri, 573.777.9980, range-free.com (closed Sunday)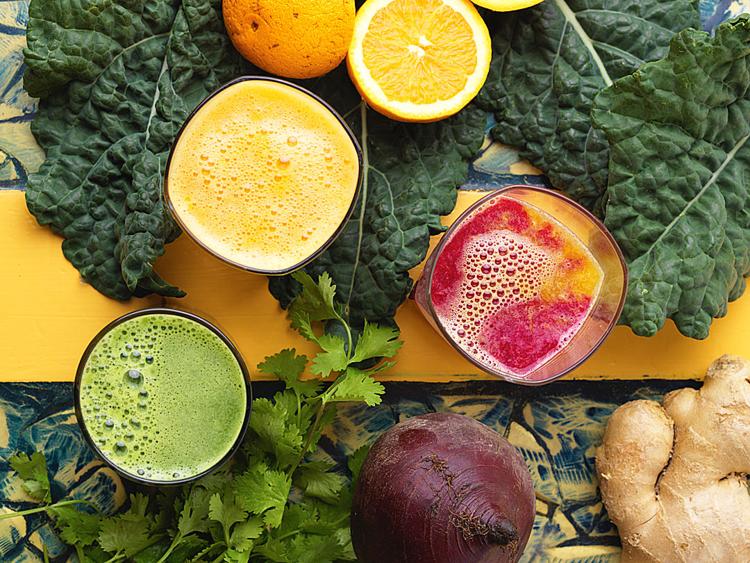 Morning Fuel
Reveled a bit too much the night before? No worries! There are plenty of places to grab that first hit of joe and a bite to eat. Harold's Doughnuts will be baking up their creations from morning to late night with a variety of options and True/False-inspired specials. Kaldi's Coffee offers a variety of breakfast sandwiches, burritos and quiche to start the day, along with a wide selection of handcrafted coffee drinks and Firepot teas. Cafe Berlin, which will host some of the fest's evening music shows, will be serving up its made-from-scratch weekend brunch menu Friday through Monday from 8am to 2pm. Sharing space with film venue Ragtag Cinema, Uprise Bakery is at the heart of the festival and will always be busy. Don't let the line discourage you from trying the cafe's hearty and delicious breakfast (and lunch!) offerings, including fresh-baked pastries and breads.
Harold's Doughnuts, 114 S. 9th St., Columbia, Missouri, 573.397.6322, haroldsdoughnuts.com
Kaldi's Coffee, 29 S. 9th St., Columbia, Missouri, 573.874.2566, kaldiscoffee.com/pages/location-columbia
Cafe Berlin, 220 N. 10th St., Columbia, Missouri, 573.441.0400, cafeberlincomo.com
Uprise Bakery, 10 Hitt St., Columbia, Missouri, 573.256.2265, uprisebakery.com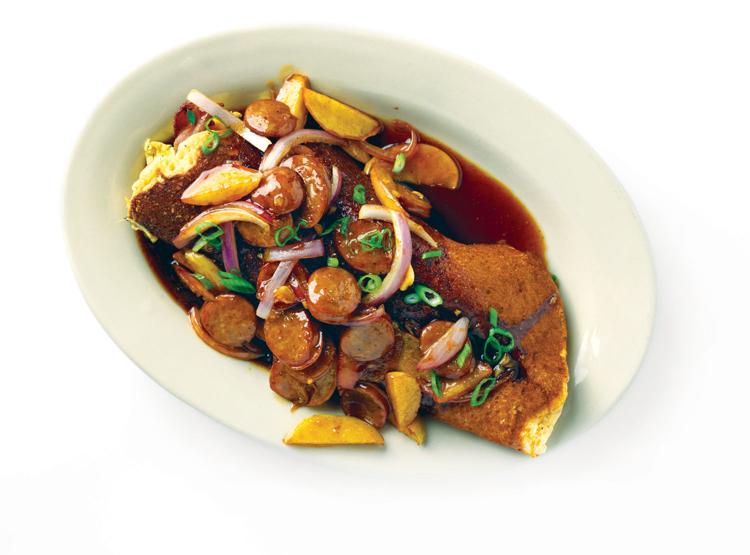 A Change of Pace
When the pace of schedule and press of crowds feels overwhelming, it may be time to take a longer break to recharge. Walking just a few blocks from the main festival happenings can provide a calmer meal experience when you need to take a pause. In addition to a local and organic seasonal dinner menu, The Wine Cellar & Bistro offers happy hour seven days a week with half-priced wines, local beer and menu items. From 9 to 10pm, slip in for sweet hour: half-priced desserts, dessert drinks and dessert wines. Coley's American Bistro offers a weekday happy hour from 4 to 6pm, as well as $3 Bloody Marys and mimosas on Saturdays from 11am to noon. The restaurant will be serving its full menu throughout the weekend. For a great burger and a few games of pool, head west to Billiards on Broadway. Just a few blocks north of Broadway, you'll find The Wolf's Head Tavern, delivering a creative take on both Irish and pub food. The new pub is certain to have some True/False specials on its rotating menu.
The Wine Cellar & Bistro, 505 Cherry St., Columbia, Missouri, 573.442.7281, winecellarbistro.com
Coley's American Bistro, 15 S. 6th St., Columbia, Missouri, 573.442.8887, coleysamericanbistro.com
Billiards on Broadway, 514 E. Broadway, Columbia, Missouri, 573.449.0116, billiardsonbroadway.com
The Wolf's Head Tavern, 201 N. 10th St., Columbia, Missouri, 573.777.8654, thewolfshead.com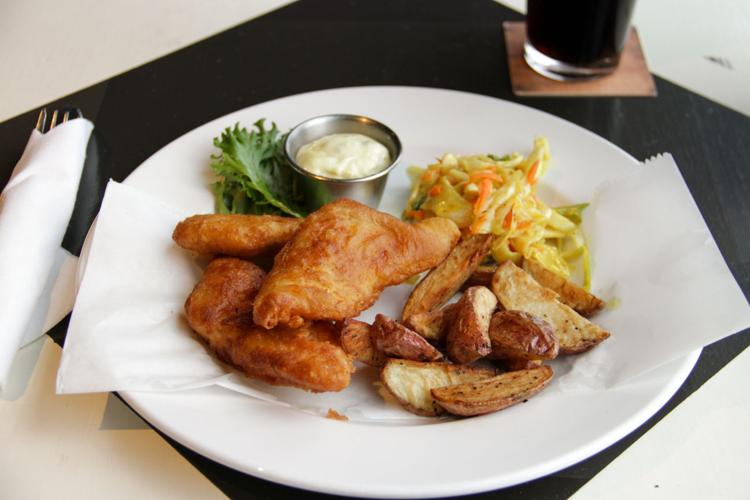 Stay Up Late
Just because the films are over for the day doesn't mean you have to call it a night. Addison's will be running its popular late-night happy hour, which always includes $5 nachos, $3 wines and $2 off all draft beers, from 10pm to midnight. Seoul Taco, with its Asian-fusion fast-casual menu, keeps the kitchen open until 2am Thursday through Saturday. Just down the street, mainstay El Rancho continues to satisfy late-night customers with its authentic Mexican menu. And keep an eye out for local food trucks setting up shop around town. Ozark Mountain Biscuit Co. will have various locations throughout the weekend. Thursday and Friday night from 9pm to 1:30am, you'll find them outside Cafe Berlin, which converts from kitchen to concert venue during the evenings.
Addison's, 709 Cherry St., Columbia, Missouri, 573.256.1995, addisonsgrill.com
Seoul Taco, 1020 E. Broadway, Columbia, Missouri, 573.441.8226, seoultaco.com
El Rancho, 1014 E. Broadway, Columbia, Missouri, 573.875.2121, facebook.com/elranchocomo
Ozark Mountain Biscuit Co., various locations, Columbia, Missouri, 573.999.9323, ozarkmountainbiscuits.com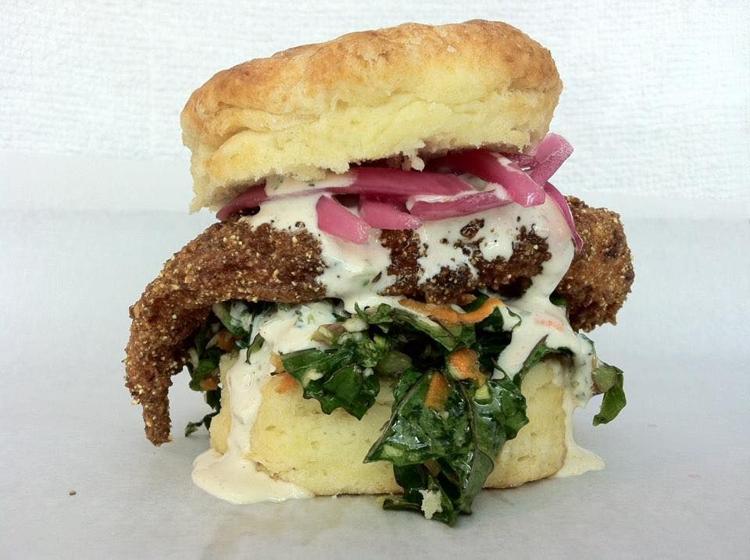 Classic Columbia
If it's your first – or tenth – time in Columbia, perhaps you want to hit up one of this college town's iconic eateries. Downtown legend Shakespeare's Pizza is still open, but in a temporary location this year. The restaurant is still serving up its famous pizzas, handing out much-loved souvenir cups and wiping everything down with pink dishtowel napkins. Booches Billiard Hall grills up unique burgers served on wax paper with a side of chips in its no-frills location on 9th Street. It's a popular place, often busy, but seating turns over fast – just don't forget to bring cash. If you're in the mood for some early morning or late night classic diner food, head over to the Broadway Diner and order the infamous Stretch: hash-brown potatoes topped with scrambled eggs, chili, green peppers, onions and Cheddar cheese. You won't leave hungry.
Shakespeare's Pizza, 220 S. 8th St., Columbia, Missouri, 573.449.2454, shakespeares.com
Booches Billiard Hall, 110 S. 9th St., Downtown, Columbia, Missouri, 573.874.9519 (closed Sunday)
Broadway Diner, 22 S. 4th St., Downtown, Columbia, Missouri; 573.875.1173, facebook.com/BroadwayDiner.Como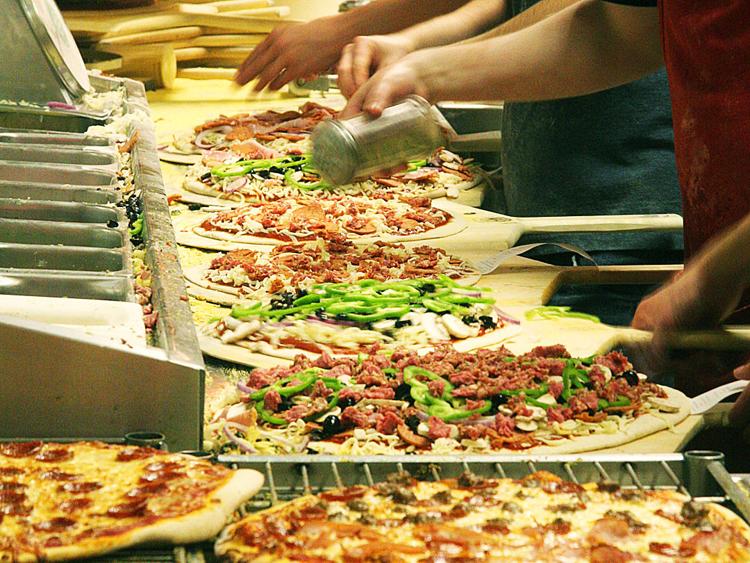 During True/False, be sure to check out #TFeats on Twitter for live reports, recommendations and food truck updates during the fest!