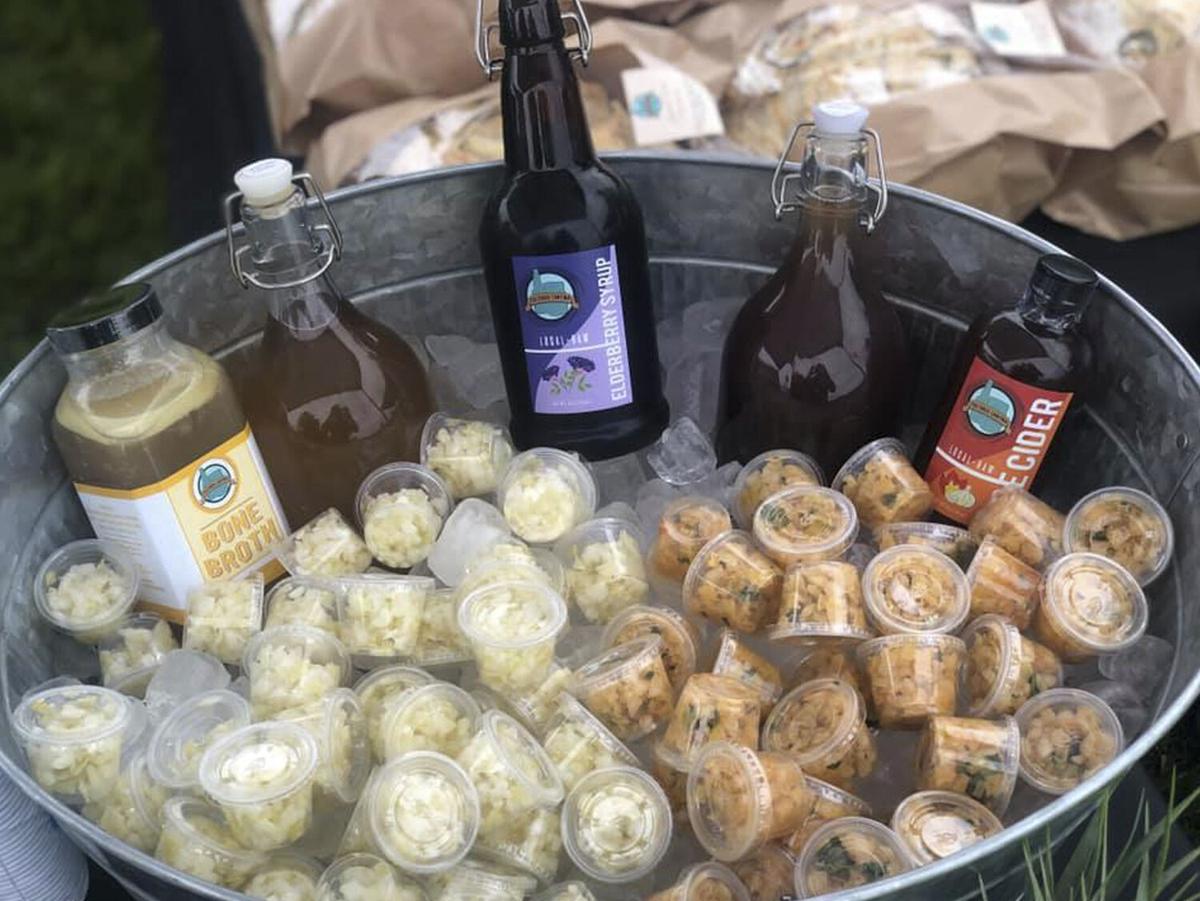 The Cultured Cantina is a one-stop shop for fermented foods in Jefferson City, Missouri.
Owner Rebecca Wilson offers kombucha, sauerkraut and a variety of sourdough loaves at the Lincoln University Farmers Market on Saturdays, and she does doorstep deliveries on all the other days of the week. You also have the option to order non-fermented yet equally healthy items such as bone broth and elderberry syrup from her small business.
Kombucha is a recent addition to the lineup. Available in 12-ounce bottles or gallon jugs, flavors include cherry-vanilla, cranberry-ginger, lavender-lemon, Mojito-peppermint-lime, pineapple and root beer made with sassafras. Although the sauerkraut only comes in two flavors (traditional and salsa seasoned with cilantro), it's also a bestseller.
"A lot of people who don't like classic sauerkraut will eat the salsa flavor," says Wilson. "We eat it with chips and put it on top of a lot of different dishes – omelets, burgers, tacos and more."
The bone broth at The Cultured Cantina is made from local, grass-fed beef bones. "It's very high in collagen and amino acids," says Wilson. "As a family, we often use it as a meal replacement; it has tons of nutrients and keeps you full."
Wilson makes the elderberry syrup with organic freeze-dried elderberries because they retain more nutrients than fresh berries and they can be bought in bulk. When combined with raw, local honey, she says it tastes just like apple butter – and is just as good smeared on a warm piece of toast or stirred into oatmeal.
The elderberry syrup has more to offer than its exquisite sweetness, though; it's also medicinal. "Elderberries have a certain compound in them, and if you have it in your system when you're exposed to a virus or an illness for the first time, it activates an immune response from your cells before that virus has a chance to penetrate the cell wall," she says. "Your body is already building up immunities to that specific virus before it's even taken hold, so you might get a mild cold instead of something worse."
Wilson has something special for your four-legged friends, too: SCOBY Snacks. A play on the dog detective's favorite treat, Scooby Snacks, these dog treats are made with SCOBY (symbiotic colony of bacteria and yeast), the life source of kombucha, plus carrot, sweet potato, bone broth and organic rice flour. "SCOBY is edible," explains Wilson. "As long as you dehydrate it below 125°F, you won't kill the probiotics."
Want to make fermented food at home? The Cultured Cantina has a class for that, offered at your home or business and select public events. During the sourdough class, each participant makes dough, which they can then bake at home, and they get their own sourdough starter for future kitchen projects. "It's fun because it's hands-on and messy," says Wilson.
If you want to dive deeper into the world of fermented foods, consider the tasting class, in which Wilson brings samples of all her products (save the SCOBY Snacks) for nibbling while she teaches a lesson on the health benefits of fermented foods. If you want to host either class at home, you just have to gather together a party of five or more and your fee will be waived.
Having dedicated the last decade to studying the practices and health benefits of fermentation, Wilson is well-qualified to educate others on the topic. Her driving force wasn't profit, however; it was her own family's health. "When [my son] was born, he had a lot of health issues," she explains. "It started with gut problems, and his overall health was not good."
Doctors wanted to start him on medication, but Wilson's background in exercise science and her interest in nutrition led her to seek a more natural solution. Eventually, that involved implementing fermented foods into her family's diet. "I started making them for our family and then started doing classes on fermentation, too, because of the change it made in our health and even our son's – it changed our lives, and I wanted to make it my business. It went from classes to selling products to certified products."
Selling fermented foods requires more certifications and testing than a standard food operation. Before Wilson and her family moved to Jefferson City, they resided in the Kansas City area, where her products had been certified for sale. Moving to another county, she had to press pause while waiting to be recertified, which took an astounding four years.
For Wilson, along with her husband who co-owns the business, it was worth the wait – it even gave them time to plan for the future. "I would love to have kegerators and be able to offer kombucha on tap, maybe from a food truck," she says. "[I could] go to different events and drive to different markets. I would love to have it where people can get growlers and bring them back to refill."
For now, if you're interested in giving fermented foods a try, schedule a class with The Cultured Cantina or visit Wilson at her booth at the Lincoln University Farmers Market on Saturdays.
The Cultured Cantina, facebook.com/theculturedcantina