When husband-and-wife team Rob and Jeri Marie Kiser opened Main Street Creamery on a cold and rainy March day in downtown Washington, Missouri, they didn't expect a large crowd – yet people lined up to get a taste of their over-the-top frozen treats.
Just four short months later, the ice-cream shop boasts more than 30 shakes and almost 9,000 Facebook followers and customers driving from as far as Branson and Edwardsville, Illinois, to try their stacked milkshakes and creative frozen treats.
"Everywhere I go in town, I'm kind of known as the ice-cream guy," Rob says with a laugh. "We love ice cream, but we didn't want to do just your average ice-cream shop. We wanted everyone to be talking about it – if you do it big and do it good, people will come."
Main Street Creamery specializes in decadent, towering milkshakes, like the best-selling strawberry-cheesecake, which tops strawberry-cheesecake ice cream with a whole slice of cheesecake drenched in strawberry sauce and macerated strawberries, or the Breakfast of Champions, a Fruity Pebbles milkshake topped with a whole glazed donut, marshmallow cream and cereal. Other shakes come crowned with everything from slices of apple or Key lime pie to cupcakes, cotton candy, red velvet cake and more.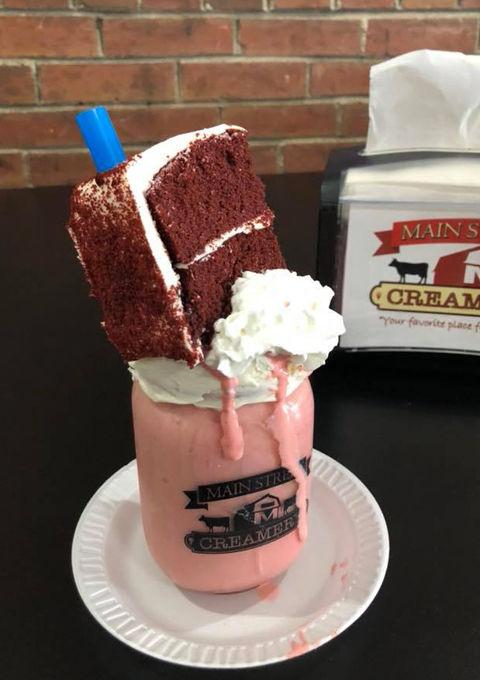 "A lot of people don't realize what they're ordering, and when you hand it to them, their first response is, 'Oh my gosh – how am I going to eat this?'" Rob laughs. "And then everyone who gets one, the first thing they're doing is taking a picture and sharing it with their friends."
In addition to the supersized shakes, Main Street has also made a name for itself with creative specials, including colorful and intricate cake pops, waffle-cone tacos filled with ice cream and toppings and the cotton candy wrap, which flattens out the shop's freshly spun cotton candy and fills it with ice cream and toppings. In early July, soft serve was also added, in weekly rotating flavors like pineapple and strawberry.
"You just come up with all kinds of creative ideas – you can turn anything into a milkshake is what we've found out," Rob says. "Take a picture of it and people will come."
While social media has helped create plenty of buzz for the new business, so has the local community. In May, Main Street Creamery won the judge's choice at the Sip & Savor competition at the annual Art Fair & Winefest in Washington. Kiser was paired with Serenity Valley Winery in Fulton for the event, where they served Main Street's chocolate ice cream with a generous drizzle of the winery's raspberry wine over the top.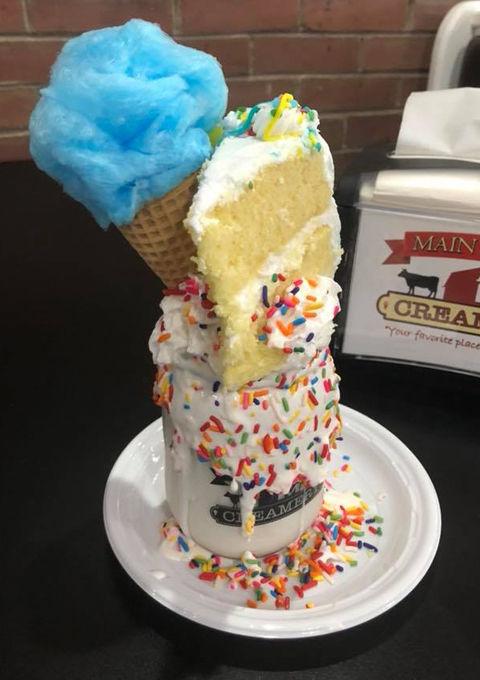 The Kisers, who live in nearby Labadie, say that the foot traffic and general community support of downtown Washington have contributed to the shop's swift success. In turn, Rob says it's been his family's pleasure to offer something previously missing in the historic area – good old-fashioned ice cream made with a fun and unexpected twist.
"People love the nostalgic ice-cream parlor feel of the shop," Rob says. "To watch families come in and reconnect with their kids and see all the happy faces, if I never made another penny in my life from it, it's a great feeling. We'll be OK with that."
Main Street Creamery, 110 W. Main St., Washington, Missouri, 636.900.9004, facebook.com/mainstreetmilkshake