Larry White has been raising Black Angus cattle since he was 10 years old. He grew up on a cattle ranch in Nebraska, and as he got older, eventually raised a herd of his own. In 2010, he and his wife, Brooklyn, moved their operation, White Angus Ranch, to Richland, Missouri. Two years later, they began selling Black Angus ground beef, brats, steaks and more at farmers' markets in Sedalia and Camdenton; today, they also sell at markets in Eldon and Waynesville.
The ranch combines myriad passions for the couple: They both love raising cattle, Brooklyn loves marketing and promoting their products, and both enjoy meeting and getting to know customers at market.
White Angus is currently home to around 200 "mama cows," as Larry puts it; cattle are raised on more than 1,000 acres of native-grass pastures and without antibiotics and hormones. "We have an intensive grazing program that requires a lot of rotation," Larry says. "We typically rotate pastures every 10 days to two weeks. We're grass-fed, grass-finished, no grains involved, so there's a lot of pasture and grass management that goes into that, making sure the feed is always there. We're pretty much hands on with the livestock every day."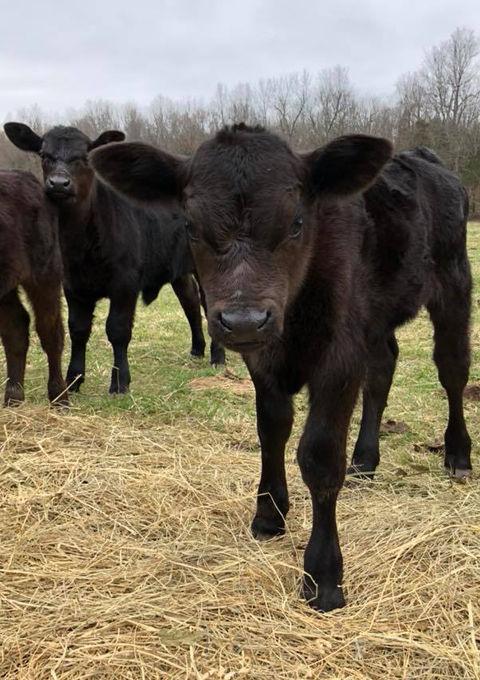 Brooklyn says many of their customers seek out White Angus specifically for its focus on animal husbandry and ethical farming practices.
"I think the coolest thing, and the most meaningful thing, is that we get a lot of people who have food issues, and they're so appreciative that our beef is clean," Brooklyn says. "Not only do they want clean beef, they want to know that the animals are raised and treated well."
Word has spread, as well: Brooklyn says sales have almost doubled every year at the market. "[I'm excited] for the challenge to see if we can double in size again and grow the business," she says. "But we don't want to be the biggest – we want to be the best at what we do and provide a good product every time."
For White Angus, those good products include best-sellers such as ground beef, brats, brisket, roasts and steaks such as rib eyes, filets and flat-irons. Brooklyn says their deli meats are also popular, including pastrami, roast beef and corned beef. For St. Patrick's Day this year, White Angus partnered with Green Truck Bakery at the Sedalia Area Farmers' Market to offer a holiday-themed combo: corned beef and dark rye bread for DIY Reuben sandwiches.
"We sold the packaged corned beef and they sold the bread, and we'd give them cooking tips on how to make [the sandwiches]," Brooklyn says. "We both sold out, so it went well. I want to do whatever I can to support local businesses in addition to promoting our product. I think it's great together."
As the Whites enter their sixth farmers' market season, Larry says they're excited to continue refining their work.
"We enjoy refining what we do; we're more about the quality of our product than anything else. As I look to the next five years, I want to fully utilize what we raise. I think we're going to be very close to that point this year."
In addition to selling at farmers' markets, White Angus products can also be purchased online and shipped across the country; delivery is also free within 50 miles of the ranch.
White Angus Ranch, Richland, Missouri, 573.480.3176, whiteangusranch.com