A sequence of meant-to-be moments led to the launch of Serendipity Coffee & Tea in Linn, Missouri, in 2018. Proud to be the town's first specialty coffee shop, it combines Midwestern flavor and Pacific Northwest flair in its delicious brews.
Owner Lori Asel and her family lived in Seattle for almost 15 years before returning to the Midwest, and when they did, they immediately began to search for high-quality caffeine. "We came back to mid-Missouri, and at this point, our kids were teenagers, and we were like, OK, where's the coffee?"
After scoping out the options surrounding their small town, Asel and her daughters, Gemma and Isabel, concluded that they were going to have to make it themselves. "We looked at Jefferson City, Missouri, [as a potential location]," says Asel. "I love the east side, love the downtown and all the history there, but there was a lot of coffee already."
Linn, on the other hand, is the seat of government of Osage County and the home of State Tech, the region's ever-growing technical school, but it was missing one important ingredient. "There was no coffee here," says Asel, "so we thought, this is where we need to be. We said let's follow this dream; let's do it."
Three years on, the family is still happy to serve pour overs, cappuccinos, specialty teas, summer lemonades and more every morning at their café, where all the coffee drinks are made with beans from Messenger Coffee Co. in Kansas City.
Housed in the Old School Antique Mall, the town's original high school on Main Street, the classroom-turned-coffee shop is a warm and welcoming space to sip while studying. On the run? Swing by the drive-thru window for a to-go order.
Although the antique mall was not the planned location for Serendipity Coffee & Tea, it's another happy accident that's led to its success. In the summer of 2018, the Asel family started renovating the original drugstore in the town square, but the demolition process uncovered more damage than they could repair. While they looked for a new café space, shop manager Benjamin Bommel built a mobile coffee counter to tide them over.
"I was knocking on a lot of doors looking for space, and I saw the Old School Antique Mall," says Asel. "I found the owner, introduced myself and told him about the coffee stand, and he goes, 'Well, how about a space in the hallway?' He found us this little nook where we set up shop, and we just said, 'OK, we'll see how it goes.'"
In December 2018, they served their first cup from the mobile cart, which received such a great response from the community that the owner of the antique mall suggested moving Serendipity Coffee & Tea to a classroom down the hall. He's also the one who had the vision for the drive-thru window. "It's something we wouldn't have had in the town square," says Asel.
Over the years, Asel has come to realize that vintage and antique shopping and caffeine go together like espresso and steamed milk, and she's always excited when she meets new customers, even if they're just passing through Linn. "A lot of people traveling back and forth from St. Louis to the Lake of the Ozarks know [the types of drinks we make], and they're always surprised when they can find them in our small town."
Soon, travelers will also be able to take a growler of cold brew, along with housemade syrups, to go. "We have an autumn spice syrup that features all the warm spices from pumpkin spice, but without the pumpkin," says Asel. "We keep it on the menu year-round, and people love it. We'll soon have bottles of that that they can use in their coffee at home if they want."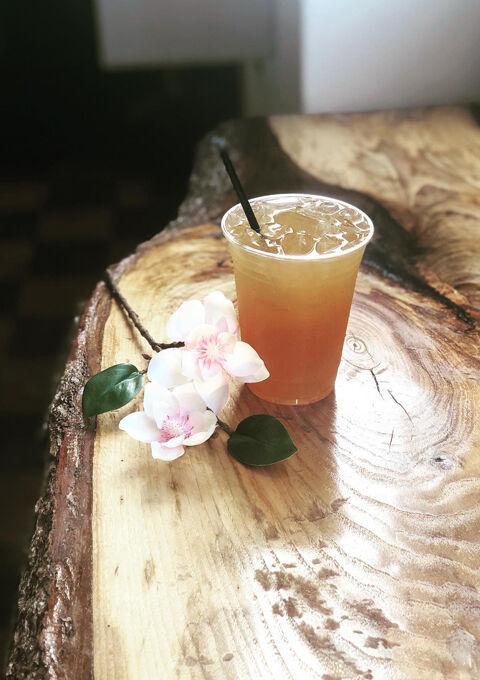 Alongside the coffee, Serendipity Coffee & Tea serves a variety of teas from the London Tea Merchant in St. Louis. "The London Tea Merchant is a great resource for learning about tea, and it provides what we think is some of the finest tea," says Asel. Oolong to herbal tea is available by the cup or the pot, and customers can also get specialty tea drinks, including brewed-to-order chai lattes and London Fogs.
If you need something with more caffeine, consider one of the flavor-infused Red Bull drinks known as Chargers. "They're really popular in the Pacific Northwest, and we brought that here to Missouri," says Asel. "We have four featured flavor combos that we developed on our own, but people can come in and order whatever they want." Try the Emerald City, a blend of blue raspberry and lime, or the Shark Bite, a mix of blueberry, coconut and pineapple.
On the other side of the spectrum, the Italian sodas have no caffeine, just club soda, similar flavor infusions and a splash of half and half.
The Serendipity team still operates its coffee cart, which will be at Food Truck Fridays in Jefferson City as well as other area events, plus they plan to take advantage of the trend of having coffee at wedding receptions. For those celebrations, clients can customize the cart's selection, choosing between different hot drinks, cold drinks, coffees and teas.
Always looking to further their coffee journey, the Asel family and Bommel plan to roast beans in-house soon and offer some light bites such as pastries and sandwiches. The mobile cart will get an upgrade too: "The goal is to work up to a coffee trailer [that can be] out and about a little bit more throughout the year," says Asel.
Serendipity Coffee & Tea, then and now, wouldn't be possible without teamwork. From designing logos to developing the website and brewing coffee to keeping the books, every member of the Asel family plays a vital role. "It's truly a family business," says Asel. "My kids are adults now, and I'm so thankful that we have this project to work on together."
Serendipity Coffee & Tea is open from 6.30am to 1pm Monday through Tuesday, 6.30am to 4.30pm Wednesday through Friday and 9am to 4.30pm on Saturday. To see where the coffee cart will be next, check the company's Facebook page.
Serendipity Coffee & Tea, 1204 E. Main St., Linn, Missouri, 573.508.2622, serendipitycoffeeandtea.com