Whether you are a lover or an eye-roller when it comes to the hearts and flowers involved with Valentine's Day, no one can resist the simple delight of a great box of candy.
Luckily, Kansas City has an abundance of fantastic local chocolatiers and confectioners that, each year, offer amazing and beautiful treats for Valentine's Day.
Here are the top five local candy boxes to satisfy the sweet tooth of your special someone – just make sure to order online or by phone to ensure it's ready for pickup before Sun., Feb. 14.
Christopher Elbow Artisanal Chocolates
This Valentine's Day, Christopher Elbow Artisanal Chocolates has brought back its beautifully hand-painted hearts collection. Want to take someone's breath away? This is just the box to do it. There are 18 chocolate hearts that come in each box, and each is filled with Elbow's signature sweet and spicy flavors that include favorites like raspberry caramel, passion fruit, Fleur de Sel caramel, red wine caramel, orange spice caramel, vanilla bean caramel, PB&J, lavender caramel, tequila lime and macadamia praline. 
18 Piece Valentine's Day Gourmet Painted Hearts Collection, $54
Christopher Elbow Artisanal Chocolates, 1819 McGee Street, Kansas City, Missouri, 816.842.1300, elbowchocolates.com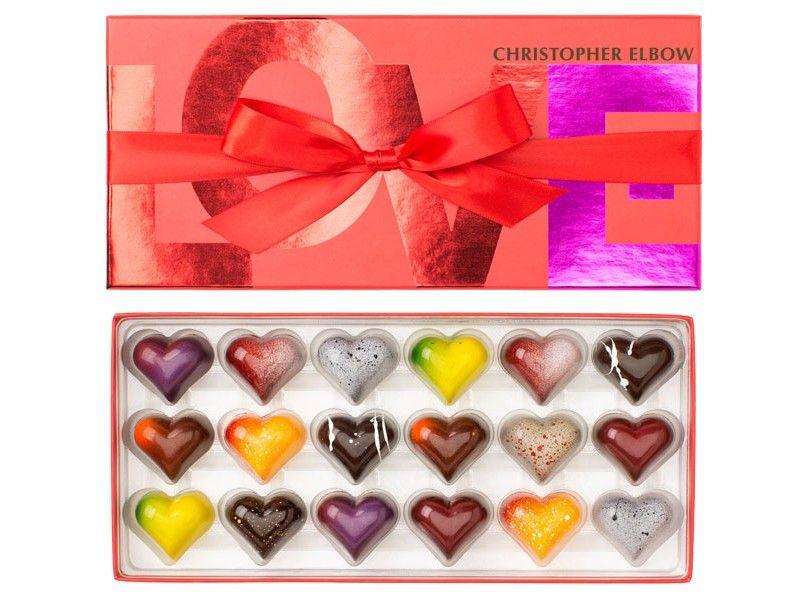 Annedore's Fine Chocolates
There were so many beautiful boxes of candy available at Annedore's Fine Chocolates for Valentine's Day, we decided to go with the one that was – itself – edible. This chocolate heart-shaped box comes in milk and dark chocolate and is filled with four assorted hand-crafted truffles. Pick the flavors your guy or girl loves best, or let them make the selection for you for only $19.95. Add a milk or dark chocolate Cupid to the box for an additional $3.95, or simply slip a 4-piece gift box filled with assorted truffles into their bag or briefcase in the morning for $6.95.
Valentine Heart Box in Dark Chocolate with 4 Assorted Truffles, $19.95
Annedore's Fine Chocolates, 5000 State Line Road, Westwood Hills, Kansas, 913.831.0302, annedores.com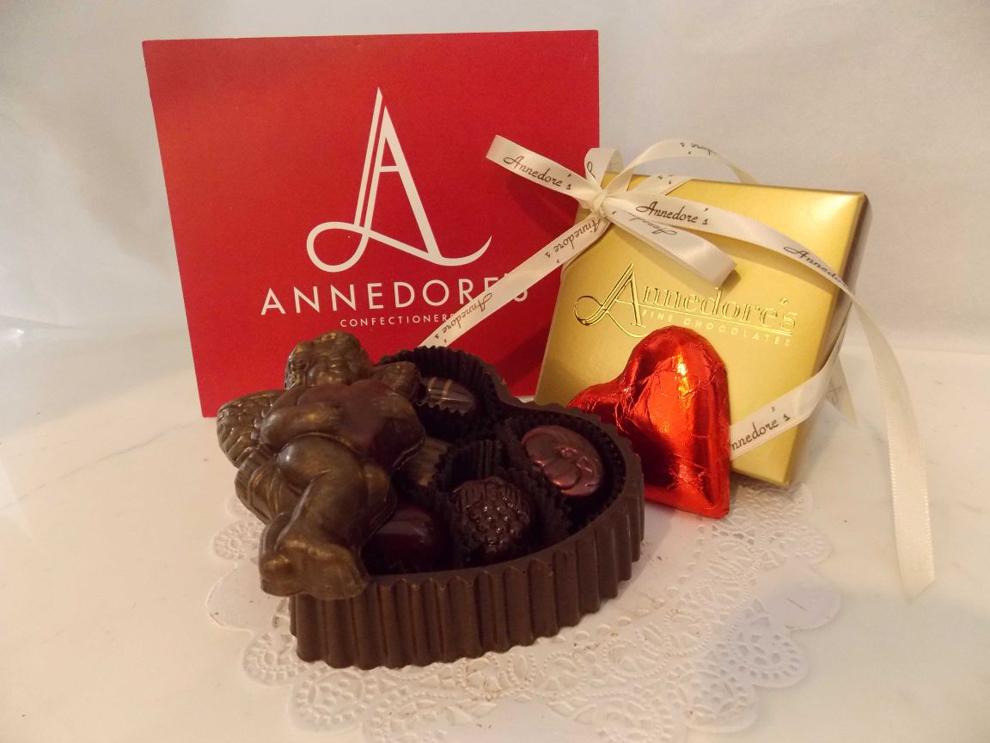 Bizz and Weezy
The newest confectioners in the Crossroads Arts District of Kansas City, Bizz and Weezy is offering a simple and sweet sampler box for Valentine's Day featuring your choice of either caramels or truffles. Pick the caramel sampler and you will get their best sellers featuring both a dark and milk chocolate sea salt caramel and a dark and milk chocolate plain caramel – plus four other popular flavors currently in stock. You will also get eight chocolate-covered Oreos in their current seasonal flavors all boxed up with a bow for $30. With this box of sweet surprises, you'll make them feel like a kid again.
16 Piece Caramel or Truffle Sampler Box, $30
Bizz and Weezy, 1800 Baltimore Ave., Crossroads Arts District, Kansas City, Missouri, 866.962.7953, bizzandweezy.com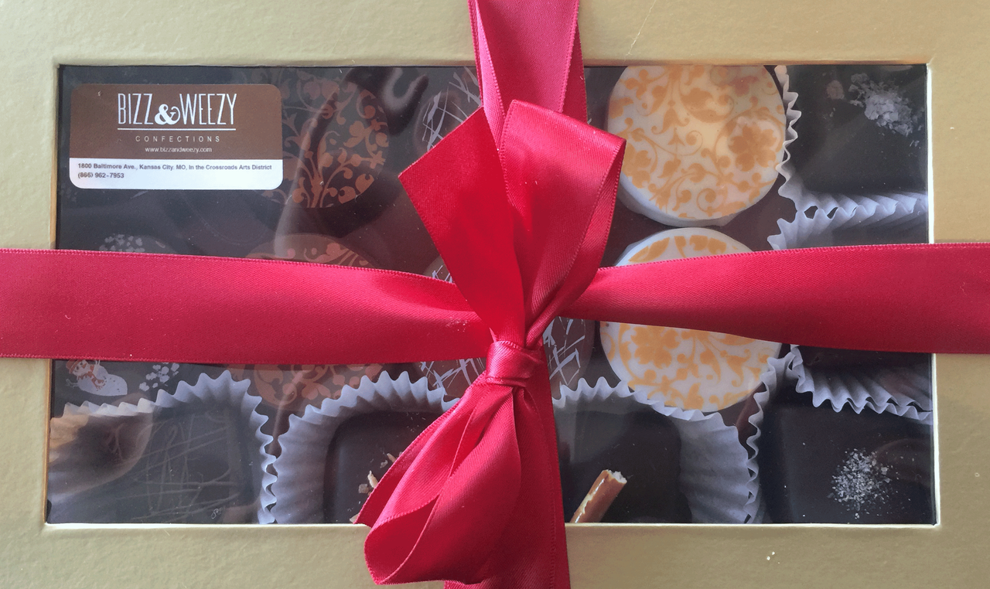 André's Confiserie Suisse
You simply cannot go wrong with this beautiful handmade nougat heart box from Kansas City's original Swiss chocolatier, Andre's Confiserie Suisse. This edible heart-shaped box is made with sliced almonds combined with caramelized sugar that is then rimmed with chocolate and filled with Andre's famous milk or dark chocolate almonds or luscious chocolate candies. This heart-shaped box comes in two sizes, the small has 4 oz. of milk or dark chocolate almonds or 5 oz. of assorted candies for $26 and the large features 8 oz. of either milk or dark chocolate almonds or assorted chocolates for $52. The craftsmanship that goes into this level of sugar work will impress, but the taste will win his or her heart.
Valentine Nougat Heart Box, $26 for a small box or $52 for a large box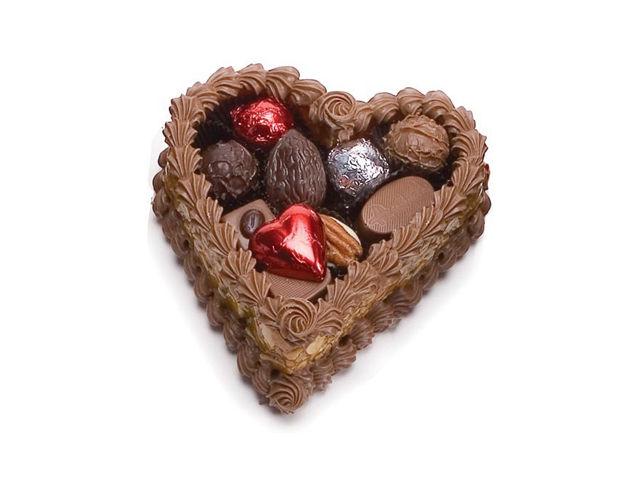 Sweet Kiss Brigadeiro
This creamy Brazilian candy has taken Kansas City by storm. This Valentine's Day, take a walk on the wild side and create your own custom brigadeiro box from Sweet Kiss Brigadeiro. Choose six different brigadeiro flavors to create your box of 24 candies, including options like milk chocolate almond, white chocolate Nutella, crunchy white chocolate, crème-brûlée, dark chocolate, pistachio, walnut, lemon, coconut and Caipirinha Brazilian cocktail. Brand new for this Valentine's Day is the 8-piece box of chocolate brigaderio-covered strawberries. Fresh strawberries are covered in Sweet Kiss' traditional chocolate brigadeiro, which are then rolled in traditional chocolate sprinkles for only $19.90.
24 Piece Valentine's Day Brazilian Brigadeiro Box, $42