The three partners behind Made in KC are out to prove that "tiny is mighty" with their new 800-square-foot coffee shop and cocktail bar, which opened this past Saturday in the Fairway Shops.
Keith Bradley, Thomas McIntyre and Tyler Enders have diversified their Made in KC retail portfolio with their first original coffee and cocktail concept, Front Range Coffeehouse & Provisions. The space is based on their mutual love of the mountains and on the quality time that two of the partners have spent in Colorado with their families.
"Thomas and I are related by marriage, and for the last decade, every summer we have packed up our families and made an annual trip to Breckenridge, Colorado," explains Bradley. "Last year, we started counting the number of Kansas and Missouri license plates we saw in Colorado during our trip, and that got us thinking about the ways we could bring the feeling of Colorado back with us to Kansas City. We realized there might be others, like us, who missed the feeling of being on vacation in the mountains."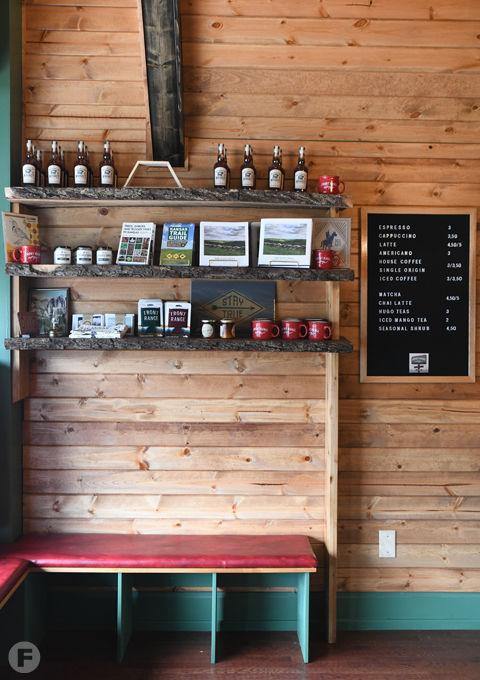 When they came back from vacation, they were shown this former seamstress space in the Fairway Shops, just down the street from Rainy Day Books. They quickly realized it was the perfect spot to try to recreate that cozy "campground in Colorado" feeling. Front Range serves local coffee and pastries in the morning and switches over to cocktails, wine and beer in the evening. Eventually, the partners also hope to serve a few sandwiches at lunch as well as charcuterie and cheese plates at night.
From the moment you walk in, Front Range Coffeehouse & Provisions does feel like a tiny bar in the mountains. The old-fashioned gold lettering on the front window looks like something out of the Old West, and the walls inside have been painted a dark forest green. The ceilings have been covered in a handsome wood beams that bring a lot of warmth into the space.
A long bar with a maroon padded bar rail runs along one side of the space, with small café tables and chairs positioned down the other. A long live edge wood shelf displays sentimental knick-knacks from the partners' childhoods, including an old toolbox, a lantern and some photos.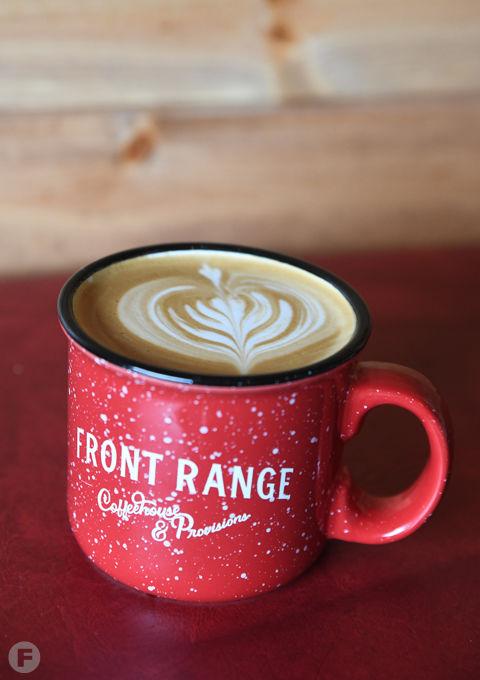 "We are really pleased with the way the space turned out," Bradley says. "We took what was basically a small, white retail box, and transformed it into a space that feels like a log cabin, lake house or mountain retreat here in the heart of Fairway, Kansas." 
There is a small checkout counter in the front where guests can order coffee and pastries to go, and the space also boasts seating for around 20 people inside. Front Range serves locally roasted Post Coffee Co. as its house espresso, in addition to Thou Mayest coffee beans. Pastries are brought in from Heirloom Bakery & Hearth in Brookside and Parisi Artisan Coffee's pastry program, as well as some additional tasty treats from Unbakery & Juicery in East Brookside.
Later this fall, the partners plan to add some additional food items to their menu at Front Range, working with local food partners to source sandwiches, salads and some light snack trays with cheese and charcuterie.
"We aren't quite sure how our the neighborhood will use our space, but we are here to be the place they start their day with a cup of coffee, or for a quick pick-me-up in the afternoon, a happy hour spot in the evenings and on the weekends, a late-night place they can wind down their evening with a cocktail or cup of coffee after a night out," says Bradley.
Front Range Coffeehouse & Provisions is open Monday through Wednesday from 7am to 10pm, Thursday through Saturday from 7am to midnight and Sunday from 8am to 10pm.
Front Range Coffeehouse & Provisions, 2718 W. 53rd St., Fairway, Kansas, acebook.com/frontrangefairway