After spending the winter months making different versions of the Negroni, Brock Schulte was ready to lighten things up. And that's exactly what the bar director and his team of talented bartenders did with the new summer menu at The Monarch Cocktail Bar & Lounge.
The Margarita is the official cocktail of distinction this summer at The Monarch, which is offering seven different versions of the classic cocktail on its menu.
"When I think of summer drinks, I think of the Margarita," says Schulte. "Hands down, it is my favorite summertime cocktail and one of the few cocktails I make for my wife and I to drink at home. At home, it is either a Margarita, whiskey on the rocks, beer or wine; that's it for us."
The Margarita is thought to have originated in the southern U.S. and Mexico sometime between the 1930s and 1940s. Although no one knows for sure how the cocktail originated, many thought it was a riff on the drink known as the Tequila Daisy. The latter was made with a combination of tequila, lime juice and grenadine and topped with a daisy flower, which is called "margarita" in Spanish.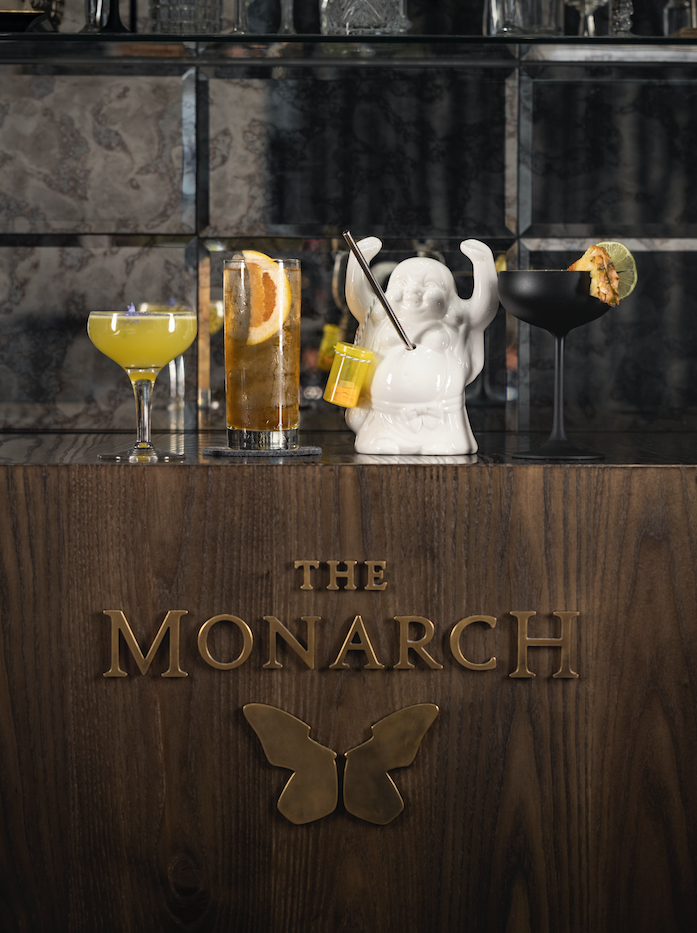 The seven versions of the Margarita that grace The Monarch's new summer cocktail menu are each quite different, showing the delicious range of colors and flavors that can be possible within the genre.
It starts with El Jefe, the booziest and bossiest Margarita on the menu – and, fittingly, the most expensive. This one sits at the very top of the top shelf cocktails, ringing in at $42 per glass. El Jefe features Don Julio '1942' Añejo Tequila, Milagro Select Single Barrel Añejo Tequila and Grand Marnier Cuvée 1880, which comes in a small bottle floating in the drink so you can sip it all by itself or pour it directly into your drink. The cocktail is finished with cold pressed lime, agave and the finest French grey sea salt. Finally, you can search for the buried treasure in this drink, as a monogrammed gold coin is embedded inside the diamond-cut ice, which will float to the top of the drink as the ice melts.
A simpler and more straight-forward version of the drink is The Monarch Margarita ($16), made with Tequila Ocho "Los Patos" 2016, Pierre Ferrand Dry Curaçao, lime and agave.
For a Wild West version of the classic Champagne and strawberries pairing, try La Vie En Rose ($21). The drink starts with a vintage tequila from 2013, Tequila Fuenteseca Cosecha Blanco, which features Giffard Crème de Fraise des bois strawberry liqueur infused with Watkins 1868 black pepper to give it a spicy note. The cocktail also uses Grand Marnier Cuvee de Centenaire cognac and Noble handcrafted Tonic 05:XO finishing vinegar, a whiskey barrel-aged balsamic vinegar, before being finished with a splash of Nicholas Feuillate Champagne to give it some fizz.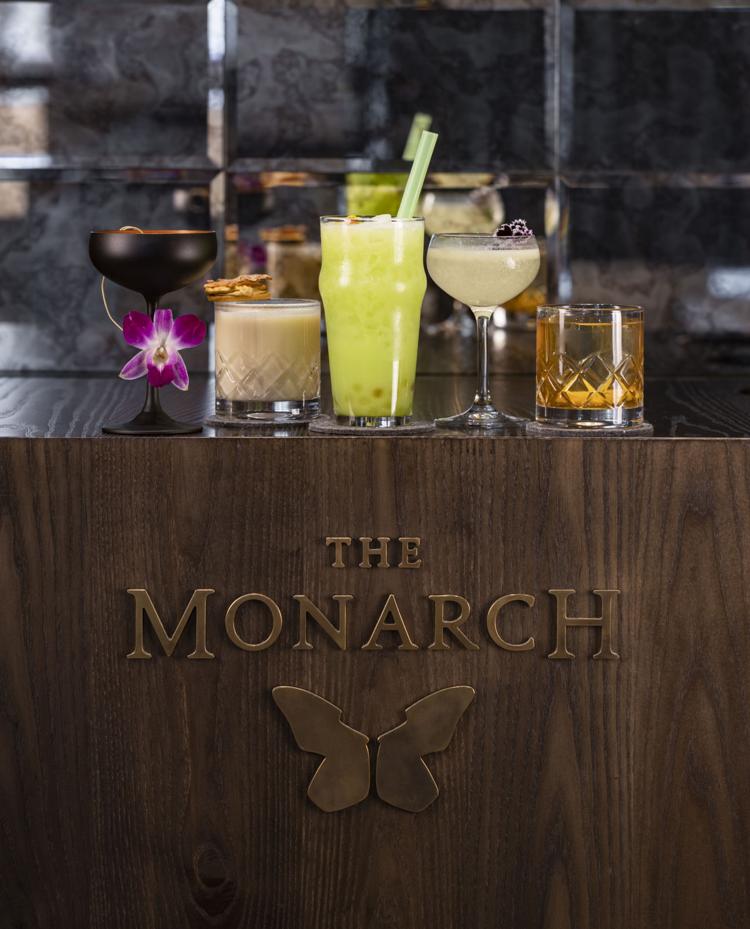 The Flor de Maya ($16) is one of the lightest Margaritas on the menu, and is made in the style of an Aviation cocktail with edible flowers floating on top. It is light pinkish purple in color and is made with Codigo 1530 Rosa Tequila, Tempus Fugit Liqueur de Violettes, Fusion Verjus Blanc and housemade pineapple acid.
The Peaches n' Cream and the Lo Sabroso Margaritas (both $17) blend tequila, fruit, vegetables and herbs together in a sweet and savory way that is as refreshing in flavor as it is colorful. One drink ends up a lovely shade of peach, while the other is an enticing shade of electric green.
Finally, the Hawaiian Emperor ($16) will grab your attention with its vibrant red color and volcanic Hawaiian sea salt foam on top. Made with Una Vida Reposado Tequila, Rhum Clement Creole Shrub, red bell pepper and habanero coulis, there is definitely a fiery kick to this one.
In addition to the new list of Margaritas, the cocktail team at The Monarch – which includes Schulte, Chris White, Justin Jones, Bryan Arri, Tom Petrucci and Ben Miller – worked over 500 ingredients into the new menu, introducing more worldly flavors and spirits like Japanese sake and Korean soju. They also were looking to add an element of surprise to their new summer drink list.
"We really worked on creating drinks with a show for the summer – an Instagram-ready cocktail that is just begging for a photograph to be taken of it," says Schulte. "However, we worked to make these drinks more than just pretty to the eye; they have to taste good, too."
Brock Schulte, Kenny Cohrs, Mark Church and Brandon Cummins have hit a growth spurt with their 3-year-old beverage-consulting business, Liquid Minded Concepts.
This includes drinks like the Fountain City Royale, which was inspired by Kansas City's 200 fountains and includes a housemade verbena-cello and local pear brandy that settles at the bottom of the glass. A quick swirl of the wine glass releases a twist of color and motion that mixes the cocktail together – a nod to Kansas City's tornado season.
Some Like It Pop is a worldly combo of Elvelo Blanco Tequila, Joto Yuzu Sake, Jinro Chamisul Green Grape Soju, Twisted Alchemy cold-pressed watermelon and Champagne acid. Pop Rocks are submerged in the drink, ready to deliver a playful snap, crack and pop as you sip. It's a fitting way to celebrate the July 4th weekend.
Moshi Moshi is a brilliant emerald green cocktail topped with rainbow boba, prosciutto-washed Suntory Roku Gin, Midori Melon Liqueur, Melon Ramune, Green Chartreuse and Bittermens Winter Melon Bitters. It drinks like a cocktail version of boba tea.
Finally, Jones came up with a cocktail for a good friend called La Placita Royale, featuring Balvenie 14-year-old Caribbean cask single-malt scotch whiskey, Bols Aged Genever (a botanical Dutch spirit), fizzy coconut water and casein (milk protein), which gives the drink a mysteriously cloudy appearance. "He then sprinkles edible silver dust on the ice cubes and it is served on a disco ball coaster," explains Schulte. "It looks shiny and sparkly just like a disco ball."
Kenny Cohrs has also worked up a new menu for the private lounge he manages inside of The Monarch, known as The Parlour. The current cocktail playlist is based around an Ernest Hemingway theme. 
The Monarch Terrace will be home to a few bartender takeovers and pop ups this summer and will also serve a rotating frozen cocktail. Currently, guests can try a boozy take on an orange creamsicle. "It has Rieger Vodka, and orange-vanilla syrup, and it is delicious," Schulte says.
The Monarch was recently named the "Most Innovative Beverage Program" by Cheers BevX Awards and "Best Cocktail Bar of the Year" earlier this year by Nightclub & Bar Magazine. Both honors are an indication of how far this team is working to deliver exceptional, creative cocktails and top-notch service.
Judging by this seriously playful and creative summer cocktail menu, you can see why the awards are coming in fast for the talented team at The Monarch.
The Monarch Cocktail Bar & Lounge, 4808 Roanoke Pkwy., West Plaza, Kansas City, Missouri, themonarchbar.com