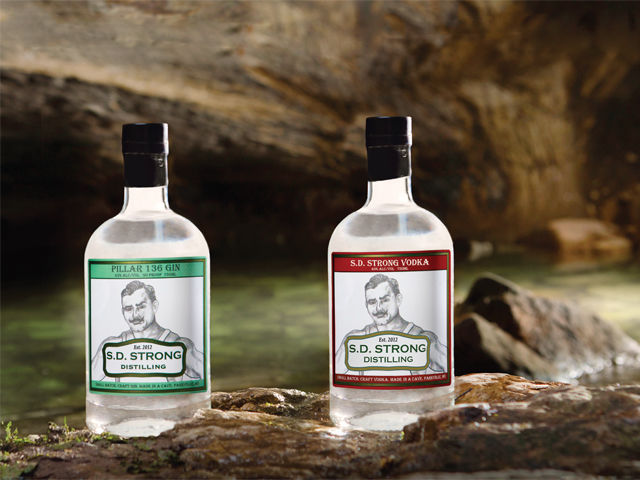 S.D. Strong Distilling maintains its winning streak. The Parkville-based distillery recently won awards for its gin and vodka at the 2016 Washington Cup Spirits Competition.
Established in 2012, The Washington Cup Spirits Competition is the only competition of its kind to exclusively assess and judge American-made spirits and liqueurs. With nearly 150 entries, the competition offers an opportunity for the best U.S. distillers to demonstrate their skills and the excellence of their products. Top spirits professionals assess and judge the spirits to determine best in class.
Pillar 136 earned top honors at the 2016 Washington Cup Spirits Competition, duplicating its 2015 win at the same competition.
"We are thrilled to be recognized as the best gin for the second straight year," says Steve Strong, president and head distiller at S.D. Strong Distilling. "Pillar 136 Gin is a cornerstone product and continues to prove itself as the favorite."
"Their gin stood out among the other gins; it's a category in which most small distillers struggle to achieve balance and elegance," says Doug Frost, founder of The Washington Cup competition. "In truth, most new American gins are more interesting than they are tasty, but S.D. Strong's Pillar 136 is a real success, carving out its own stylistic territory while remaining true to the category."
The recent win adds to S.D. Strong's track record for award-winning spirits. The gin also earned a bronze at the prestigious 2015 San Francisco Spirits Competition, an event highly respected in the spirits industry.
Citrus-forward Pillar 136 Gin is named for the designated pillar that is built into the distillery's underground space in Parkville's commercial caves. The gin's distinctive bouquet and citrus taste is derived from hand-zested blood orange, lemon, lime, ginger, angelica root, orris root and licorice root.
S.D. Strong Distilling's Signature Vodka was also recognized at the 2016 Washington Cup with a silver medal. The vodka also earned the same award at the 2013 and 2014 competitions, demonstrating the consistency and quality of the small-batch spirit.
"S.D. Strong's Vodka placed well again, receiving a silver from the judges for its cleanliness and character," Frost says.
S.D. Strong premium spirits can be found in restaurants, bars and retailers throughout Missouri, Nebraska, Kansas and Texas.
S.D. Strong Distilling, 8500 NW River Park Dr #136a, Parkville, Missouri, sdstrongdistilling.com