Mean Mule Distilling Co. finally has a home to call its own.
After spending the past four years hosting pop-up tastings at liquor stores and retail shops across the city and distilling its American blue agave spirit inside the Lifted Spirits facility, the three partners behind Mean Mule Distilling Co. are ready to invite the public into their brand-new distillery and tasting room on April 12.
Head distiller Jeff Evans and his wife and director of business development, Meg, along with their friend and marketing manager Patrick Little, hosted a series of soft opening events at their new space last weekend.
Little provided a short tour of their modest distillery located in the back of the space. It starts with the bright blue barrels that hold agave hearts, which are shipped directly to them from Jalisco, Mexico. These barrels get a second life as rain barrels or standing garden barrels, used by a local urban gardening group in Kansas City.
Next, the mash goes into the fermentation tanks, and after fermentation, the liquid gets pumped into the still to begin the distillation process. From there, they fill and label all of their bottles by hand. After a quick Q&A session, guests are led back inside their stylishly Southwestern-inspired tasting room, where the bartenders are shaking up and selling a short list of cocktails featuring Mean Mule agave, wine and beer.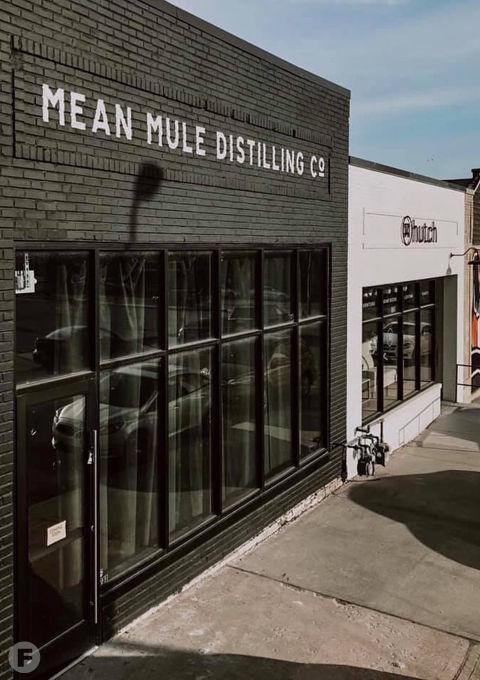 "We wanted to invite in our friends and family to help us test out our new space [and] give our bartenders a  chance to work out the kinks before we open to the public," says Little. "For these events, we are focused on making cocktails using our own spirits, but we plan to have a full cocktail menu featuring other local distillers, eventually."
Bar manager Justin Class has been working with the three partners to develop a series of cocktails featuring their unique American blue agave spirit. The soft opening menu featured a Mean Mule Marg (a spin on a classic Margarita) and an Agroni (similar to a Negroni only made with agave). The Supernova was a citrus- and rhubarb-forward cocktail that was both sweet and sour. A simple Mean Mule and tonic rounded out the menu.
Over the past few years, Mean Mule has produced more than 1,000 bottles of its American blue agave spirit per month. Because the company's agave is not made in Mexico, the spirit is not technically considered tequila or mezcal. Yet the flavor is similar to tequila, with a smooth and silky roundness that makes it perfect for sipping straight or mixing into your favorite cocktail. 
"The word 'tequila,' and the spirit it describes, has a denomination of origin status and a geographic indication, much like Champagne is from the Champagne region," says Little. "Since our spirit has roots in the Jalisco region, because we use 100 percent blue agave, it will taste similar to quality tequilas from Mexico."
Now that they are producing in their own facility, the partners plan to branch out and start making other spirits in addition to Mean Mule's original silver and gold blue agave, which are in Barrel 53 Missouri white oak barrels for around eight weeks.
Mean Mule's tasting room and cocktail bar will be open until 11pm, with bottles of Mean Mule's silver and gold agave spirit offered for sale. Mean Mule is also available in most liquor stores, craft cocktail bars and restaurants in Kansas and Missouri.
Mean Mule Distilling Co., 1733 Locust St., Crossroads Arts District, Kansas City, Missouri, 816.787.1846, meanmuledistilling.co