Shantal and Tim Grace's Luckyberry originally opened in Lawrence, Kansas, in late 2017, selling cold-pressed juice and a tight but focused menu of sushi, açaí bowls and soft-serve ice cream. Customers responded well, and the shop's customer base grew steadily. Eventually, Luckyberry began selling its juices in local grocery stores. Then, in October 2018, came an unexpected visit from the FDA. Unbeknownst to the Graces, who also own the restaurant Ramen Bowls, selling unpasteurized juice wholesale is illegal (though selling it via a storefront is fine). They were ordered to cease wholesale operations immediately.
What many would see as a major setback became an opportunity. Although it was unfortunate to have to cease their wholesale operations, which the Graces thought would help the business survive slower winter months, the couple took the time to rethink their business plan. Eventually, they chose to rename the concept Luckyberry Kitchen and Cocktails, and to become a full-service restaurant.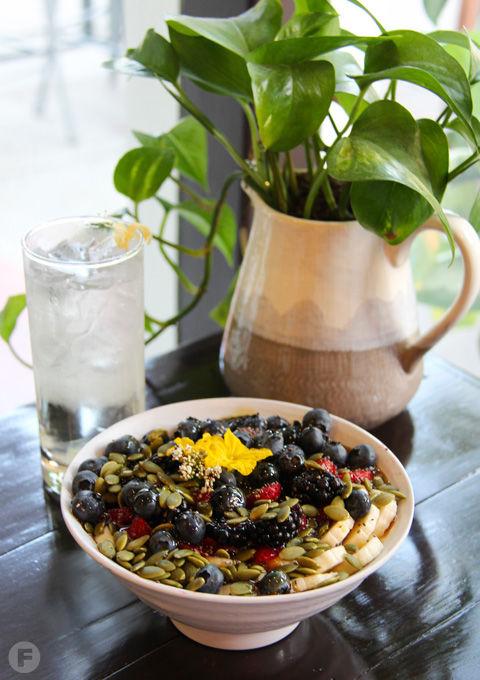 Prior to the shutdown, Luckyberry essentially had no kitchen – at least not a stove or any way to make hot dishes – and that was where the remodeling began. Luckyberry was closed for approximately six months while the kitchen was built out. During that time, the restaurant, which had operated as a fast-casual establishment, was reconfigured to add more seating. The main focus of the restaurant changed from its self-serve soft-serve ice cream station to its long wooden bar.
This June, Luckyberry reopened with new food and cocktail menus. In developing its food menu, the Graces consulted with chef Rick Martin of Limestone Pizza. The new menu features a selection of snacks and appetizers, salads and bowls, dumplings, sandwiches and tacos, as well as a selection of sushi rolls. Diners can opt for Thai-style sticky wings, ahi tuna poke bowls featuring mango, avocado and asparagus, or crab rangoon dumplings, for example ($5 to $11.50). Also available is a bánh m sandwich, made with roasted, sliced pork, a housemade pork pâté, pickled veggies, lime mayo and pork cracklings, as well as crispy fried chicken tacos, which are served on local Caramelo tortillas ($10.50 to $11). Luckyberry's much-loved açaí bowls, heaped with organic, non-GMO açaí pulp, oats, local honey, chia, pepitas, yogurt and loads of fresh fruit, were also brought back to this menu, and remain one of the restaurant's top sellers ($6 to $9).  
Sushi is also a major part of Luckyberry's menu. Opt for the Island Roll, which features tuna, salmon and mango draped over rolls stuffed with cucumber and scallions and topped with housemade eel sauce. The salmon skin crunch roll features seared salmon, scallions, cream cheese and asparagus with house-fried potato sticks. Salmon nigiri and a variety of other specialty and classic sushi rolls are also available ($5.50 to $7.50).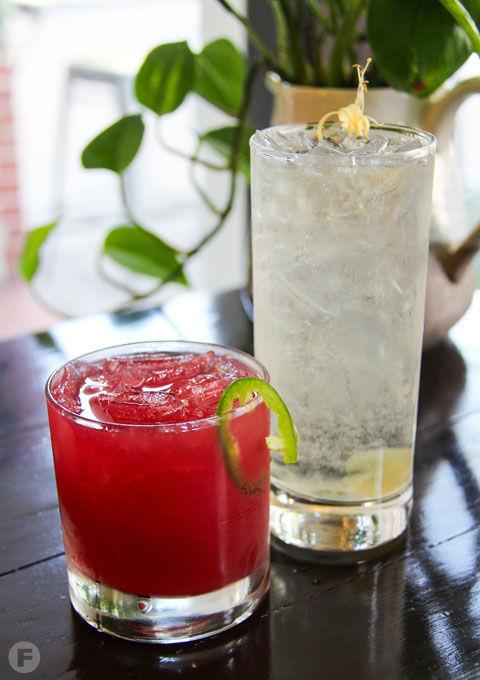 For Luckyberry's cocktail menu, the Graces consulted with Kate Frick of The Myers Hotel Bar in Tonganoxie. She developed several new house cocktails that celebrate Luckyberry's cold-pressed juices, also still very much available. Frick's Cactus Cocktail, for example, features aloe juice, Chareau, white grapes and cucumber with an aloe garnish. The Fire Earth is made with Luckyberry's spicy watermelon cold-pressed juice along with rye whiskey, Ancho Reyes, lime and radish ($10 to 12).
Customers have a wide range of options for cold-pressed juice, and can order selections in 6- or 12-ounce pours, or a flight of four 4-ounce juices ($4 to $5.50). The Clean and Clear features cucumber, pineapple, mint and green apple, while the Beetnik is made with red beet, orange, kale and cucumber juices. The Mai Tai is made with a blend of orange and pineapple juices, and the Spicy Watermelon features watermelon, red beet, lime, mint, green apple and jalapeño.
From the beginning, Luckyberry has focused on freshness, and wants its customers to see that commitment in every product that it serves, whether it is a glass of juice or a sushi roll. And following the remodel, customers are returning, and finding a wide range of new things to try.
Luckyberry Kitchen & Cocktails is open daily from 11am to 9pm.
Luckyberry Kitchen & Cocktails, 845 Massachusetts St., Lawrence, Kansas, 785.331.4220, luckyberry.com