For five years, chef Ryan Brazeal's celebrated restaurant Novel has operated in a century-old converted house in Kansas City's Westside neighborhood. The house, its walls paneled with reclaimed wood and its rooms tight with seating, was an ideal romantic dinner destination for many. But for Brazeal and now wife and partner, pastry chef Jessica Armstrong, the house was not a home. As anyone who owns one of these classic Kansas City shirtwaist homes knows, climate control during extreme midwestern seasons presents a challenge. In the summer, the restaurant's second story – home to about half its seating – could be sweltering. In winter, it wasn't unusual to see diners wearing their coats. As such, the couple long planned a move out of the space.
Novel reopened just two weeks ago in its sparkling new East Crossroads location, just about a mile in distance from its original home but a world apart in terms of look and feel. Brazel and Armstrong purchased the property at 1927 McGee (as well as the adjoining property, once home to Cadillac Catering), and have spent the past year renovating the space into a timeless, sleek new dream home for their restaurant.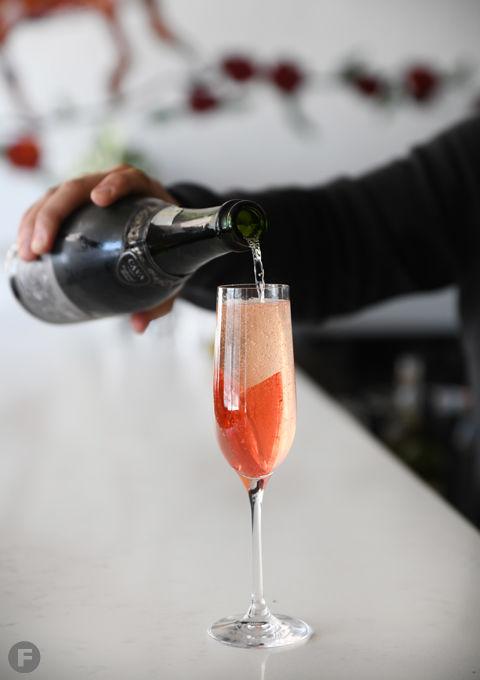 "We've worked really hard to give it its own personality that reflects the neighborhood and the structure itself," says Brazeal. This includes a centerpiece bar, topped in white stone, and an 80-foot custom tile mural that evokes New York's greatest subway station art, but is firmly rooted in Kansas City. The mural was designed and created by local artists Peregrine Honig and Laura Redlen, and features animals that still prowl the Crossroads, including insects and foxes.
The dining room also features polished concrete floors and dark wood tables and chairs. The dining room seats about 62 (not including the bar); patio seating will be available as the weather continues to warm. A semi-open kitchen provides diners a glimpse into Brazeal and his team's work. The space feels comfortably modern. And, surely to the happiness of Brazeal and Armstrong, it can't be described as small.
The menu has been revamped along with the space. Brazeal didn't want to entirely abandon the tasting menu that has largely defined his style these past five years, but he also wanted to expand the menu from small plates to include more approachable, larger-format entrees as well. 
"I feel that I've grown a lot and matured a lot as a chef in the few years since we've opened," explains Brazeal. "This [gives] me an opportunity to really focus my food, take some of the young chef hubris out, give the people what they want." So, in addition to Brazeal's beloved "Crispy Egg" (a rice pearl-coated poached egg, served with oxtail and beef tendon atop a tamarind chili ragu), customers can also order new fresh pasta dishes (pasta being one thing the old kitchen didn't have enough room for), as well as seared diver scallops, pork chops and even a 12-ounce strip steak.
By creating these types of dishes and thus different types of experiences, Brazeal and Armstrong hope that they can entice customers to come back to visit more often.
"…We hope by making it maybe less fussy, we can get away from the stigma of being a special occasion restaurant," Brazeal says. "This is such a unique opportunity to be able to reinvent ourselves and recognize the things that didn't work, and start over with a clean slate."
Novel is open Tuesday through Thursday from 5 to 9:30pm, and Fridays and Saturdays from 5 to 10pm.
Novel, 1927 McGee St., Crossroads Arts District, Kansas City, Missouri, 816.221.0785, novelkc.com