Chef Vaughn Good and his partner and co-owner, Kristine Hull, have just made the call to push back the grand opening of their long-awaited restaurant, Fox and Pearl, by two weeks. The new date they plan to open to the public is Fri., July 12. The pop-up location of the restaurant closed in mid-May.
They aren't worried; this isn't their first restaurant opening. They know they only get one shot at a grand opening for their new restaurant located on the corner of Summit and Avenida Cesar Chavez on Kansas City's Westside – and they want to do it right.
Fox and Pearl's new space, and its food, is well worth the wait. Good and Hull worked closely with their landlord and real estate developer, Adam Jones, whose construction team has been hard at work. With the new opening date set, the restaurant is a sea of workers shouting out measurements over the buzzing of saw blades and the banging of hammers.
In the midst of the chaos, the management team continues to move forward. Good is huddled with his chef de cuisine Isaac Hendry, discussing the layout of the custom-built kitchen complete with wood-fire hearth and smoker. Hull has taken a break from her computer to water the plethora of mostly edible trees and gorgeous green plants scattered willy-nilly around the space, waiting to be placed in their final resting spots.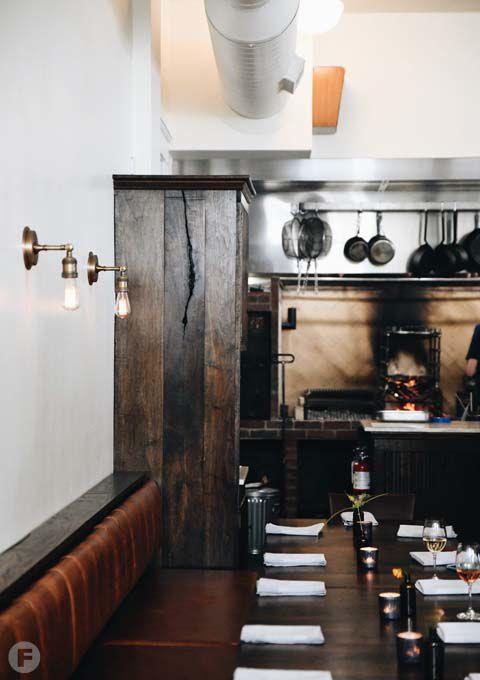 General manager and sommelier Richard Garcia is working quietly on his laptop in a corner, paperwork scattered all around him, earbuds in to block out the noise, while bar manager Katy Wade, who is also on her computer at another table, is working out the setup of the bar on paper.
Separately, they are all working together, which is not surprising once you learn that this management team has worked together before in Lawrence, Kansas. Somewhere between Hank Charcuterie, Pachamamas and 715 Restaurant, all of their paths have crossed professionally. They like to think of it as the band getting back together.
When it's crunch time, it helps to have the familiar shorthand that comes from having worked with someone in the industry before. This team has lots to sort out in the next few weeks, and they know the noise of the buildout will soon be replaced with the sounds of a busy kitchen, a full dining room and patrons clinking glasses at the bar.
Following the Fox and Pearl management team around for the past few weeks, one can see not only how a restaurant is built and a team bonds, but also how a restaurant's culture is born.   
Tue., June 11, 1pm

Richard Garcia, Fox and Pearl GM/sommelier
4 weeks from opening
Fox and Pearl's 10 servers and bartenders are crammed into the two large round leather banquettes. They are dressed in a combination of summer shorts and their servers' uniforms fresh from other shifts or dressed for their next. A band-saw whirs in the background as woodworkers are completing the storage unit above the large bar in front of them.
Garcia, who was most recently the general manager and sommelier at The Golden Ox, is quietly pouring wine samples for himself as the servers pass the bottle to pour their own sips. He's hosting his first wine training class with the new staff, walking them through each of the grape varietals that they will not only be serving, but selling, to customers once the doors open at Fox and Pearl.
A worksheet that discusses the history of the word "glou-glou" sit in front of them. The French term roughly translates to "glug-glug" and is used today to describe wines that are wholly quaffable and lighter in alcohol, tannins and body, but still have plenty of acidity, minerality and personality.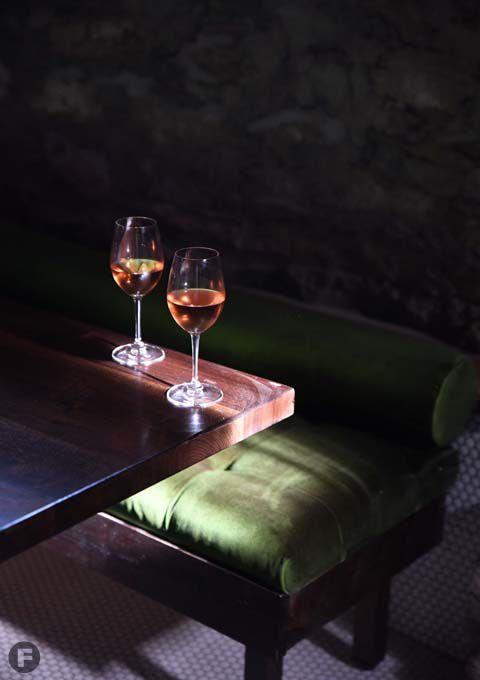 Fox and Pearl will exclusively offer a natural wine list from both domestic and international vineyards and winemakers. Natural wines have been making inroads on wine lists at restaurants all over Kansas City in the last few years, and Garcia says the style fits in perfectly with the organic, sustainable, seasonal food – and overall farm-to-table philosophy – that Fox and Pearl has begun to build a reputation for serving. "We want to highlight sustainable producers who are making wines that are not given anything artificial or have had anything artificial done to them," he says.
As the staff continues to sample the wines, one person remarks on the mustiness, while another wants cheese with the wine. Their noses bob in and out of the tops of the glass, sniffing and swirling as they continue their thoughtful remarks. Each comment made educates the entire group on what is special or unique about each wine.  
"Pickled foods, fermented foods, smoked foods and roasted vegetables... natural wines and biodynamic wines go beautifully with all of these," says Garcia. "It also perfectly describes the modern Midwestern food we will be serving at Fox and Pearl."
Garcia is still finalizing the wine list, but says that he plans to offer whole and half bottles and maybe even 1/3 of a bottle. He will also sell around 15 natural wines by the glass. He recognizes that part of his job will be to help diners who might not be as familiar with natural wines to find one that they will enjoy drinking. "In that regard, my role as the sommelier is really no different; I am here to make sure people enjoy what is in their glass," he says.
Tue., June 11, 2:30pm
Katy Wade, Fox and Pearl bar manager
4 weeks until opening
Wade, Fox and Pearl's full-time bartender is on her way out the door from the wine training when she stops by to speak with Garcia. She made a name for herself in Kansas City's bartending scene by taking the craft seriously while not taking herself too seriously. She's worked behind the bars of some of the best cocktail spots in town, including Manifesto, The Rieger and Julep, just to name a few.
For the past five years, she found a home working in the West Bottoms, first behind the bar at Voltaire and then also pulling shifts at The Golden Ox in the West Bottoms, both owned by chef Wes Gartner and Jill Myers.
When the opportunity to be the bar manager at Fox and Pearl presented itself, she had to consider if it was the right move for her. "I loved working at Voltaire in the West Bottoms, but I knew it was time for me to do something different," she says. "I am really looking forward to working in a neighborhood again, to serve a regular clientele who lives just down the street and decides to pop in for a drink."
Wade's new cocktail menu at Fox and Pearl will use the same seasonal ingredients they are cooking with in the kitchen. "If the kitchen has 20 pounds of fresh organic strawberries, you can bet we are going to have those same strawberries carried from the food menu onto the cocktail menu," she explains.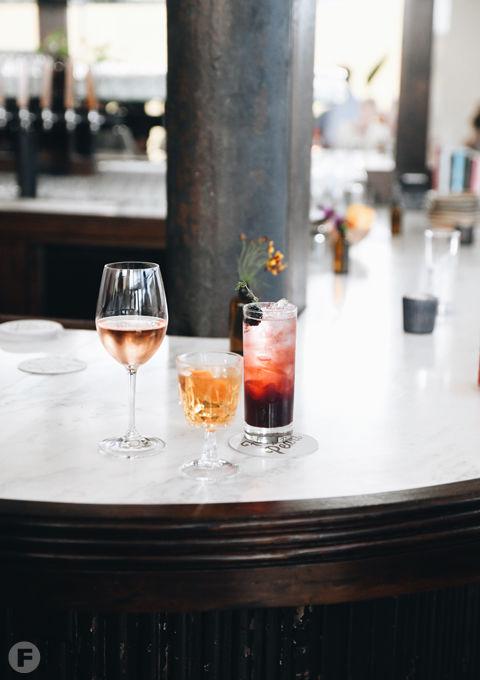 Lately, she has been researching everything from sustainably made tequilas to the way restaurants work with local farms, informed by chef Dan Barber's book The Third Plate. She's then applying those same theories to her bar at Fox and Pearl. "We all came from rural families and we understand the important work of a farmer, and how it is our job simply to highlight their hard work on our food and drink menus," she says.
The cocktail menu at Fox and Pearl will offer six quality cocktails using seasonal, organic produce and local liquors. The list will rotate every few weeks, featuring lower ABV drinks in the summer and boozier drinks, meant to be sipped slowly, in the fall. There will also be a fine list of non-alcoholic cocktails, an area of the craft that Wade feels has picked up in recent years.
"There are plenty of reasons why someone might not want to drink when they go out, but they still want to be social," she says. "Having something in your hand helps, but you also want it to be something special, seasonal and delicious even though it does not have alcohol in it."
When asked to describe what her cocktails will look or taste like at Fox and Pearl, Wade's hand slips inside of her notebook, where she pulls out a single piece of paper with six individual drawings that have been colored in with crayons or colored pencils to represent each of her six opening cocktails. "It really helps me to visualize the whole menu if I draw them," she says. "I can see the various colors of each cocktail and the decide the right garnish and glassware this way."
One cocktail, "So Fresa, So Clean," looks like it will be served in a tall Collins glass over ice with a strawberry garnish. It is made with Del Maguey Vida Mezcal, the bright red aperitif Cappelletti, strawberry honey and lime. The final word under the description is "jasmine," which turns out to be a similar gin-based cocktail that inspired Wade to make this drink.
Looking at the bar, one can see there is room for eight beer taps. Wade says there will be some local selections, and she also wants to also support breweries that have the same interest in sustainability as Fox and Pearl.
"I will be putting great tasting beers on tap that are also donating to efforts like conservation and reforestation efforts," she says. "In addition, we will carry some wild fermented ales and ciders that, like the natural wine list, will have minimal intervention. I am also thinking about things like vegetal sour beers that will pair well with Vaughn's food." 
Wade will also be responsible for managing not one but two bars at Fox and Pearl. The restaurant will feature a large bar upstairs as well as a smaller, more dramatic cocktail lounge downstairs. Here, only small plates and charcuterie boards will be served alongside the same cocktail and drink selection offered upstairs. No reservations will be taken for the downstairs bar; it will be available on a first come, first serve basis. Yet Wade is undaunted at the thought of running two bars, especially when they will both be serving the same drink menu.
With one last parting glace at the bar in progress, she says with a smile, "I am really looking forward to working in a room with all of this light."
Thu., June 13, 10am
Kristine Hull, Fox and Pearl owner/catering manager and designer
Four weeks until opening
Hull is being pulled away from her laptop once again. Her name is being called out by three different people in the restaurant, all at once. Jones has asked her to come look at the placement of a shelf before his guys, who are waiting with drills in hand, mount it on the wall above the server station. Garcia has arrived with the mail and has asked her for the restaurant's bank card to purchase supplies at Restaurant Depot, where he is headed next. Good is wanting to know if the liquor license paperwork got all straightened out. She has the answers to all of their questions.
In addition to clearly being the glue that is holding this restaurant together as they move toward opening, Hull is also a fantastic interior designer with a vision for what she wanted the new restaurant to look and feel like. Everything has her and Good's personal touch – even the name, Fox and Pearl, which was given to honor the middle names of their two daughters.  
Hull says that when she and Good originally looked at the space, she couldn't think of one thing she didn't like about it. "It has soaring 16-foot tall ceilings in the bar area, and original maple floors. There are tall windows that are topped by original lead glass that lets in a lot of light," she explains. "It had access to two parking lots, a full back patio and it was situated in a neighborhood on a sunny corner with easy access to I-35 and downtown. What's not to love?"
Good agreed, yet it was the original white-and-blue tilework on the front door stoop spelling out "drugs" (which remains from the days when the space functioned as an old neighborhood store) that cinched the deal for him.
The restaurant has three main dining spaces, each with its own unique style elements. The decor is subtle with a neutral color palette that looks both old world and futuristic all at once. The goal was for the space to look timeless. Hull says diners can think of Fox and Pearl as a modern Midwestern bistro.
There is an open kitchen and dining room on the upper level of the space that Hull refers to as the "fox den." The lower level is the bar area, with seating at the bar and around the bar area itself, which is called the "pearl bar." The third space is an intimate bar and lounge in the basement of the restaurant accessible by a spiral staircase, and is simply referred to as "the lounge" for now.
On the upper level, the wood-burning hearth is the focal piece of the restaurant. It features a large antique farmhouse table that will serve as a communal and chef's table with a marvelous view of the kitchen. Other seating on this level hugs the wall with smaller leather banquettes on one side and antique chairs made of dark walnut wood on the other side.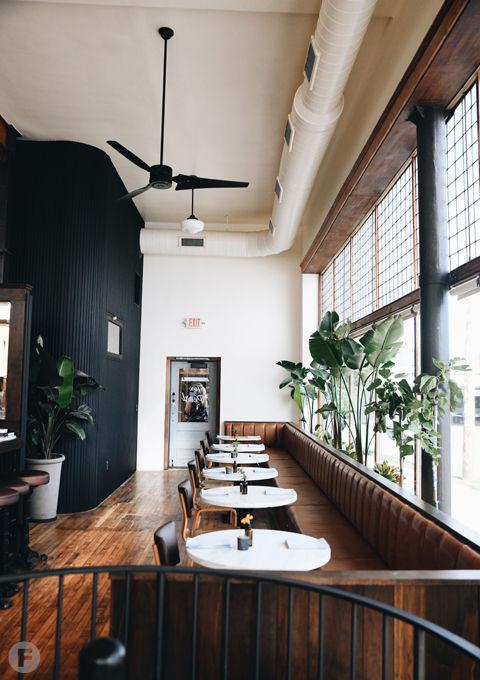 "Everything on this level of the restaurant has been kept cozy and warm like a fox den," says Hull. "This room is a little more squared off, so we leaned into that, making the dining tables, the communal table and the plating table in the kitchen all square."
The rust-glazed pottery bowls and plates stocking the kitchen shelves at Fox and Pearl were made by Mike Crouch Pottery in Lawrence. Hull says she has now added stylish white plateware from local Kansas City artist Chentell Shannon's Convivial Production into the mix to lighten up the color palette. She plans to use those as her catering plates.
On the lower level "pearl bar," Hull kept everything round in shape to mirror the shape of a pearl. Large saddle leather colored booths are round and oversized with a dramatic Art Deco arch on the back. The tables are round, and the bar will have rounded corners. The light fixtures will also feature large white round globes, similar to pearls.
Finally, the basement space is tiny but dramatic with a small bar in the corner that faces another round banquette, this one covered in plush forest green velvet. Tables in the back of the space are lined up against more velvet green seating. The green velvet gives a pop of color and dresses up the space to make it feel special and more intimate.
"In the entire space, I have used plants instead of art on the walls, and I tried to bring in mostly plant and trees that have an edible element to them. I have olive, fig, lemon, lime and mandarin orange trees," says Hull. "Around 90 percent of the plants in this space are edible."
She explains that having edible plants in the space is part of the sustainability message, and with all of the natural light in the space, it would be a shame not to put it to good use.  
Hull and Good are pleased with how the space has ultimately turned out. "The goal was to create a refined rustic space that felt elevated, but comfortable," she says. She nailed it, beautifully.
Tue., June 18,  1pm
Vaughn Good, Fox and Pearl owner/executive chef
Three weeks from opening
Good is currently in a holding pattern. He is not so patiently waiting for a series of city approvals to come through before he can start actually cooking in his brand-new kitchen, which he is more than ready to do.
The city inspection comes first, then Hull and Good can schedule their health department inspection before filing their liquor license. It all has to move in a specific order, and any delays in the process moves the whole timeline back.
"Right now, everything is still completely out of my control," he says. "It has all been so chaotic from my perspective, so yeah, I'm definitely looking forward to having this part behind me."
The kitchen itself is almost complete, with only a few small updates remaining. Good has already fired up and tested his oven hood, a custom-made wood-burning hearth that will serve as the entire grill station and a smoker. He designed the setup so as to get the most out of his kitchen space, and for the opportunity to cook on live fire. He says he is really happy with the results.
"We wrote this first menu with the hearth in mind," says Good. "Our goal is to figure out how to use it properly to get the best out of the food we cook on it. The chefs will use hand fans in order to control the heat and manage the fire as needed; it will be like learning a whole new way to cook."
Before he and his team can actually start to cook, they have some fundamental but important work to do. "We know where everything will go, and it will be all hands on deck once we get that health department approval. The first thing we need to do is get our pantry built back up in this space," says Good.   
For a restaurant like Fox and Pearl, where everything is made from scratch, a fully stocked pantry is essential. "We will need to get our whole animals first, a pig in this case, to break it down to cure our sausage, ham and bacon, getting our charcuterie program started," Good explains. "We then have to start making our own fermented fruits and vegetables, our pickles, our flavored vinegars, our flavored oils, our flavored honey. It all just takes time to build everything back up."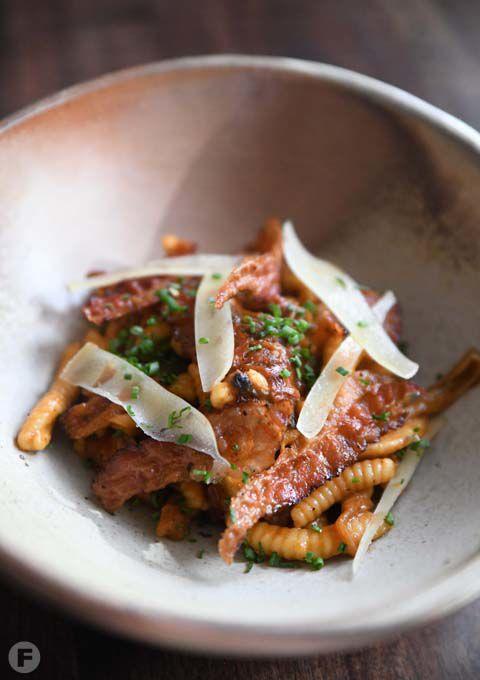 Good's opening menu is broken up into small plates, large plates, family-style shared plates and vegetable side dishes. Hull eats mostly vegetarian, so having a wide variety of vegetable dishes on the menu is important, as is buying directly from local farmers and ranchers.   
"We will be getting in local duck, rabbit and even some local Missouri trout on the menu, which is new for us. We've never done fish; with our history of being a butcher shop first, I just didn't think we needed to add another protein into the mix, but now we are really looking forward to working with it," says Good.
The small plates menu reads like a gardener's well-stocked food cellar. Dishes like potted cheese, fried green tomatoes with green goddess dressing, smoked ham with mustard, pickles with assorted vegetables, smoked pork terrine with green strawberry honey and roasted garlic aïoli on buttermilk biscuits all seem perfectly grounded in the season.
Larger plates include Good's signature grilled burger and handmade pasta dishes, as well as meatier dishes like quail, duck, rabbit, porchetta and beef short ribs. The family-style menu includes two selections: a shareable grilled ribeye steak and fried chicken dinner.
Good has learned a lot about himself and his food while operating the pop-up location Fox and Pearl for the past year. The experience gave him a chance to see how far he could push the envelope and still sell dishes every night. "Kansas City really surprised me with what they were willing to eat," he says. "I had put a lot of rules on my food in Lawrence, because I started as a butcher shop first, and felt like my hands were tied to just cooking the things people used to buy from me. Cooking here made me realize that those were restraints I had put on myself. Those were the things that were holding me back from cooking how and what I wanted to cook.
"My food will continue to be an evolution from where I started at Hank Charcuterie, but now, I am just ready to cook."
Come July 12, Good will be able to do just that – and Kansas City will be ready.
Fox and Pearl, 2143 Summit St., Westside, Kansas City, Missouri, 816.437.7001, foxandpearlkc.com