Owner and head brewer Nick Mader's Alma Mader Brewing is set to open this Thu., April 11. Outfitted with a two-vessel, 10-barrel brewhouse, Alma Mader will bring even more beer production to Southwest Boulevard: the brewery is located just a block away from Boulevard Brewing Co.
"We are [also] tucked in the middle of all the great taco joints on the boulevard and The Roasterie," Mader adds.
The move is full circle for Mader, whose beer industry career began at Boulevard. "Boulevard Brewing was my foot in the door and it ultimately solidified my decision to keep moving forward in the beer industry," he says. "There was a lot of knowledge that I accumulated from bartending and giving tours of the facility. I also learned how to talk about beer, which I feel like is an underrated asset at many breweries and an educational element that is incredibly important at Alma Mader."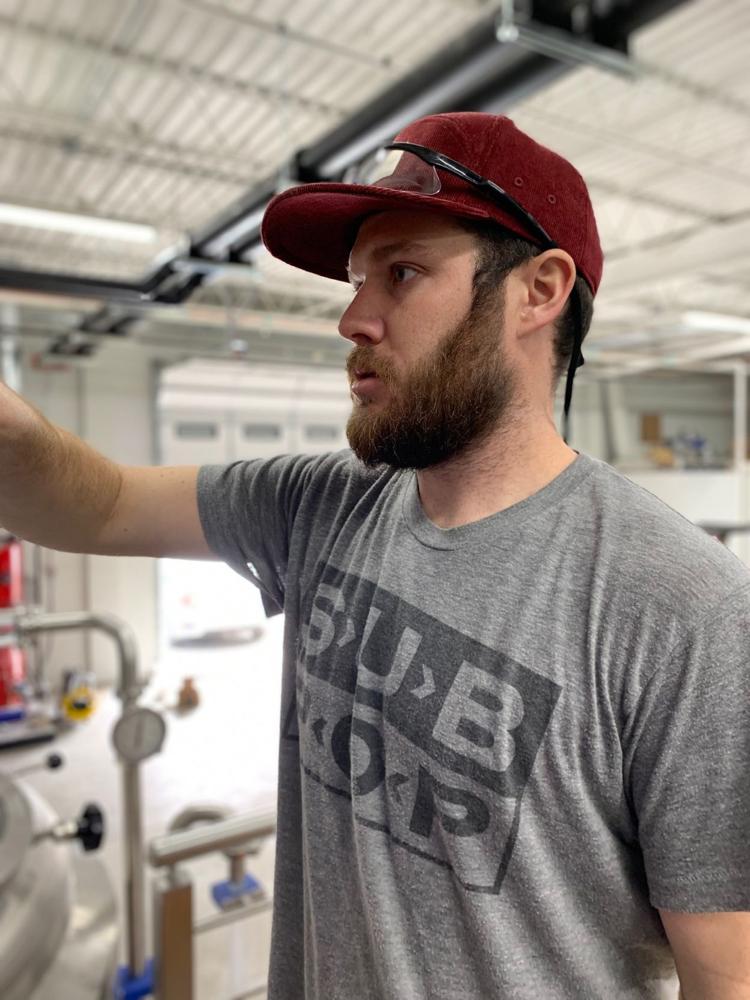 Mader next moved to Denver and began working at Crooked Stave, best known for only producing wild and sour beers, as one of the brewery's original employees. "It was all hands on deck every day of the week," Mader says. "It was fulfilling to be a part of such a unique brewery. Crooked Stave taught me what it takes to run a successful small business and create a place that inspires people. There was a sincere passion and attention to detail that drove everything we did."
Mader carried that experience forward with his next career leap. He moved to Seattle to be a shift brewer and cellarman at Fremont Brewing, where he gained experience brewing on a larger scale. "We were running full steam and it helped me acclimate to the pace of a production brewery," Mader says. "I definitely fell in love with hops via Fremont and the close proximity to Yakima Valley. Fremont taught me the power of taking care of employees and not releasing sub-par beer."
Mader took over the research and development and wild beer programs at Fremont. That role gave him confidence in recipe formulation and the ability to execute a variety of styles. Now, he can apply a wealth of experience from working at three breweries into his own endeavor.
Alma Mader will focus on producing hop-forward ales and lagers. "The majority of our beers will be pilsner, pale ale, and IPA but all with a focus on balance and drinkability," Mader says.
Initially, Alma Mader will only sell its beer out of the tasting room. Eventually, Mader plans to introduce Crowlers filled with different beers weekly as a packaged to-go option. "Our tasting room will be our best source of feedback for what beers people are liking and that will help to organically push the direction of our beers," Mader says.
Mader and the brewery's core team certainly have depth as industry veterans. Mader hired former Crane Brewing Co. brewer Michael Reynolds as a brewer and cellarman, while Joe Godek brings experience from Boulevard Brewing Co.'s Tours and Rec Center and Bier Station to his role as tasting room manager at Alma Mader.
As Kansas City's craft beer scene continues to expand, Mader hopes Alma Mader will distinguish itself in a few ways.
"We are approachable with the beers that we offer and will make a concerted effort to promote education on beer," he says. "We have a lot of fun ideas that we will eventually start to roll out. We feel that this will help support not only the education around beer, but also promote other industries that we often draw inspiration from such as wine, coffee and music."
While Mader has lived and worked in prominent craft brewing cities such as Seattle and Denver, he chose to return to his roots and open his business in Kansas City.
"I see opening a brewery as a culmination of my education and experiences at three world-class breweries," Mader says. "I wanted a platform to execute my own beers and move back to that city that I love. I also want to contribute and be a part of all of the exciting things happening here right now."
Alma Mader Brewing, 2635 Southwest Blvd., Kansas City, Missouri, almamaderbrewing.com