After several months of effort on behalf of the team at Bread and Butter Concepts in collaboration with chef Joe West, Stock Hill at last opens its doors to the public on Thursday evening. The timing is seemingly perfect for a decadent and splashy new restaurant – with Thanksgiving behind us, the holiday season is now in full swing, and Stock Hill is a spot that may well impress even the pickiest of guests.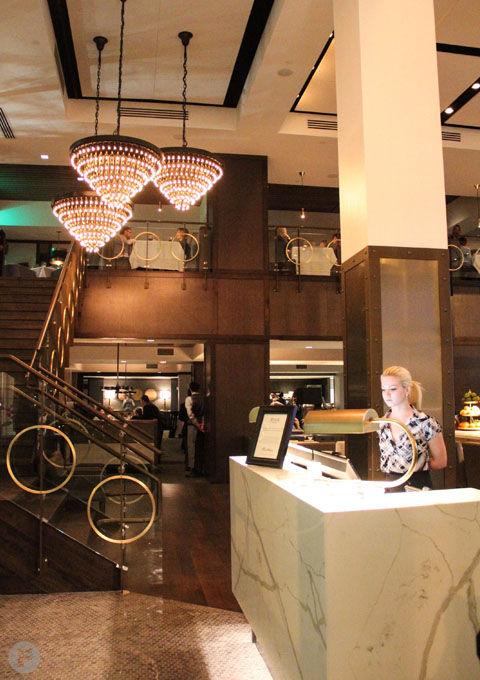 The restaurant's interior is vast at 300 seats, yet every square foot of the space has been tailored precisely to create a modern and elegant atmosphere, from the low-set plush green booths in the lounge to the glass-flanked staircase that leads up to the seating on the second floor, which overlooks the impressive marble bar. Beyond the lounge on the first floor, guests are sat either at large rounds, comfortable partitioned booths or along a tufted banquette lined with tables for two or four. Seats in the center of the restaurant have a full view of the bar and a partial view of the buzzing kitchen.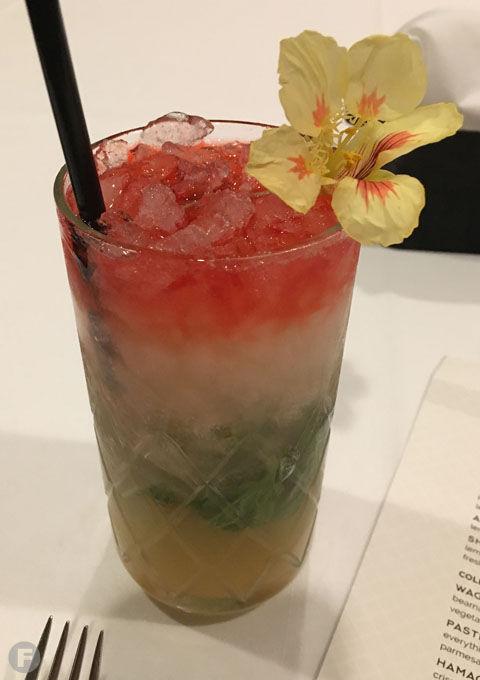 Since coming on with Bread & Butter Concepts, West has worked on the menu in collaboration with Alan Gaylin, the founder and CEO of Bread & Butter Concepts, and others on the Bread & Butter team. Recipes were tested and workshopped as the 14,000-square-foot restaurant was built out, and the final result is an unintimidating yet refined menu with a selection of steaks at its center.
The drink menu, developed by Bread and Butter's Scott Tipton, features six custom cocktails, a selection of Old Fashioneds, Manhattans and martinis, plus choices of beer and wine by the glass or bottle. Wine selections are curated by assistant general manager and sommelier Sheri Osborn. The current cocktail selection is seasonally dusky, primarily featuring whiskey and gin. The Loose Park Swizzle, for example, features Beefeater 24 gin, apple, whole mint leaves and lemon, with Peychaud's bitters drizzled on top and garnished with an edible flower. The Smoking Hill is made with Templeton rye, Mathilde cassis, mint and lemon, and is served over a block of ice made with water "smoked" with hickory for 12 hours. The latter is particularly satisfying and stands up well to Stock Hill's hearty proteins.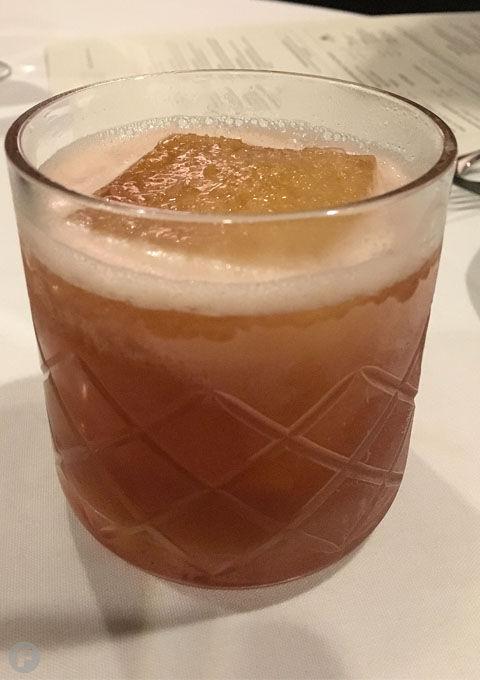 The dinner menu is partitioned out into six sections: appetizers (on ice, cold and hot), soup and salad service, steaks, meats and chops, entrees and sides. To start, diners can choose from oysters, crab or shrimp on ice, or also from the cold side a wagyu steak tartare with béarnaise fluff or an excellent Hamachi crudo served on crispy rice crackers with yuzu aioli and a swipe of black sesame paste, among other dishes. Akaushi short ribs with a bordelaise sauce, lamb meat balls with a date agre doux and finger lime, and seared foie gras served on puff pastry with preserved cherries are among the hot appetizers (the short ribs are also available as an entrée). A selection of three caviars or a wood-fired chef's platter are also available.
The soup and salad selections are substantial considering their intentions as smaller courses, and include the Two Little Gems, a salad of halved romaine with blue cheese, diced thick bacon, egg, thinly-sliced radish and green goddess dressing, as well as a Boulevard Pale Ale smoked potato soup that is poured at the table over Cheddar espuma, chives and crunchy hominy.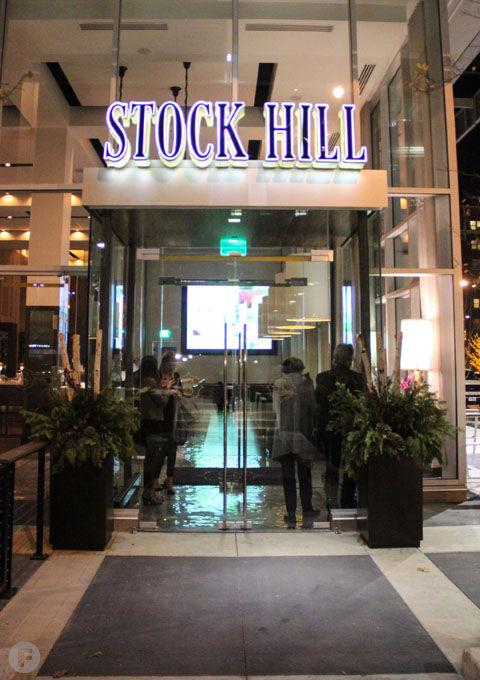 Stock Hill's steak selections are cooked over a wood-burning grill and then are finished when necessary in a 1500-degree broiler. Diners can select from wet- or 28-day dry-aged strips and ribeyes (wet aged steaks just being ones that are vacuum-sealed between slaughter and service), as well as Wagyu cuts and filet mignon. The featured steak is a dry-aged, bone-in 18-ounce strip. On a recent visit we sampled the dry-aged ribeye, and the meat was so tender that a kitchen knife would have sufficed over the burly steak knife that was provided. Guests may also opt for their steaks to be rubbed with sea salt and peppercorn (the default option) or a coffee and porcini blend, and the steaks can also be served with a selection of sauces, including a housemade steak sauce, a wasabi-yuzo chimichurri, creamy horseradish or Armagnac and green peppercorn sauce.
Should steak not tempt you, a wide variety of other proteins are available, as well as two very worthy fresh pastas. The tagliatelle (ribbons thinner and wider than linguine), is served in a very good buerre monte (a butter-based sauce) with bacon lardons and Parmesan "snow," and is topped with a 63-degree runny egg, which mixes beautifully with the fresh noodles. A pork shank osso bucco is one of the most impressive-looking dishes, and is served braised on a heap of polenta with roasted vegetables. Other available dishes include roasted Amish chicken, a rack of lamb and a veal porterhouse, served with fregola sarda pasta.
If possible, leave some room. Bread and Butter has brought on pastry chef Kelly Conwell and she and her team have developed a tight dessert selection (the team also runs an on-site bread program). A delicious Meyer lemon tart is served with a crème fraiche ice cream, hibiscus jam and pine nuts – or if chocolate is more your speed, a bittersweet chocolate torte is topped with hazelnut crème, cocoa nubs and is topped with candied ginger and a speculoos cookie.
Stock Hill's dishes are familiar, yet are elevated nicely with premium ingredients and chef West's flair for presentation. Service comes dressed in a suit coat and is attentive to detail. The two combined with Stock Hill's elegant, modern atmosphere create a destination that merits attention. And you might hurry – it's easy to imagine the December books will be filling up soon.
Stock Hill opens at 11:30am tomorrow for lunch service. Dinner is served every night and lunch is available Monday through Friday. 
Stock Hill, 4800 Main St., Kansas City, Missouri, 816.895.8400, StockHillKC.com