Kate Bryan has always had a deep nostalgia for French-style crêpes. She grew up eating them on the weekends, when her father would make them for her, calling them "skinny pancakes."
As an adult, her international travels afforded her the opportunity to enjoy crêpes from different parts of the world. She marveled at their versatility and ability to completely change flavor profile based on their sweet or savory fillings.
It's no surprise that in September 2017, she decided to make crêpes her official side hustle, hitting the road with her new food truck, Seven Swans Crêperie. By March, business was looking good, so she decided to make crêpes her full-time job. "My first official week as a full-time food truck owner was in late March, and my calendar is filling up fast with pop ups, festivals and private events," she says.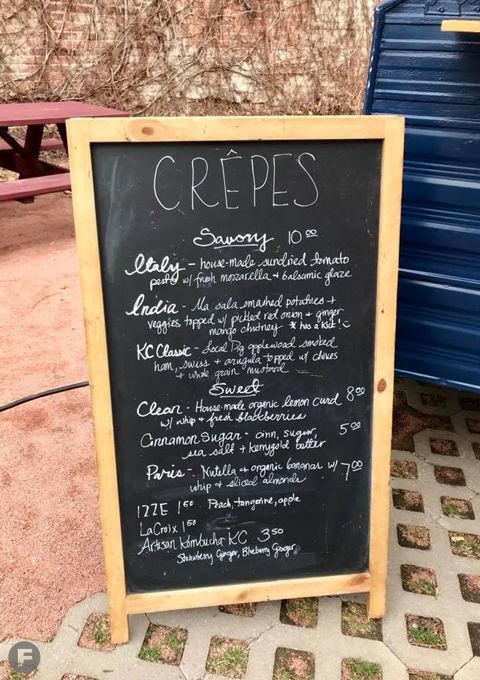 You can find the Seven Swans Truck parked every Friday from 7am to 2pm at the parking lot at 31st and Gillham in conjunction with the Wild Way Coffee truck. She ends her week on Sunday from 9am to 2pm, camping out near Hyde Park at 38th and Gillham, selling crêpes to the neighborhood.
"I got lucky; I developed regulars quickly who found me Sundays at Hyde Park," says Bryan. "Now, I have started to book weddings and private parties from those relationships."
Bryan used to work at Paper Source on the Country Club Plaza, and her food truck clearly embodies both her crafty and culinary creativity. The truck looks like something out of a storybook, serving a delicious mix of three sweet and three savory crêpes along with bottles of local kombucha or cans of IZZE or La Croix to drink.
Recently, Bryan's offerings included an Italian crêpe with sun-dried tomatoes, mozzarella and pesto, and a vegetarian Indian crêpe with masala-spiced smashed potatoes and vegetables, pickled red onion and ginger-mango chutney. The "KC Classic" crêpe features Local Pig applewood smoked ham, Swiss cheese and arugula topped with chives and whole-grain mustard. Each was served warm and featured a generous amount of filling encased in a blistered crêpe with a mouth-watering sauce or condiment. Seven Swans' sweet crêpes are true French classics, filled with butter and cinnamon sugar, Nutella, organic bananas and sliced almonds or organic lemon curd topped with blackberries.  
The crêpe truck is a 7-by-14-foot Play-Mor Trailer that Bryan found on Craigslist and towed from Stillwell, Kansas, to her garage. The buildout took about a year and a half, which was more time than she anticipated to make it road-worthy. Now, the outside is painted a handsome navy blue with reclaimed wood surrounding the service window and decorating the door. A gorgeous hand-painted logo and lettering adorn the truck, adding charm and a bit of color.
"This idea was 15 years in the making, and I basically started with a good idea and a Pinterest page," jokes Bryan. "I came this close to opening a brick-and-mortar location, but it fell through at the last minute and I was so fed up with waiting that I started considering a food truck. Within 24 hours, I had found and purchased the truck and I haven't looked back."
Follow Seven Swans Crêperie on Instagram, or email owner Kate Bryan for a catering quote at sevenswanscreperie@gmail.com.
Seven Swans Crêperie, Kansas City, Missouri, facebook.com/sevenswanscreperie