Almost a year ago, Shagan Bajwa and her husband, Sam, leased a restaurant space in south Overland Park with the intention of taking her home-based Indian flatbread business specializing in handmade parathas to the next level. Today, they run Shagan's Chicken & Parathas, a full-fledged North Indian restaurant open for lunch and dinner.
The couple had not originally planned to use the dining room of their new restaurant space, thinking they just needed the commercial kitchen to fulfill weekly orders for parathas. Soon, they decided to slowly move in that direction by putting out a few simple folding tables and chairs for diners, with Bajwa making a few of her favorite Northern Indian Punjab dishes for customers.
"I love cooking for people; it is one of my greatest passions," she says. "I started by cooking parathas for my friends and family, and now I have added some of my favorite North Indian dishes, making them the same way that I make for my own family at home. It all comes straight from my heart."
The restaurant is named for the chicken- and vegetable-based dishes like chicken curry, butter chicken and matar paneer that Bajwa serves along with her signature parathas. Known for its flaky yet stiff texture that is achieved by creating layers with ghee in between, the popular unleavened flatbread is beloved in India. There are many different types of paratha, and they're used frequently in Northern India because they hold up well to thicker curries and stir-fry.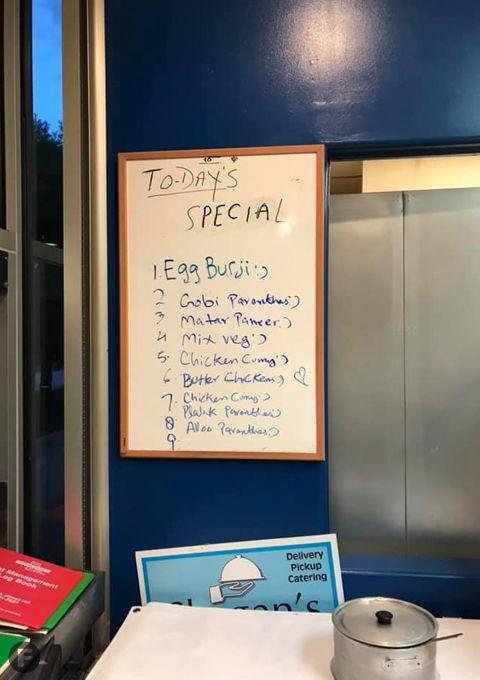 Shagan's Chicken & Parathas is open for lunch and dinner, and the menu changes daily depending on what Bajwa decides to make. The ever-evolving menu is posted on the restaurant's Facebook page and on a white board inside the restaurants.Diners can typically choose from a few appetizers, between three and five entrées and several types of parathas.
The dining room is quite sparse, but what it may lack in décor is more than made up for with Bajwa's delicious and comforting food – along with her exuberant passion for cooking and personal table touches.
Guests who have never been to Shagan's may hesitate upon entering the space, as the directions on where to go and what to do are not necessarily spelled out for you. The owners seem to prefer it that way, as it allows them a chance to engage with their customers. If you are planning to take your food to go, simply head to the front counter with the menu board. If you are dining in, grab a seat and you'll be waited on by one of the couple.
Both owners are simply charming and happy to verbally review the menu with you, listening to your preferences and recommending dishes that will suit your mood. Put yourself in their hands and let them send out a platter of three different dishes that is served on a silver metal plate with basmati rice and a piece of flaky paratha for a nice tour of the day's menu. The portions are generous, and the prices are a steal.
The restaurant space was formerly home to Smokey's on the Blvd, located in the Lionsgate Marketplace shopping center. The barbecue restaurant left behind its original wood accent wall and the cherry red wall, as well as a drive-thru window and spacious commercial kitchen with a serious hood system.
Bajwa formerly worked for a local bank in Kansas City, which gave her experience in customer service. In those days, she would spend her nights and weekends making handmade paratha with a range of ingredients including dal (lentil), aloo (potato), palak (spinach) or even gobhi (cauliflower) for friends and family who placed orders through her private Facebook group.
Today, she has quit her full-time job to pursue her full-time passion: cooking. "Thanks to the support from my husband, Sam, who works as a truck driver, and with help from my children, I am able to pursue my passion full-time, and I am very grateful for that," she says. 
Shagan's Chicken & Parathas is open Monday through Saturday from 11:30am to 8:30pm. The restaurant is closed on Sunday.
Shagan's, 14521 Metcalf Ave., Overland Park, Kansas, 913.766.8396, shagans.skipthecommission.com