Regulars to the City Market are familiar with Beignet's fun atmosphere and New Orleans-inspired fare, from its fluffy traditional beignets heaped with powdered sugar to its generous po'boys, boudin balls and even its ruby-red Hurricanes. Beignet is now looking to expand its customer base with a new opening in Westport, in a store that features the menu its customers have come to love, yet in a much larger setting.
Beignet Westport is located in the heart of Westport, at 40th and Broadway, in a space most recently home to taco restaurant Cancun Fiesta Fresh. Beignet owner and chef Bryan Merker has reimagined the space, with over-the-top purples, golds and greens, plus artwork evoking voodoo, Creole and Cajun culture – a theme that screams New Orleans from the top of its lungs.
As at the River Market location, Beignet offers a fast-casual service style. Customers enter off of Broadway and proceed to the order counter, which is located in the rear of the restaurant. After ordering food and drinks, customers choose their own seats, at which they receive table service for the rest of their stay from friendly staff, who often refer to customers as "sugar" or "hon."
The restaurant comfortably seats approximately 50 diners, between vinyl upholstered booths and two- and four-top tables. The walls are covered in New Orleans kitsch, including beads, paintings, masks and mirrors, and large wraparound windows facing Broadway provide excellent people-watching for guests seated inside.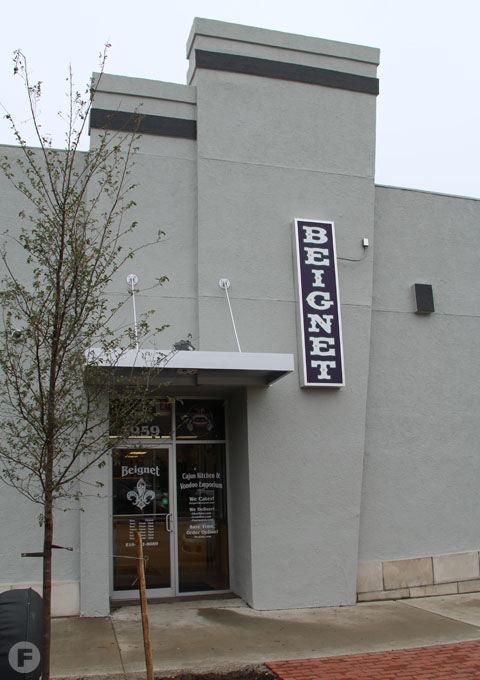 Beignet's Westport menu is separated into beignets and crêpes, savory beignets, baskets, po'boys and classics. The traditional beignets are made with a combination of Café du Monde beignet mix and Beignet's own signature pastry blend, served puffy and piled high with heaps of powdered sugar. For the stuffed beignets, which come stuffed with everything from bacon, gouda and Cheddar (the "Pig"), to blue crab, bacon and herbed goat cheese (the "Crusty Crab") and Voodoo veggie balls, sundried tomatoes, artichoke hearts, honey goat cheese (the "Voodoo Veghead"). Fried chicken tenders, fried shrimp and catfish are available in baskets, served with shoestring fries, waffle fries, sweet potato fries or Cajun-dusted potato chips.
Also served with fries or chips are the signature po'boys (which can also come wrapped in a crêpe instead of served in French bread). Among the po'boys, try the "Kitchen Sink" (andouille sausage, chicken, shrimp and crawfish scampi and catfish), the "Big Easy" (a pork boudin ball, hickory bacon, chicken and andouille) and the "Armstrong" (fried shrimp and shrimp scampi). Red beans and rice, étouffée, gumbo and jambalaya are also Beignet menu classics. To drink, Beignet offers a variety of local and Abita beers, as well as a potent, bright red Hurricane, which comes with an orange wheel.
Long a staple of the River Market, Beignet's Louisiana comforts and sunny service are a welcome addition to Westport's ever-expanding food culture.
Beignet Westport is open Tuesday through Thursday from 10am to 8pm, Friday and Saturday from 10am to 9pm and Sunday from 10am to 4pm.
Beignet Westport, 3959 Broadway Blvd., Westport, Kansas City, Missouri, 816.442.8089, beignetwestport.com