When San Francisco native Julian Garcia moved to Kansas City, he longed for sandwiches made on a type of crackly bread he remembers from his childhood in Northern California.
The Bay Area bread is known as "dutch crunch" or "tiger bread," and it has officially arrived in Kansas City thanks to Garcia and his childhood friend and partner Jake Wilson. The pair has launched Bay Boy Specialty Sandwiches, a new pop-up and catering business.
"I am the bread-meister, but Jake is really the one responsible for what goes between our freshly baked rolls," says Garcia. "He is truly a genius with flavors."
The two started experimenting with various "dutch crunch" bread recipes late last year, saying it was the hardest part of the equation. Each round, crackly sandwich bun is made fresh on Monday mornings. The dough is then slathered with a paste made from rice flour and sugar before baking, which crisps it up into a crackly top in the oven. There is a similar bread in the Netherlands called tijgerbrood, or "tiger bread," thus the "Dutch" part of the name; the "crunch" is self-explanatory.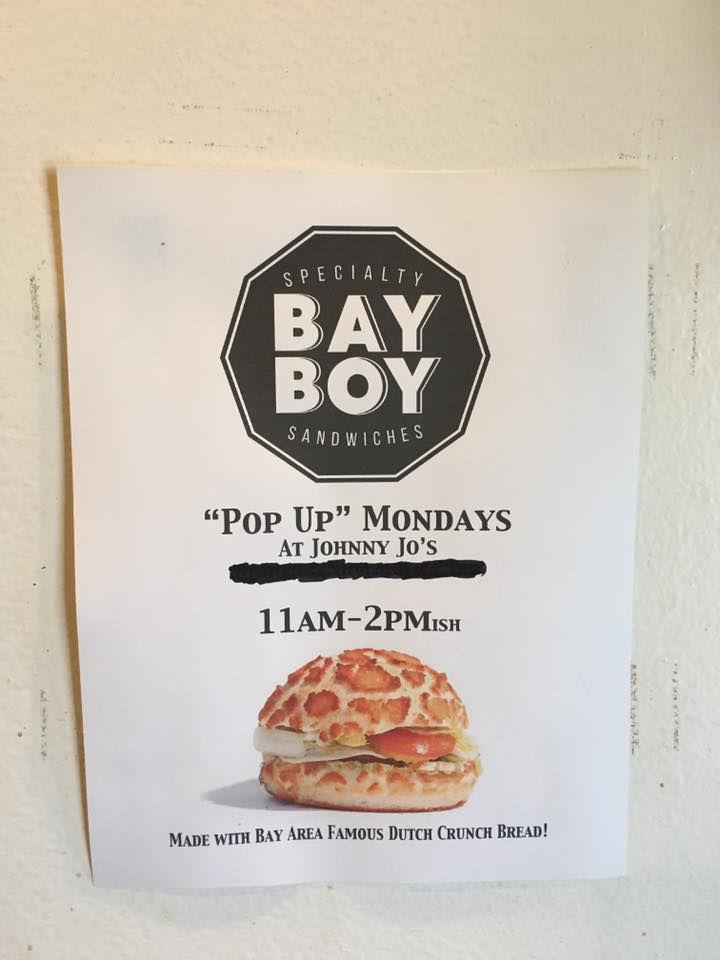 John Milone, a local restaurateur and owner of two Johnny Jo's Pizzerias, is letting Garcia, his longtime general manager, use his kitchen in the West Plaza to bake his specialty bread and prepare his sandwiches for the new business. He has even agreed to let the two partners pop up for lunch in his Johnny Jo's location for lunch on Mondays from 11am to 2pm, when he is normally closed.
"John has been extremely supportive of our dreams to get this business started by letting us use his kitchen," Garcia says. "His only request is to make and serve his pizza in addition to our sandwiches while we pop up in his space."
The two partners have worked with Milone at the New York-style pizza place since he opened four years ago. They started catering sandwiches on Wednesdays inside of Atlantic Aviation at the downtown airport to passengers and pilots alike. After rave reviews from friends, family and customers, they approached Milone about using his kitchen to get Bay Boy started.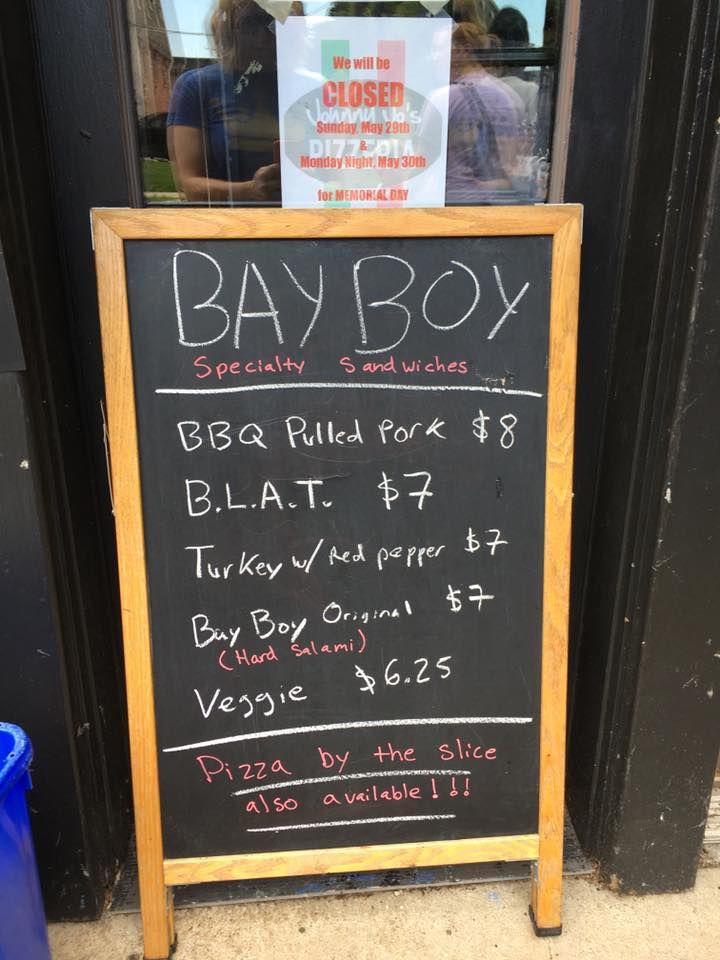 "The ultimate goal for us is to get our own food truck, and just use Johnny Jo's as our commissary kitchen," he says. "We are sitting down to work on our business plan this weekend."
Four to five sandwiches are offered on Mondays at Johnny Jo's for lunch, and they're usually posted to the Bay Boy Facebook page ahead of time. All are between $7 and $8 a piece. The most popular item is the Cubano Sandwich featuring pulled pork, honey ham, pickles, mustard and Swiss on their signature "dutch crunch" bread.
The Original Bay Boy has more of a kick, which comes from the Italian meats, cheese, lettuce, tomato and red onion and pesto sauce on the bun. The B.LA.T. is a take on a traditional BLT made with thick slabs of crispy bacon, lettuce, avocado and tomato.
"We make a reuben that I am really proud of, and we just started offering a turkey and red pepper sandwich that has taken off," Wilson says.
When asked if there was anything the two were dreaming of eating between their dutch crunch bread, the answer was an all-American favorite.
"We have talked endlessly about wanting to make a really great cheeseburger and putting it on our bread," says Wilson. "We will definitely make that happen; it's on our list."
Get Bay Boy Specialty Sandwiches on Mondays from 11am to 2pm at Johnny Jo's Pizzeria in the West Plaza location at 1209 W. 47th Street. You can also email them directly to place a catering order at bayboysandwiches@gmail.com.