Tyler Jackson and Katie Currid came back from their 4-year military tour in Vicenza, Italy, with a love of Italian Prosecco and a 1998 Piaggio Ape.
These teeny tiny trucks can be seen all over Italy, and are typically used for everything from trash collection to farming to racing. But this Kansas City couple bought theirs to be used for Fizzolino, a new mobile bartending truck they launched in September, serving Moletto Italian Prosecco and local beer on tap.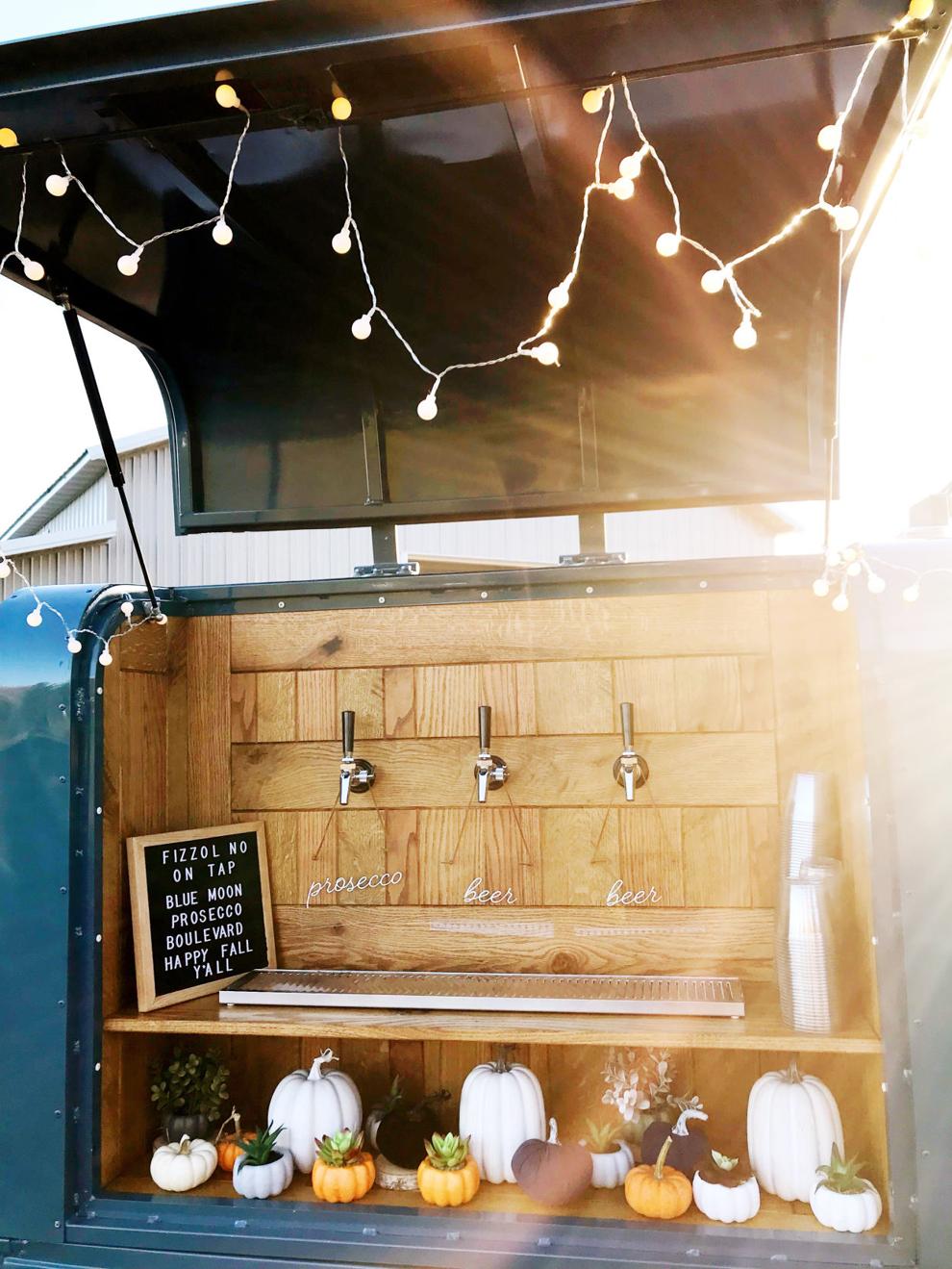 The couple purchased the truck in Italy, and the U.S. military shipped it back with the rest of their belongings when their tour was over. "We had to fight to get them to ship it back with our other things, and then we had to scrub it clean several times so it would pass through customs," explains Currid. "We weren't sure it was actually going to make the trip back to North Kansas City, but one day it just showed up at our house."
The couple purchased the truck, which features one wheel in front, two in back and a small flatbed, with the plan of re-creating a similar Prosecco truck they had seen in England during their time abroad. With the help from their family, the two customized Fizzolino, outfitting it with a sporty royal blue and white shell that they welded over the truck's diminutive frame, which features flaps on either side that flip up to reveal three taps ready to pour guests a drink.
Focusing on Prosecco was an obvious choice for the couple. "We only lived an hour and a half away from where Prosecco is made in Italy, and it quickly became one of our favorite things to drink while we were over there," says Currid. "It makes every day a celebration."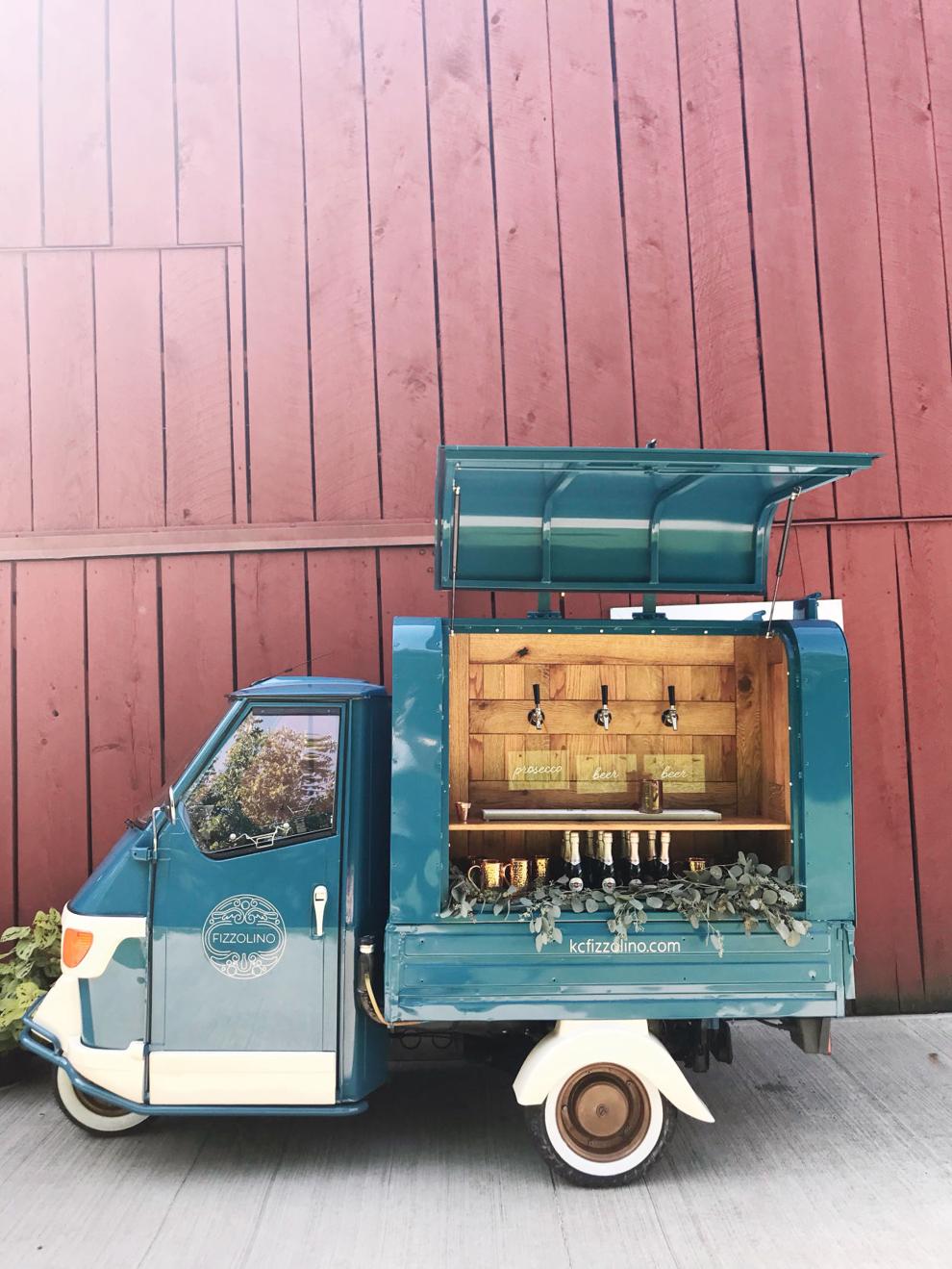 Fizzolino, which means "little fizz" in Italian, tops out at 25 miles an hour. Although it can be driven, it is not considered roadworthy, so it is towed on a flatbed trailer to events and then driven into place for the evening. Now that Fizzolino has hit the streets of Kansas City, Currid, who also works as a freelance photographer, plans to manage the business while her husband goes back to school to get his Masters degree.
Although the truck is currently rigged for carbonated beverages only, Currid is willing to work with anyone who would prefer them to pour still wine, kombucha or even cold-brew coffee. "It took a little work to get the Prosecco on tap, but we are open to tinkering with our model if the customer would prefer we serve other things," she says. 
Those interested in renting the Fizzolino truck will purchase the Moletto Prosecco in 5-gallon kegs (the equivalent of 15 bottles of wine) as well as any beer they want poured from a local liquor store. From there, the couple handles the rest, including picking up (and returning) the kegs to the liquor store, icing them down and providing the cups and napkins along with the staff needed to pour drinks.
The couple is currently booking for holiday parties, private events, weddings and corporate gatherings of all sizes. Rental packages start at $400 (not including alcohol) for 2 hours. To reserve the truck for your next party, email kcfizzolino@gmail.com
Fizzolino, kcfizzolino.com 
Editor's Note: Katie Currid is a Feast contributor