Just in time for summer, Percheron, the Crossroads Hotel's luxurious rooftop cocktail bar featuring 360-degree views of downtown and the Crossroads Arts District, is officially open to the public. Following the upscale Italian restaurant Lazia and cocktail bar and wood-fired pizza spot XR, Percheron is the third dining/drinking concept to open in the ultra-modern new hotel, which opened last fall. The name is a nod to the building's history as a Pabst Brewing Co. distributorship – sturdy Percheron draft horses being to the legacy of Pabst what Clydesdales are to Budweiser.
The attractive spot is named after infamous mafioso Johnny Lazia, who was a crony of Tom Pendergast during Prohibition and once kept offices in the building.
Percheron is accessible from an elevator just to the right of the reception desk in the Crossroads Hotel's lobby. It accommodates approximately 200 guests at a series of beer garden-style picnic tables, long standing tables on the north side of the deck, and comfortable small patio tables lining the perimeter of the space. In the corner of the roof that faces Union Station and the National WWI Memorial, two bocce courts are ready for guests, and are free to play. The main seating area of Percheron features a pergola, but it, as well as the rest of the rooftop, is completely open to the elements, making it an ideal spot for sunny summer days and breezy, warm nights.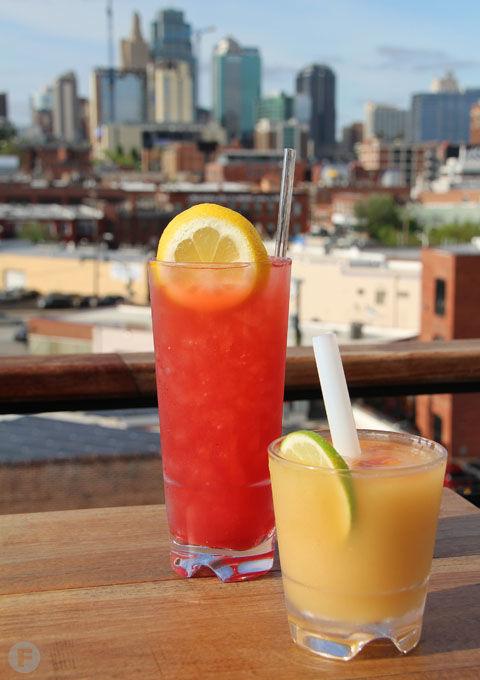 Guests are welcome to order drinks from the bar, but Percheron does feature casual table service, as well as unique food and drink menus that differ from what is available downstairs at XR or Lazia. To drink, guests can choose from a selection of cocktails, drafts and cans. On the current cocktail menu are seasonal selections that were crafted with the outdoor environment of Percheron in mind. The Paid Time Off, for example, feels like a vacation and features Bacardi Gold, Falernum, Green Chartreuse and Avua Amburanca Cachaça served over crushed ice with coconut, lime and nutmeg. The summery Simple Fix is made with Skyy vodka, Aperol and Ramazotti with raspberry, lemon juice and a splash of absinthe.
Executive chef Remy Ayesh is turning out delicious artisan pizzas.
Customers can also opt for boozy slushies, including a frozen strawberry Daiquiri made with Plantation 3 Stars rum, or a Frozen Kentucky Mule made with Wild Turkey 81. On tap, local selections include Boulevard's Space Camper IPA, Cinder Block's Cherry (a crisp cider), Double Shift's Direction of Travel and Strawberry Field Trip, as well as a Prosecco from Lovo. The can selection includes, naturally, Pabst Blue Ribbon, Modelo and Founders All Day IPA as well as canned wine and Boulevard's Fling Cocktails.
The food menu was developed by the hotel's executive chef, Remy Ayesh. Available to eat from the menu are snacks, including Parmesan lavosh (flatbread), housemade chips and fried pepperoni, among others. Small, shareable plates are also available, including a plate of Drunken Eggs, a play on deviled eggs in which the hard-boiled eggs are marinated in soy before being cut and placed on a bed of herb aïoli and topped with a spicy chile oil and puffed rice that looks almost like roe. Guests can also order a trio of spreads, including a Calabrian chile cheese spread (similar to pimiento spread), a savory smoked trout spread and a spread made with white beans, olive oil and salt. The spreads are served with crispy fried saltines, both a playful choice and one that provides a surprisingly ideal crunch. The Piadina is a small flatbread, which is topped with an herb ricotta, prosciutto, arugula and a fresh herb oil. An Italian sausage roll is also available, featuring housemade sausage, balsamic peppers and onions and a pale ale mustard made with beer from Double Shift Brewing Co. 
Percheron is an ideal spot for happy hour, snacks or even a long summer cocktail session. The occasional special event is planned – there was a unique menu available for Cinco de Mayo, for example – but plans are to keep the space available for everyone to enjoy, and the hotel is currently not accepting private events into the space to keep it that way.
Percheron is open Tuesday through Thursday from 4 to 10pm, Friday and Saturday from 11am to 11pm, and Sunday from 11am to 10pm.
Percheron (located on top of the Crossroads Hotel), 2101 Central Ave., Crossroads Arts District, Kansas City, Missouri, 866.531.2400, crossroadshotelkc.com