A full two months after debuting its massive new distillery, tasting room and its all-day coffee and cocktail bar, The Monogram Lounge, J. Rieger & Co. at last has debuted its star concept, the premium cocktail bar The Hey! Hey! Club.
The Hey! Hey! Club, located at the basement level of the J. Rieger & Co. distillery, is a loving tribute to Kansas City's jazz club history. Its name is a direct reference to the Hey Hay Club, which was open from 1931 to 1938 at Fourth and Cherry streets, and hosted legendary musicians including Count Basie and Lester Young. The bar's sign, located just outside the club's doors, is actually a prop from Robert Altman's noir film Kansas City, itself a nod to the city's rowdy and remarkable history.
The brand's spirits include whiskey, vodka, gin and amaro.
The club is designed to evoke the dusky, masculine gentlemen's clubs of the early 20th century. Plush emerald green velvet booths, Chesterfield-style leather sofas and wingback chairs fill the space, creating seating for approximately 50 guests, with standing room for 40 more. A functional, elegant fireplace with Empire-style mantle occupies one wall, and dim crystal chandeliers provide a hint of light. You can feel the trains as they roll by just outside of the distillery.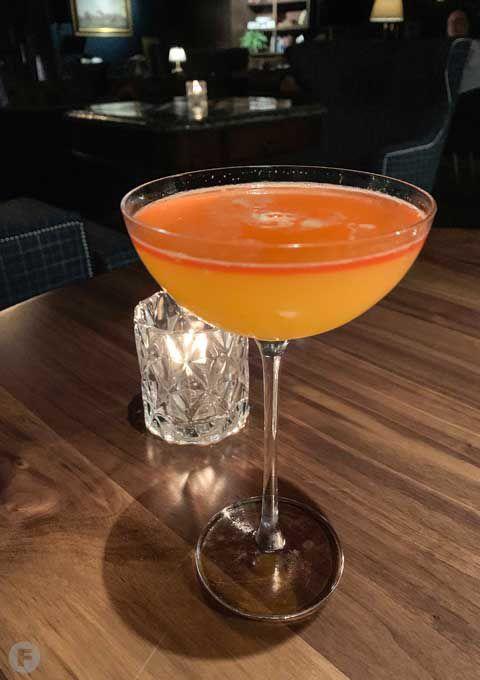 J. Rieger & Co. beverage director Andrew Olsen (formerly of Bluestem and Rye, among other past projects), along with his team of distinguished bar talent have created a menu that is designed to pay tribute to Kansas City's history. The menu is broken down into "chapters," each of which tells Kansas City's story, with titles including "Exploring the Wilderness and Heading West," "Established 1838" and "A Pathway to Riches: Riverboards, Railroads & Packing Houses." Each chapter features three unique cocktails. And this history is meant to be pored over and dissected. Each member of the service staff at The Hey! Hey! Club is a bartender as well as a server, and they are eager to detail how this history ties into each of the different menu items in hopes of finding the best fit for each guest.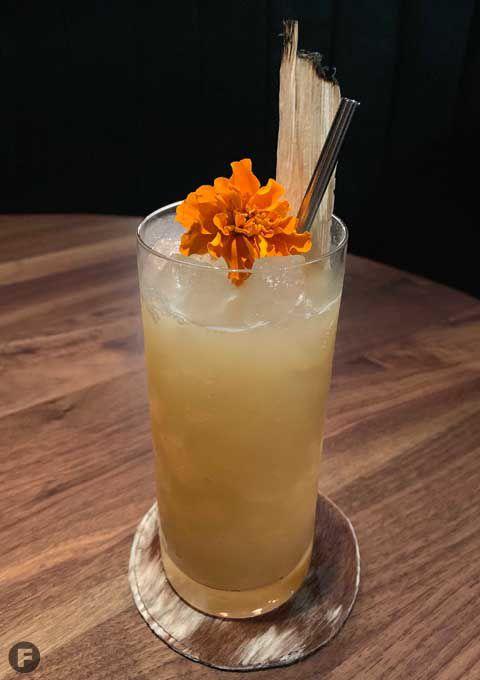 Among the 15 debut cocktails on The Hey! Hey! Club's menu are the smoky MoPac, which features Jamaican rum, mezcal, smoked pear shrub and Brachetto d'Acqui. The eye-catching, Caribbean-inspired Brand-New Boom is made with Rieger's Midwestern Dry Gin, passionfruit, cacao, sparkling wine and Creole bitters. The seasonal and surprising Paddle Wheeler features Missouri apple brandy, Plata tequila, plum sake and blanc vermouth, and is garnished with a bright sphere of pickled apple. The Hey! Hey! Club's menu also features wine, beer and a selection of spirits.
The club also offers a tidy but satisfying food menu. Among available bites and snacks are a crab tartine, shrimp cocktail and spiced bar nuts, as well a crudité dish featuring fresh vegetables served with green goddess and buttermilk dressings, and a dish of crunchy, panko-battered fried eggplant served with whipped ricotta and vodka sauce. Bigger appetites can be sated with an herb-roasted beef filet, served with a shallot purée, charred shiitake mushrooms and a halved fresh baguette, or a large shareable cheese plate highlighting local cheeses from purveyors including Green Dirt Farm, Cottonwood Farms and more.
The J. Rieger & Co. team hope that The Hey! Hey! Club becomes as much of an attraction as the distillery itself, and note that having a standalone club – much less one serving cocktails at such a high level – inside of a distillery is a feature not available at other major distilleries. They also hope that their heartful tribute to Kansas City's past is something that becomes a big part of Kansas City's future.
Guests can walk in to The Hey! Hey! Club, but reservations are recommended. It is open Wednesday through Saturday from 5pm to midnight. Live music will often be featured.
The Hey! Hey! Club (inside the J. Rieger & Co. Distillery), 2700 Guinotte Ave., Electric Park, Kansas City, Missouri, jriegerco.com