Courtney Servaes wants customers to have a unique experience every time they visit Servaes Brewing Co., which opened just a few weeks ago on Johnson Drive in Shawnee, Kansas. The brewery – the only in the Kansas City area to be owned and operated by a woman – specializes in New England-style IPAs, novelty, barrel-aged and unique sour beers. Servaes (pronounced like "service") is very clear that there are no flagship beers here, hoping customers will always come in with an open mind. So far, her plan is working well.
Servaes Brewing Co. is a small craft brewery with roots in home brewing in Lawrence, Kansas. Courtney has been brewing beer for the past seven years, and was active in the Lawrence Brewers Guild before deciding to open her own business after moving with her wife and children to Shawnee. The Servaes logo features smooth, flowing letters, which reflects the idea of fluidity and how her style will be ever-changing and evolving.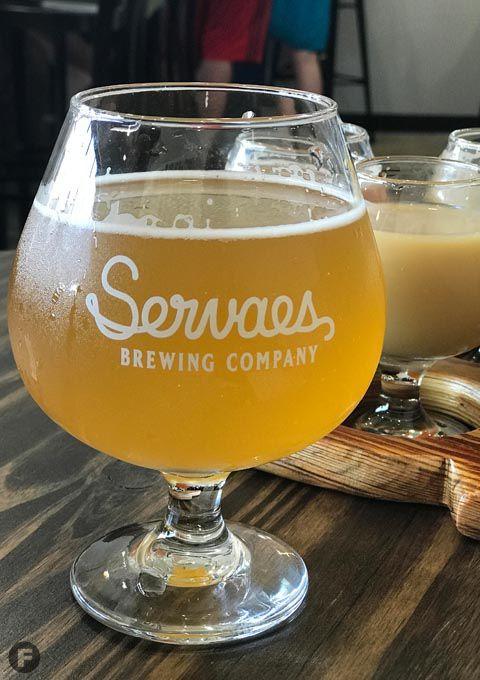 The taproom at Servaes Brewing Co. is located in Shawnee's downtown district. The taproom is small but comfortable, seating about 50 guests at wooden tables, high tops and benches. Floor-to-ceiling windows face out from the taproom onto Johnson Drive, filling the space with natural light. The room is very family-friendly, with a variety of board and card games available to play and changing tables available in its restrooms. 
Servaes' beer lineup is as eclectic as promised. For instance, guests can currently opt for a sour ale brewed with peaches, vanilla and cinnamon; another sour brewed with strawberry Margarita mix; an IPA made with seven varieties of hops; a sweet milk stout Servaes calls "Churro," which is flavored with cinnamon, vanilla and brown sugar; and a Piña Colada Milkshake IPA flavored with pineapple and coconut. Full pours of beer are available for $6, and tasting pours are available for $3. Four 5-ounce beers are available as a flight for $12.
Servaes sets itself apart in a couple of other ways. One is that a small selection of the beers will always be available in four packs of 16-ounce cans for $20. Another is that there will always be a selection of housemade craft sodas, made by Courtney and her wife, Brandi's teenage son Aaron. Current selections include a smoked pineapple soda infused with chipotle peppers, butterscotch cream, fruit punch and root beer.
The plans for Servaes Brewing Co. this year are ambitious: Courtney has the goal of brewing 100 unique beers in 2019, and Aaron has 25 different flavors of soda planned for the same time. Their timing may be ripe for Shawnee as well, as Transport Brewery also opened its doors just a couple of blocks away – all the more reasons for beer-lovers to put Shawnee on their lists.
Servaes Brewing Co. is open Thursday and Friday from 4 to 10pm, Saturday from 11am to 10pm and Sunday from 11am to 6pm.
Servaes Brewing Co., 10921 Johnson Dr., Shawnee, Kansas, 913.608.5220, servaesbrewco.com