Something is brewing in Raytown besides beer. Cuento Coffee opens its coffee shop located inside Crane Brewing Co.'s tasting room on Sat. July 20. Owner and head roaster Andy Gallant worked with Crane's co-founders Chris Meyers and Michael Crane to secure space at the brewery.
"We have discussed leasing our space to a local coffee roaster for years," Meyers says. "Michael and I are both coffee fanatics. We never wanted to do it while Benetti's was operating in Raytown because we didn't want to step on their toes. It made total sense to us to allow another local business to operate under our roof [after Benetti's closed]. We reached out to Cuento after carrying their cold brew for some time."
Taproom space was converted into a full coffee station. The coffee shop will operate in the early morning and during the taproom's afternoon hours. "We will also renovate our barrel room in the future to incorporate more seating and more of a lounge feel for Cuento visitors as well as for the taproom in the afternoons and evenings," Meyers says.
Cuento's coffee will also be used in various Crane beers, coffee cocktails and other beverages under development.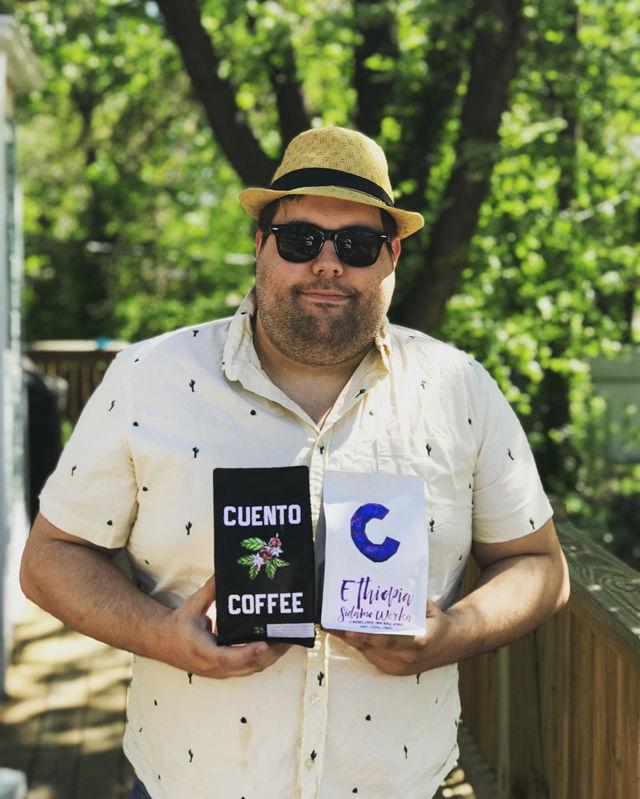 Gallant, a former homebrewer, worked as a barista at Parisi Artisan Coffee Roasters in Leawood, Kansas, several years ago and then began roasting his own green coffee beans in his backyard. "From there, I started to bag up coffee and sell it to friends or online. We teamed up with artists to design art for the coffee bags and make them unique," he says.
After receiving positive feedback, Gallant next sold his roasted coffee and cold-brew coffee at First Friday pop ups and events. "Friends told me this coffee was better than the stuff they were getting at their local shop or grocery store," Gallant says. "The cold brew was really connecting, so I started to rent space in a vegan kitchen, The Happy Apple."
Gallant roasted coffee, made cold brew, and sold his drip and cold-brew coffee at the kitchen. He then found inspiration during a month-long trip to visit a long-distance girlfriend in Chile. "I connected with tons of people in a quickly-rising coffee scene, including Seba Alvarez, who owns Café Triciclo in Santiago," he says. "I was inspired by him because he started his coffee shop on the back of his bicycle cart. Today he has a bustling coffee shop in the heart of Santiago, and roasts his own coffee. He started it all from nothing."
Upon his return, Gallant founded Cuento Coffee with a tiny roaster and no funds. He sold his cold brew and bags of roasted coffee to clients such as The Classic Cookie, Mike's Wine and Spirits, The Belfry, Colonial Club, and Crane Brewing Co.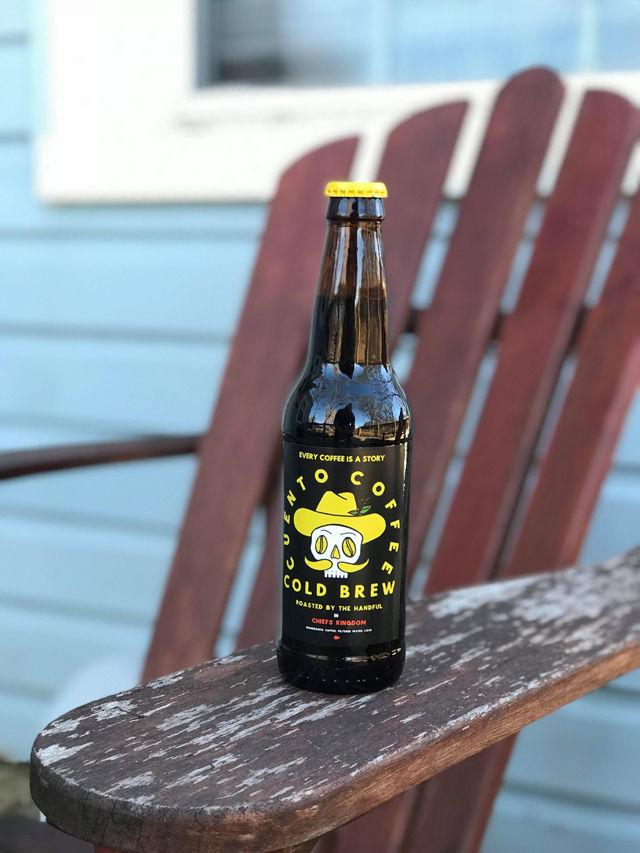 Later Gallant crossed paths with Meyers, a co-founder of Crane, at Troostapalooza. Since Benetti's was no longer in business, the conversation led to Gallant supplying the taproom with kegs of cold-brew coffee and, eventually, opening its own café in the brewery. "The timing really all came together perfectly," Gallant says. 
Cuento's team also includes brand ambassador Sloane Dominick, who will acquire and maintain relationships with retailers, manage Cuento's social media presence and focus on collaborative efforts. She worked with Gallant previously at KC Bier Co. "She was always kind of rooting for us, and full of ideas and energy about how we could take Cuento from home roaster to something bigger," he says. "She has become one of the biggest voices for us, connecting tons of people to our brand. She did that all out of the goodness of her heart. I absolutely treasure her for it."
Chris Renshaw, formerly with Broadway Coffee and Mud Pie Bakery, will be Cuento's barista. Clair Barlow Hawk, owner of Grandview-based Loud House Farm and pastry chef, will prepare the café's pastries.
Cuento's slogan reflects its philosophy toward coffee – Every Coffee Is A Story. The company currently sources nearly all of its coffee from Anthem Imports. "Our focus as coffee roasters is to treat each bean individually as its own story," Gallant says. "Each bean is hand-picked and has its own flavor profile. We tell its story."
"Cuento means 'story' in Spanish," Dominick adds. "'Every Coffee is a Story' is meant literally. Whether you're grabbing coffee with a friend, first date, co-workers, or just grabbing your daily cappuccino, there's a story behind every cup. That story may be yours, it may be ours, it may be the story of the farmers who grow the beans and the locals from the region. Most importantly, it's all three."
In addition to Crane Brewing Co., Cuento Coffee can currently be found at The Belfry, 3 Trails Brewing Company, Waldo Thai, Brookside Poultry Company, Scout Coffee in Blue Springs, and all locations of Mike's Wine & Spirits.
Cuento Coffee (located inside Crane Brewing Co.), 6515 Railroad St., Raytown, Missouri, facebook.com/cuentocoffee