Foo's Fabulous Frozen Custard in Leawood just celebrated its 10-year anniversary in a big way. The custard shop has rebranded with a new name and look that more clearly represent everything it offers – seven days a week – to its loyal fans.
Foo's Fabulous Café is the new name chosen by managing partner, Jeff Stottle, of the Not Just Foolin' LLC franchise company that opened this second Foo's location in 2006 in the Ranchmart North shopping center.
Joe "Foo" Bremser opened Foo's Fabulous Frozen Custard in Brookside in 1988, and it quickly became a neighborhood favorite. He later sold the shop to his sister, Betty Bremser, a French teacher at Kansas City Academy, who wanted to see her family-owned business grow. She decided to offer a franchise package for Foo's Fabulous Frozen Custard. The original Brookside location will continue to be called Foo's Fabulous Frozen Custard.
"I opened our second Leawood location right before the recession hit, and in order to survive, I knew I had to get creative about adding the right products that would compliment and support my custard sales that peaked in the summer months," Stottle says.
Coffee was an easy choice to keep customers coming into his shop in the colder months. Stottle knew that would mean he would need to be open earlier, so offering breakfast, followed by lunch service, were logical extensions.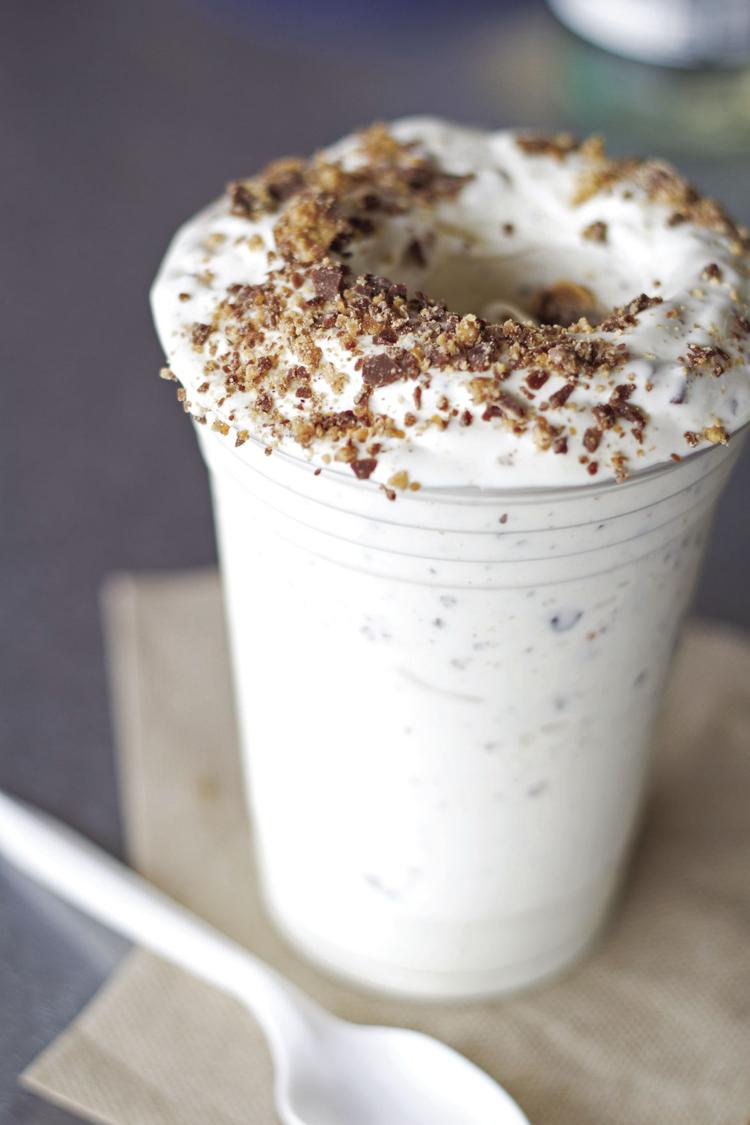 Stottle made sure to offer as many locally made products as possible at Foo's Fabulous Café to help to set him apart from nearby chain coffee shops. Foo's serves coffee from two local favorites, his own house blend from The Roasterie as well as Oddly Correct. Pastries are sourced from Le Monde Bakery in North Kansas City, known for delicious croissants, baguettes and pastries.
On the breakfast menu, Foo's breakfast sandwich has been a runaway hit featuring a fried egg, choice of bacon or sausage and choice of cheese. It's made with naan bread that is folded and toasted on a panini press until it is melted and golden brown.
With the rebranding, Stottle has also added Belgian waffles and biscuits and gravy to the breakfast menu, featuring both white cream gravy and sausage and a chocolate gravy, a recipe from his grandmother, that is basically an open-faced biscuit topped with his secret recipe chocolate sauce.
At lunch, it's no contest – Stottle is most proud of his signature banh mi sandwich that comes with either chicken or pork belly. It starts with a Farm to Market roll that he heats on the panini press until it is crisp on the outside and warm on the inside. On the warm roll, he slathers garlic aioli, chicken or crispy pork belly topped with spicy sriracha sauce, spring greens, grated carrots, pickled daikon radish, cilantro and jalapeño.
"I believe my bahn mi is one of the best in Kansas City – I would put it up against anyone's," Stottle says.
Additional sandwiches at lunch include a Cuban and Philly cheesesteak, along with six-inch subs that can be made with any number of ingredients. Asian Chop Salad has been a popular addition, and the red pepper and smoked gouda soup is so popular Stottle cannot take it off the menu.
Foo's Fabulous Café also offers one of the largest selections of Christopher Elbow chocolates outside of its retail store in the Crossroads. Choose from gift boxes of all sizes, or customize your own box with just your favorites.
Stottle says that the name change to Foo's Fabulous Café brought additional changes to the menu and signage, but that really it just confirms the business he has already been building on for the past 10 years. "Calling ourselves a café helps those who might not be our core customers understand the many things we offer during all parts of the day," Stottle says.
Westwork Content + Design was brought in to help give Foo's in Leawood its own identity and to help create a new logo, photos, signage and website that clearly communicate everything the café now offers.
But the most important thing about Foo's Fabulous Café is something that Stottle didn't plan for – the ownership that his regular customers have taken in his success.
"When I first opened this shop, I thought we were just going to be a place that sold custard, but we are the center for many community events, like student art shows, soccer celebrations, book clubs and a variety of other meetings," Stottle says. "The community has taken ownership of our back room, and they consider it their 'other' place, and that kind of support is why we are still here."
Foo's Fabulous Café, 9421 Mission Road, Leawood, Kansas, 913.383.3667, foosfabulousfrozencustard.com