In just five years in business, Laura Norris' Cucina della Ragazza became a Westport institution. The (very) cozy dining room was always more full of regulars than newcomers, and it wasn't unusual to see someone enter the building and then proceed to hug several diners enjoying their meals, like family. Norris long wanted to expand – in part because her tiny kitchen on Westport Road presented many challenges – and finally found an opportunity at the beginning of 2018, just around the corner from her original space. She hoped to open her new spot at 4301 Main Street (the former location of a Nature's Own Grocery Store) just as her original lease ended and original space closed. The construction gods had other plans, however, and a series of building-related delays resulted in Ragazza being closed for nearly six months – an eternity in the restaurant industry.
Yet Norris and her team persevered, and last week reopened Ragazza – full name now Ragazza Food & Wine – in its new digs. Regulars have been packing the place every night, thrilled to have their hangout back. It's been a surprise even to Norris, who has expressed both relief and gratitude for managing to survive the closure, maintain most of her staff, and to have her regulars return.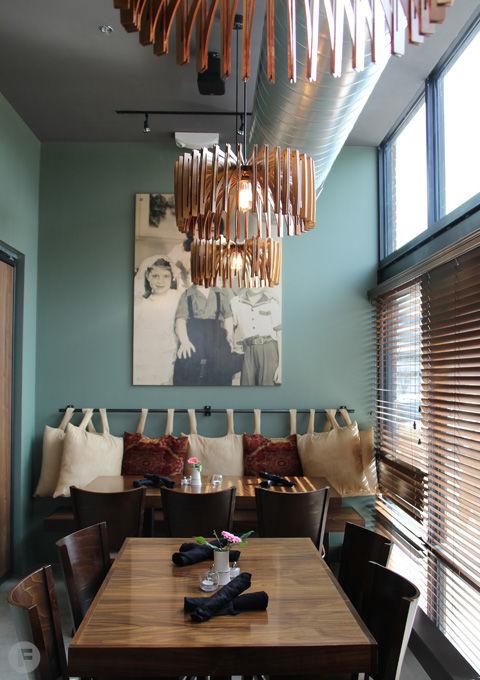 Anyone who has eaten at Ragazza will feel at home in the new space, which was one of Norris' goals. The new restaurant seats about 100 (compared to 40 seats in the original location), yet manages to not feel overly spacious, or unlike its former self. This was in part achieved by placing the bar in the center of the room, facing the entrance, with a wall behind it, essentially segmenting the space into two smaller rooms. The décor is very similar, including the plush pillows lining the restaurant's benches, and the original natural wood tables. The large photo of Norris' mother, with her three children, hangs proudly in the dining room (and is also prominently displayed in the exterior windows facing Main Street).
Ragazza's executive chef is James Landis, formerly of Blue Grotto and the Record Bar (Norris, Landis and their teams held a handful of pop ups at the Record Bar during the closure, another thing for which Norris expresses gratitude). Norris and Landis worked together to update Ragazza's menu, keeping its original soul (Norris notes that her original family recipes, including the red sauce, lasagna, meatballs and eggplant Parmesan will never be altered), while adding new dishes that show forward movement for the restaurant in Landis' helm. Customers can now, for example, order swordfish served in lemon-caper butter with rosemary potatoes ($20), braised lamb with Brussels sprouts ($28), and even a beet salad with arugula and walnuts in a lemon vinaigrette ($10). There's also a simple yet wonderful dish of Pecorino with clover honey and toasted pine nuts ($8). A lineup of pasta dishes, including orecchiette with Italian sausage and kale, bucatini all' Amatriciana and spaghetti cacio e pepe are also available ($12 to 16).
Ragazza has also expanded its cocktail program to feature a number of approachable, affordable cocktails ($5 to $12). Many of these feature a house limoncello, including the Ragazza Limone (limoncello, citrus vodka and soda) and the Roma 82 (limoncello, gin and pink sparkling wine). The restaurant's wine program, always a standout in the city, also remains a strong focus.
Ragazza on Main is also now welcoming customers for Sunday brunch, with much of the same menu available for dinner, but with additions including the Ragazza Benedict-Ish (polenta, poached eggs, Hollandaise, pancetta, arugula) and the Big Gay Breakfast (smoked pastrami hash with polenta and gravy, plus a Bloody Mary, Bellini or bourbon-coffee). Stick around for dinner on Sundays, and all pasta dishes are $5 off.
As much as Norris and her team are relieved to be back in business, Kansas City seems to be relieved that it can come back home to Ragazza as well.
Ragazza is open Tuesday through Saturday from 3 to 10pm and Sunday from 11am to 9pm. Lunch service is coming soon.
Ragazza Food & Wine, 4301 Main St., Westport, Kansas City, Missouri, 816.960.4774, ragazzakc.com