After trying to find a buyer for their beloved neighborhood restaurant, You Say Tomato, Randy Parks and Mark Wingard approached their longtime employee and bookkeeper, Annie Clark Rousis and her husband, George.
Rousis had been with the pair since the beginning and had worked in almost every position available in the restaurant, eventually moving to the business office to do the books when her kids were older and needed her at home. The only place she hadn't worked in the restaurant was the kitchen, which was Wingard's domain.
The couple realized they were the restaurant's only hope for survival, so they agreed to purchase and run the place with a promise that they would keep the funky neighborhood market, bakery and restaurant just the way it has always been. They serve breakfast until 11am during the week (and all day on weekends) as well as lunch until 2pm. The restaurant is open every day except Tuesdays and Wednesday, when Rousis catches up on paperwork and spends time with her kids.
"When I told our customers about the ownership transition, I simply said that Mark and Randy were done, but the business wasn't," says Rousis. "The only thing I had to change was the hours, because I am a mom of two kids, and I really need two days in a row off to keep my work/life balance, and Tuesdays and Wednesdays were our slowest days."
During a recent rainy week in Kansas City, You Say Tomato was about half full by 10am on a W…
During the fall and winter, as the transfer of ownership paperwork began in earnest, Rousis began her culinary training to learn how to run the kitchen and make all of the dishes and pastries from scratch at Wingard's elbow.
"The kitchen was the only part of this restaurant that I never really had to work, because Mark and Randy really ran it with the help of several excellent chefs over the years," says Rousis. "But now, most of the cooking and baking was going to be left up to me and the sous chef, so I had a lot to learn."
In January, with her training complete, one of the original partners left the business. In May, the second partner took his leave. The final paperwork was signed in June and Rousis was excited, and a little nervous, but ready to run the kitchen with help from her team of loyal employees.
"The very next morning, I came into work at 4:30am to start making the cinnamon rolls for breakfast, and when I reached into my fridge, the butter was soft, and that is when I realized the compressor to our main fridge had gone out overnight," explains Rousis.
The timing could not have been worse, as they had just gotten through the winter, when business was unusually slow. With the compressor out, they decided to go ahead and move up their summer break, closing the doors to the restaurant for two weeks to do a deep clean and give their employees a bit of a summer break before reopening.
With the last of their savings they purchased a new compressor, which wiped them out financially. "We had to figure out a way to build up a little cashflow to keep the restaurant running," she says. "I called Randy and Mark asking them for ideas about how I could quickly raise some capital to be able to pay payroll and pay our bills and they suggested that I could use a crowdsourcing website to raise the funds."
On June 28, a GoFundMe fundraiser with a plea to "Save the Tomato!" was published, asking friends in the neighborhood for a little help to get them back on their feet. The response was swift; close to $5,000 has been raised to date.
"We are so touched by what everyone had raised on the GoFundMe account to keep our little place alive," says Rousis. "It is incredibly humbling to have to ask your friends and neighbors for money, but all of this has allowed us to close our doors, get our repairs done, pay our employees and make our rent in addition to having money to place our food order and get cooking again."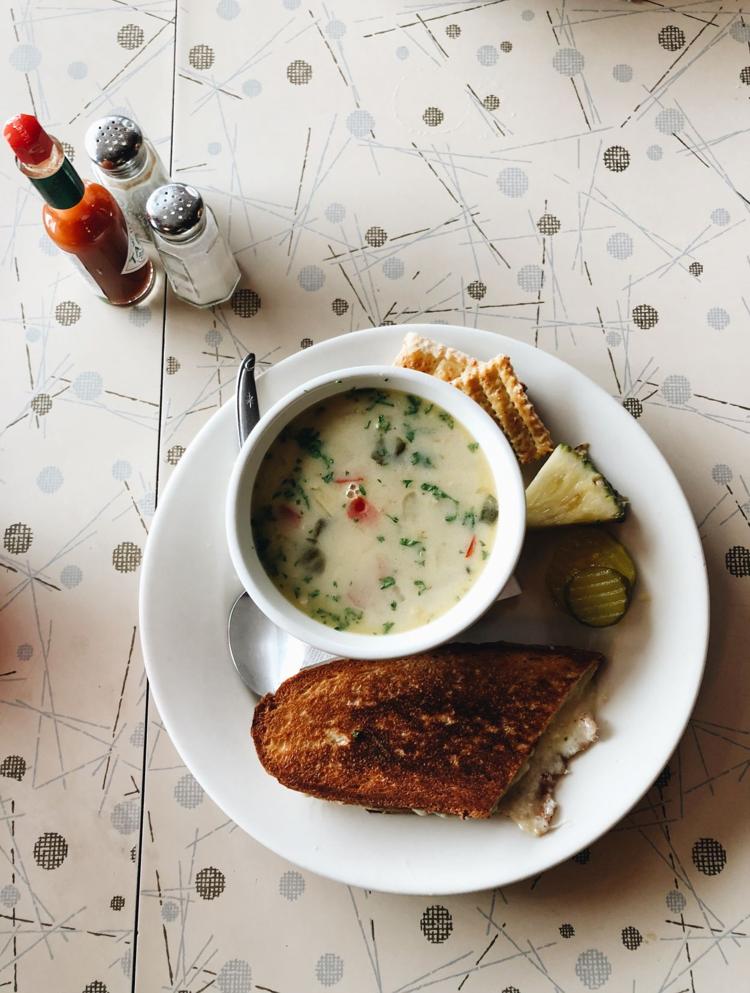 You Say Tomato re-opened on Sat., July 13, just in time to celebrate the restaurant's 13th year in business. The neighborhood showed up in numbers to help You Say Tomato celebrate the anniversary, filling all of the tables both inside and out.
Now that You Say Tomato is officially back in business, Rousis says there are several new revenue streams she would like to pursue to help build up their business while the GoFundMe campaign continues. "Corporate boxed lunches, individual cake and pies sales and having more grab-and-go options in the morning for people to pick up and take to work for lunch are all on my list," she says.
Additionally, she plans to start adding more items to the market that people can purchase to help kickstart their own cooking at home, including mushroom stock, turkey stock and bacon grease.
Finally, Rousis wants You Say Tomato to be a hub for the community: a place where people can hold meetings, events or private parties in the evening with appetizers or even a full dinner. She's also considering hosting family-style sit-down dinners or even buffet dinners in the space.
"We close at 2pm daily, so we have some bandwidth, and I can build up the staff to start hosting more events in the evening," she says. "There is only one of me, and everything is made from scratch, so it just takes time to think about what I want to do next, and have enough notice to plan out the prep."
Rousis says she would appreciate a donation to her GoFundMe account, but will accept good wishes and even a hug. If nothing else, she invites everyone to come in and see her at breakfast or lunch at You Say Tomato.
You Say Tomato, 2801 Holmes St., Kansas City, MO, 816.756.5097, yousaytomatokc.wordpress.com