Boulevard Brewing Co. officially celebrates its 30th anniversary in November of this year. As a prelude to that milestone, the Kansas City brewery is giving back to its hometown via a community-based fundraiser. For a $60 contribution to one of five charitable organizations, 1,000 individuals will have the opportunity to see their name and hometown emblazoned on neck labels of hundreds of bottles of Boulevard Pale Ale.
Boulevard founder John McDonald brewed and released Pale Ale in 1989 as his first commercial beer, so the brewery chose it as the designated beer for this charitable endeavor. Bottles with the specialized neck labels will be included in specially marked six- and 12-pack cartons, available this fall wherever Pale Ale is sold.
In addition to the many bottles bearing each individual's name that will be in general circulation, Boulevard will set aside two commemorative bottles for each contributor.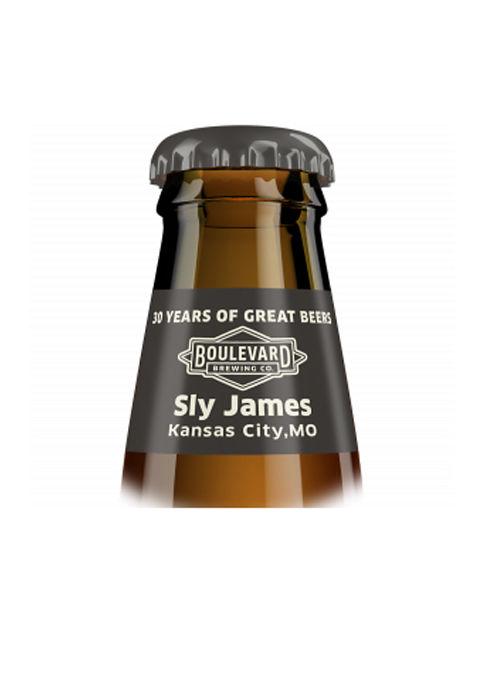 "We kicked around a bunch of ideas for marking this milestone, but when this one surfaced we knew we had it," Boulevard president Jeff Krum said in a press release. "John has a gift for expressing simple but powerful principles that continue to guide our conduct, including 'it's never wrong to do the right thing.' In that spirit, we're pleased to introduce a novel way to say 'thank you' to our loyal customers while helping raise money for worthy causes."
One hundred percent of each participant's tax-deductible contribution will go one of five designated charities: ACLU of Missouri Foundation, Arbor Day Foundation, Operation Breakthrough, Veterans Community Project and The Whole Person.
John McDonald founded Boulevard Brewing Co. a quarter-century ago in Kansas City, and the brewery now has a growing presence in select markets across the U.S.
Boulevard vice-president of marketing Natalie Gershon explains that the nonprofits were selected for their work on vital causes. "The wide variety of the charities chosen do amazing work in their fields and we have long respected them," she says. "From reforesting our communities to helping people live independently, to family and veteran services and fighting for social justice, we find these to be important causes. There was no better way to mark three decades of community support than to help impact these charities' important missions."
Serving its community has long been a hallmark of Boulevard and its founder. McDonald was also instrumental in co-founding Ripple Glass, a glass recycling company established in 2009. The company has recycled more than one billion bottles once destined for landfills. Currently, Ripple Glass has more than quadrupled the rate of glass recycling in the Kansas City metropolitan area, and partnered with more than 80 municipalities throughout the Midwest.
Consideration for the community has remained a pillar of the brewery's operations and its achievements.
"At Boulevard, we are keenly, almost instinctively aware that we owe our success to the love and support shown to us over many years by our loyal customers," Gershon says. "To us, 'community' is the environment and the context in which we were born and grew and thrived. We acknowledge a debt to the people who made us possible, and attempt to reflect the love and loyalty by doing what we can to be good citizens."
Individuals interested in participating in the beer label campaign must submit their entry by 11pm on Sun., July 7. Commemorative bottles cannot be legally shipped and must be picked up in Kansas City. Specially marked six-packs and 12-packs will be available at retailers from September through November 2019.
To learn more about the commemorative label and fundraising campaign, or to sign up, visit boulevard.com/30years.
Boulevard Brewing Co., 2501 Southwest Blvd., Greater Downtown, Kansas City, Missouri, 816.474.7095, boulevard.com