Scott Umscheid used to be a frequent flier at the Kansas City International Airport.
His work as a former operations director for restaurant chains and food service companies often had him on a plane or looking for a place to grab a bite near the airport in Kansas City.
Now, he and his wife, Dana, are putting his rich hospitality experience to good use by opening a new restaurant and catering business out at the airport. Scott's Kitchen & Catering at Hangar 29 serves an excellent breakfast or lunch of competition-style craft barbecue and Mexican dishes.
It was a health scare in the family that prompted Umscheid to open Scott's Kitchen & Catering. "I had been wanting to open my own restaurant for a long time, but I kept putting it off and working for others, until my wife was diagnosed with cancer. Then suddenly, I realized how quickly everything can change," he says. "Once we knew that she was out of the woods and was going to be okay, we knew that as a family, we needed to do this now."
The stand-alone restaurant was the former home of Shining Stars Catering, a client of Umscheid's when he was working with US Foods. Eventually, he decided to work for the company's growing catering business. Last year, the owners of Shining Stars decided to relocate the catering arm from its original location at the airport to downtown Kansas City, taking over the former Kansas City Club. Umscheid took the opportunity to open his own restaurant in the space.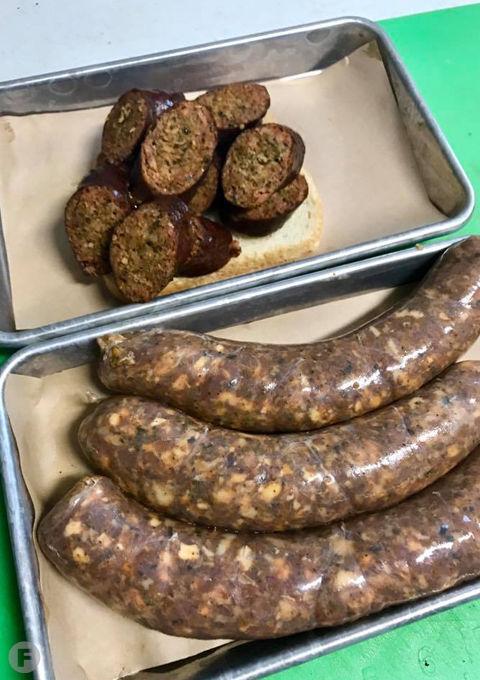 He refers to his restaurant as being at Hanger 29 as a play on words. His location right off I-29 at exit 13 on Ambassador Drive is not in an actual airport hangar, but just about as close as you can get. The restaurant features an airplane motif, with photos of old TWA planes hanging on the wall and airplane aluminum wrapping the ordering counter. The space features seating for around 40 inside and about 10 more in his covered entryway, when nice days offer a breeze.
The menu itself is full of plenty of kitschy airport industry jargon including Boarding Pass Breakfasts, Flying Solo Sandwiches, Prepare for Takeoff Tacos, Bern Street Burritos and Bowls, Tailspin Smoked Meat Plates and even In-Flight Beverages.
Umscheid and his two chefs, Jason Eastep and Tom Harley, proudly prepare all of sauces, salsas and sides that are used in the various dishes, while the meat is smoked on-site in a Southern Pride smoker that will hold around 35 pork butts.
Learning the art of barbecue by competing on the circuit as "Scotts-yard," Umscheid has been smoking as early as 2007. His goal is to compete in six to 10 barbecue competitions each year. His various ribbons and awards hang on the wall inside of his restaurant, and he says he prepares the meat at Scott's Kitchen the same way he would at competition. 
"I get in here at 3am daily to start all of the meat we serve in the smoker, so that it is hot and ready for our breakfast and lunch crowds that come in from 7am to 3pm Monday through Friday," he says. "In this machine, I smoke our beef brisket, pulled pork, St. Louis-style ribs, chicken, burnt ends and I also use it to smoke our own chorizo and spicy chipotle ghost pepperjack sausage, both of which we make in-house."
The chipotle ghost pepperjack sausage – his take on a traditional jalapeño and Cheddar sausage – is a standout. The spice comes from the ground chipotle peppers and the heat from the ghost pepperjack cheese that he adds to ground pork sausage. "I wanted to do a take on a spicy cheese sausage, and I am so proud of where we are with this," he says. "It hits you up front with the spice and heat that quickly dissipates in your mouth."
For breakfast at Scott's Kitchen, guests are enjoying his Barnstomer Biscuits and Gravy, available with eggs on the side. Prepare for Takeoff Tacos are made with flour tortillas, scrambled eggs, fried potatoes, mixed cheese, housemade salsa and a choice of protein.
The stars of the lunch menu are tacos, burrito bowls and the Four Bones/Choose 1 smoked meat plate. With the latter, diners choose a protein from pulled pork, chicken thighs, smoked turkey, housemade chipotle ghost pepperjack sausage, brisket or burnt ends as well as four St. Louis-style ribs with two sides, bread and pickles for around $16.
Side dishes so often receive the least amount of attention, but at Scott's Kitchen they are worthy of the spotlight. Each side is made in house from scratch every day. Choose from the fantastic barbecue beans with an apple cinnamon flavor; hot and gooey cheesy potatoes; cool, crunchy and sweet jalapeño-apple slaw with mild heat; or the picnic-worthy pickle and egg potato salad.
Scott's Kitchen also offers catering for parties, office meetings or corporate events, with any of the breakfast or lunch items available. 
The next time you find yourself headed up to the airport, consider making a fuel stop at Scott's Kitchen & Catering before you take to the friendly skies.
Scott's Kitchen & Catering at Hanger 29 is open Monday through Friday from 7am to 3pm.
Scott's Kitchen & Catering at Hanger 29, 11920 N. Ambassador Drive, Kansas City, Missouri, 816.270.0505, scotts-kitchen.com