Lisa Bledsoe's Olathe-based kombucha company, Tea-Biotics, shows no signs of slowing down. Since starting her business about four years ago, Bledsoe has seen operations continually expand and the company's profile grow. Currently, Tea-Biotics' products are available in a staggering 100-plus locations in the metro area, and this week, it debuted a sparkling new 12,600-square-foot headquarters on Lindenwood Road. Here, 31 flavors of kombucha are available on tap, making it the largest kombucha taproom in the country, with even more flavors available in bottles.
Flavors include hibiscus-watermelon, chai-apple, cherry limeade, blueberry, lime-turmeric, honey-apple and pineapple-jalapeño.
Tea-Biotics' new location is impressive, and gives customers a glimpse of how big the operation is becoming. Alhough the taproom and tasting area is segmented from the rest of the facility, customers are welcome to check out (from behind a barrier) dozens of stainless steel fermentation tanks, in which the brand's many varieties of kombucha are brewing. Racks of merchandise, including T-shirts, hats and tote bags are available for purchase. A packing line and processing facility is located near the back of the space.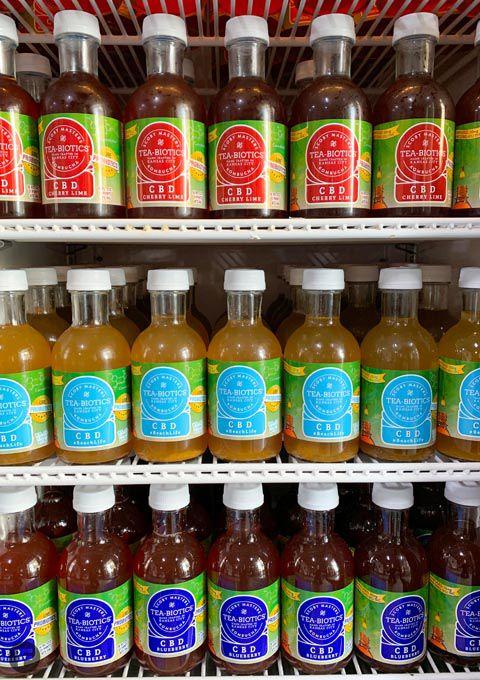 The new facility gives Tea-Biotics the opportunity to showcase the country's widest variety of kombucha on tap (the next largest that Bledsoe is aware of offers 20 flavors on tap). Classic Tea-Biotics offerings include Cherry-Lime, Blueberry, Mango and Mule Mix. Other flavors rotate consistently based on sourcing for the cold-pressed juice that is blended with Tea-Biotics' fermented tea to make the kombucha, but flavors including Lime-Turmeric, Peach-Balsamic, Peach-Carrot, Pineapple-Jalapeño and Hibiscus-Grapefruit are frequently available.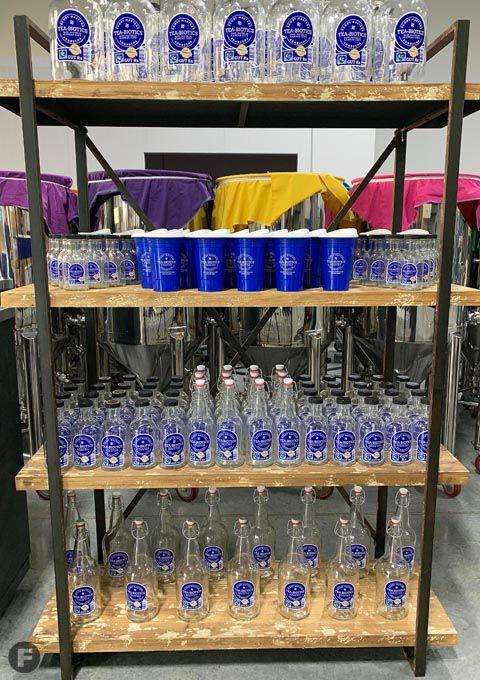 One of the greatest areas of growth for the company are the flavors infused with locally grown CBD, a hemp-derived ingredient purported to aid in relaxation and celebrated for its anti-inflammatory properties. Tea-Biotics offers several varieties of CBD-enhanced kombucha, including Lemon-Lime, Hibiscus-Watermelon, Cherry-Lime and more. Each serving contains 20 milligrams of CBD, and no THC (the ingredient in marijuana that causes intoxication). 
Tea-Biotics is exploring the possibility of opening other storefronts in the metro, but at the moment the company is focused on its new headquarters. The company will continue to sell directly to consumers at the Overland Park Farmers' Market from May to October, and is still maintaining its original storefront on Strang Line Road in Olathe. Ultimately, this location will close and transition all operations to the new Lindenwood Drive facility, which is just about a mile west, near I-35.
Tea-Biotics kombucha is available in a variety of sizes, including eight-, 16- and 64-ounce bottles, all of which are refillable. Prices range from $3.50 to $15 for new bottles, with discounts given to customers who bring in clean bottles for refills.
Tea-Biotics' tasting room and shop are open Monday through Friday from 9am to 3pm (employees note that these hours are expected to expand soon). The original taproom on Strang Line Road is still currently open Monday through Thursday from 9am to 6pm, Friday from 9am to 4pm and Saturday from 9am to 3pm. For a full list of retailers that carry Tea-Biotics, visit their website.
Tea-Biotics Kombucha, 677 N. Lindenwood Drive, Olathe, Kansas, tea-biotics.com