Nearly 12 years after opening his namesake restaurant, James Beard award-winning chef Michael Smith and his wife and business partner, Nancy Smith, are just a few days away from opening their latest concept: the highly anticipated, Italian-minded Farina. Farina will feature 10 housemade pastas every day, an oyster bar, wood-fired proteins including steaks and swordfish, and a staggering wine selection. It officially opens to the public on Tue., Feb. 5.
While this is Michael Smith's third restaurant, it's one that is particularly close to him, as it represents the culmination of a years-long trend in his cooking toward Mediterranean flavors, especially those of Italy. It began in part from discussions that he and Nancy began having several years ago about retirement.
"[We] were talking about me retiring, and we thought about where we would ever go. What food do we love and crave every day?" he explains. "The answer was Italian food: the cheeses, the prosciutto, the salami, the olive oil, the balsamics, the pasta! Pound for pound, this all comes from Italy. And I thought, why am I not cooking this food now?"
Smith began incorporating more Italian dishes onto his menu at Michael Smith. He had a Tuesday night pasta special. He bought a pasta extruder. Eventually, he was serving multiple pasta dishes every day.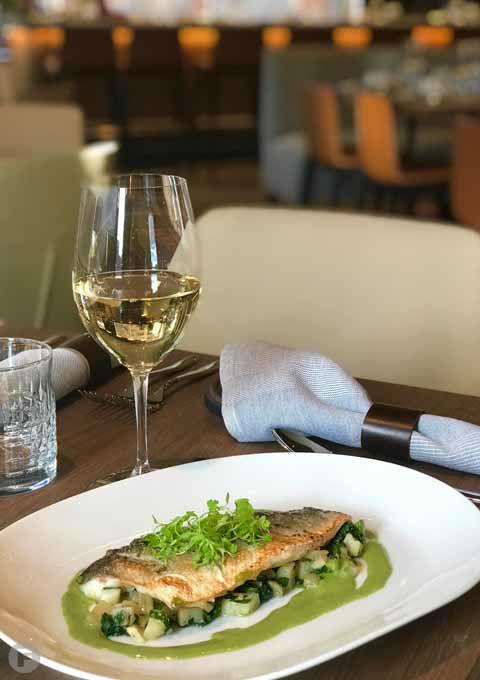 "I never let anything stop me, and we found a way to get it done. I look forward to that here now," he says about Farina.
Farina is located in what was formerly the Kemper Art Museum Crossroads, a spot that Smith notes has played a major role in the renaissance of the arts district. Farina seats about 90 diners between the bar, the oyster bar and the dining room, the latter of which is filled with comfortable yet elegant gray banquettes, gently distressed brown leather booths and slick natural wood tables. Two private dining rooms can accommodate about 30 additional diners for various functions, including meetings. About the environment at Farina, Smith notes that they aim to appeal to a broad customer base that includes fans of the Michael Smith restaurant (which is now transitioning to an events-only facility), as well as new customers.
"We took the tablecloths off the tables, we took down the heavy drapery and put in window coverings that open up, we took the carpet off the floors," he says. "Then we realized we needed something to soften it, and something to bring back some of that feeling of Tuscany or Umbria, so we put rugs back in… It's a place where young people will feel good in but where older clientele won't feel too dressy."
The same philosophy of casual elegance applies to the menu, which features a variety of seafood (grilled octopus, sardines, swordfish, branzino and, of course, oysters), antipasti, fresh pastas, steaks and chops. Smith describes the menu as a blend of Italian flavors and techniques along with contemporary American-style entrées that use ingredients in a Mediterranean style.
"I've always wanted my guests to like the same things I do," he adds, "but the direction of the menu will always be whatever season we're in. Right now it's winter, so we'd be looking at Piedmonte, Umbria – the mountains. Stews and braises, fish done with winter vegetables and then pastas."
Ten different pastas will always available, the majority of which will be made fresh on site every day. This includes the "Four Kings of Rome," which will be unchanging menu staples: bucatini carbonara, cacio e pepe, tagliatelle Bolognese and rigatoni all' Amatriciana. Current seasonal options include a potato gnocchi with braised rabbit, leeks and shiitake mushrooms; a squid-ink spaghetti with swordfish, yellow sun-dried tomatoes, saffron and Calabrian chiles; and gemelli with lamb Bolognese, carrot, mint and Feta, among other dishes. Smith and his team also plan to include a subtle pasta education component on each table.
"There will be little cards with a drawing/sketch of the shapes that will illustrate for customers what pastas are on the menu," he explains. "We're not trying to be high minded, but we just want to show people what we have so that they're comfortable."
Diners looking for something with more protein can opt for the branzino broiled in shrimp butter with potato-fennel hash, cacciatore-style Campo Lindo Farms chicken, grilled swordfish with broccolini, the wood-fired aged ribeye or the veal chop pizzaiola, served with onion rings. Seasonal soups and salads are also available.
Fans of Nancy's wine program at Michael Smith will have much to be happy about. About 1,200 bottles of wine and 180 varieties will be on hand. It's a very similar program to what was available at Michael Smith, with a little more emphasis on Italian wines. The wine list is divided by region and country, and there will be both a reserve list as well as very affordable selections.
Farina represents a big shift for both Nancy and Michael Smith, but because this transition has been long in coming, it feels as natural and comfortable as Farina's new space. While there is no shortage of Italian food to try in Kansas City, Michael Smith's pedigree – and his emphasis on flavor over anything else – make this a can't-miss spot.
Beginning Feb. 5, Farina will be open Tuesdays through Thursdays from 5 to 10pm and Fridays and Saturdays from 5 to 11pm.
Farina by Michael Smith, 1901 Baltimore Ave., Crossroads Arts District, Kansas City, Missouri, michaelsmithkc.com/farina