Coming off a "Dutch crunch summer" spent inside the Made in KC Marketplace on the Country Club Plaza, Bay Boys Specialty Sandwiches owners Julian Garcia and Jake Wilson have decided to extend their pop up. Bay Boys will be open on weekends only inside Made in KC through the Plaza Art Fair on Sept. 22.
After that, the pop-up location will officially close to make room from another new food vendor in the Made in KC Marketplace. When Bay Boys opened earlier this summer, the sandwich shop took over the space vacated by Aixois Crêperie, which is exactly what the partners behind Made in KC have in mind for the rotating pop-up space. It gives many different vendors an opportunity to try something new, and also keeps the food options fresh and ever-changing for guests inside of the marketplace.
Garcia and Wilson used the opportunity as a test for a second brick-and-mortar location for their popular sandwich spot, which started as a pop up inside of Johnny Jo's Pizzeria. In 2018, they opened their first brick-and-mortar location in a teeny tiny space just around the corner on Holly Street in the West Plaza.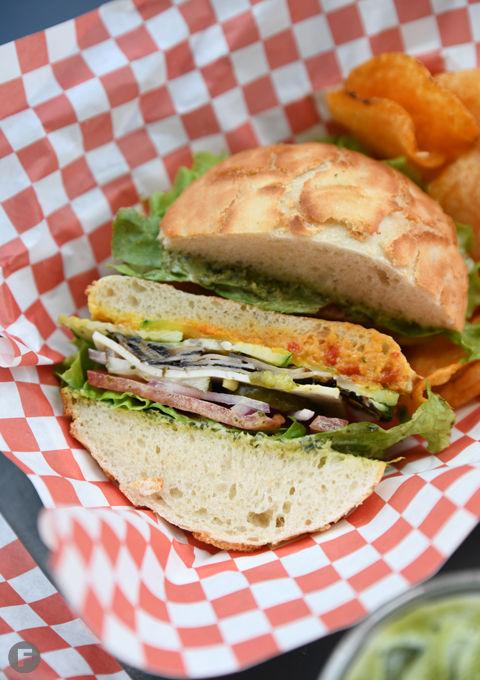 "Julian and I have plans to open a second location for Bay Boys eventually, and we decided to use this opportunity with Made in KC to test how we would execute that," says Wilson. "They approached us with the opportunity, and we thought it would be a low risk way to see if we were really ready to ramp up our operations. We learned a lot in this process."
Bay Boys' famous Dutch crunch bread, which is baked in house daily, is a key component to every sandwich on the menu. Garcia and Wilson used the pop-up location inside Made in KC to see if they could handle baking twice as much bread and prepping twice as many sandwich toppings and housemade sauces and dressings. Longtime Bay Boys employee Courtney Cottle has been running and managing the pop-up location, and says being located in the heart of the Plaza was eye-opening.
"There is definitely a lot of foot traffic coming into that space in the middle of the Country Club Plaza, and a lot of tourists came in to shop for things at Made in KC," she says. "I found that for us, we were serving our sandwiches to mostly employees who work on or near the Plaza, or people who lived in the nearby apartments who were usually familiar with us and were just looking to stop in for a quick bite on their lunch hour."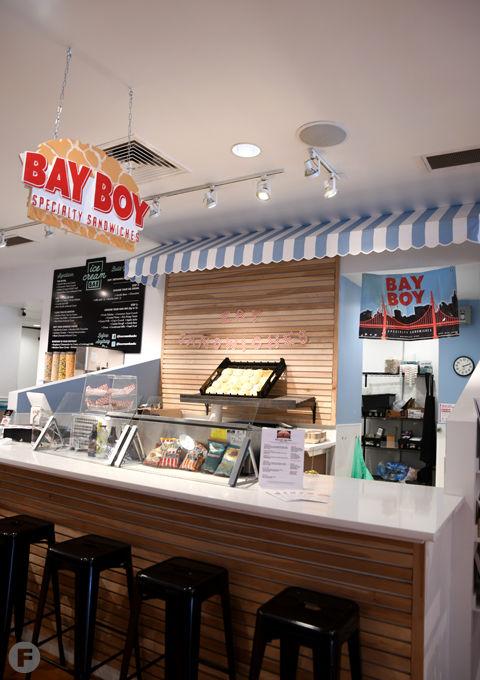 Bay Boys offers a limited menu at the location inside of Made in KC, featuring all six of the shop's cold sandwiches (including B.L.A.T., The Gobbler, Bay Boy Italian sandwich, Veggie, Crown Town Club and The Wiz) along with chips, Cloudy Day Cookies (made with Heath bars, pretzels and chocolate chips) and drinks. The pop-up location doesn't serve any hot sandwiches as the smell from the kitchen could permeate the store and the merchandise from other vendors. Cottle says the location inside of Made in KC also offers a rotating sandwich special each week, but the traditional Italian Bay Boy and the B.L.A.T. remain the most popular picks.
"People love our hot sandwiches, especially our hot pastrami and Reuben, and when they could not get them at our pop-up location, they just had to drive approximately a mile due west to our original location to pick up their favorite sandwich to go," says Garcia. "For that reason alone, it was good that for this test our two locations were so close together."
All things considered, Garcia and Wilson consider this test a success and are considering where and when a second location may be on the horizon. They look forward to going out of the Made in KC space with a bang, closing immediately following the Plaza Art Fair on Sept. 22.
Bay Boys Specialty Sandwiches is open inside Made in KC Marketplace on Friday and Saturday from 11am to 8pm and Sunday from 11am to 4pm.
Bay Boys Specialty Sandwiches (located inside Made in KC Marketplace), 306 W. 47th St., Country Club Plaza, Kansas City, Missouri, 816.718.0806, madeinkc.co