Tucked into a small storefront at 47th and Holly streets, Bay Boy Specialty Sandwiches is becoming a quick favorite among its new West Plaza neighbors. The three restaurants at this intersection – Bay Boy, Johnny Jo's Pizzeria and the Bar at West Plaza – have a uniquely heavily residential location. Densely packed homes surround them on all sides, and this seems to have only benefited Bay Boy. In its first five weeks in business, the shop has completely sold out of its sandwiches several times.
Bay Boy specializes in sandwiches made with Dutch Crunch bread, which owner Julian Garcia, a native San Franciscan turned Kansas Citian, became addicted to on one of his trips back to California. While Dutch Crunch is somewhat ubiquitous in San Francisco, in KC the specialty bread is basically impossible to find outside of home kitchens. It is a soft, light yeast bread whose surface is brushed with an airy light rice paste. When baked, the paste crisps, giving the soft bread a subtle, satisfying crunch.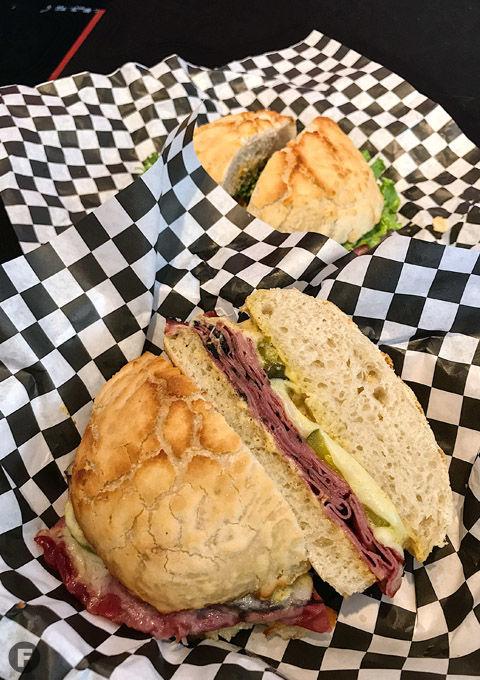 Garcia was inspired to bring Dutch Crunch to Kansas City beginning in about 2010, while he was still a student in film school. He eventually found a partner in his friend Jake Wilson. The two thought they might start the Bay Boy business as a food truck, but a proper vehicle never materialized. They opted to put on pop ups and catered events, using the kitchen at Johnny Jo's as a home base. Then the opportunity to open a store in the former Downbeat Coffee space in the West Plaza presented itself. They took possession of the shop last October. City permitting and renovation of the space followed, and Bay Boy finally opened its doors five weeks ago.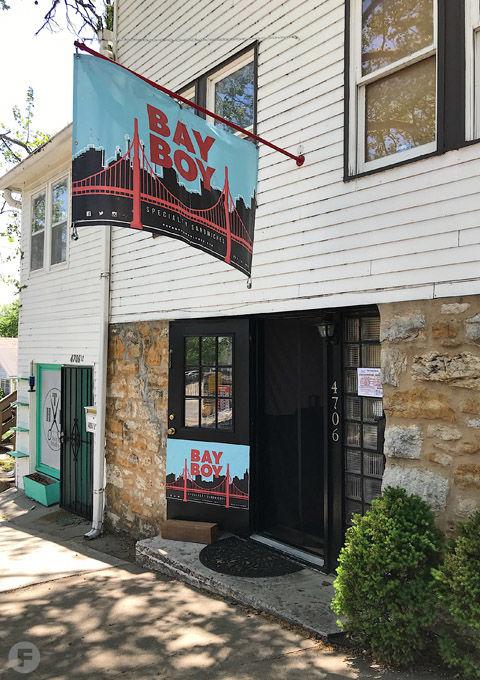 The restaurant is cozy; customers order sandwiches at the counter and can eat in at one of three tables, or they can take their food to go. The shop offers several different sandwiches on its regular menu, as well as unique specialty sandwich options each day. Daily options include hot and cold sandwiches, including the Original (salami, cheese and fixings), as well as a BLAT (a BLT with avocado), turkey, hot pastrami, veggie and even a kimchi grilled cheese.
Different specialty sandwiches are available each day. The sandwich Garcia and Wilson are most proud of is also their best seller, the El Jefe, their take on a Cuban. Mojo-brined pulled pork is smoked over applewood, and then joins honey ham, pickles, cheese, mustard and a hot pepper sauce. The El Jefe is available on Fridays and Saturdays. A meatball sub, Italian grinder and a Hawaiian pork and pineapple sandwich are among their other daily specials. A selection of bottled soft drinks are also available.
Garcia and Wilson still hope to operate a food truck in the near future, but for now the partners are content to build their West Plaza business and to continue to build relationships with their new customers and neighbors. And so far, the neighborhood is very receptive.
Bay Boy Specialty Sandwiches is open Monday through Thursday from 11am to 3pm and Friday and Saturday from 11am to 8pm.
Bay Boy Specialty Sandwiches, 4706 Holly St., West Plaza, Kansas City, Missouri. 816.673.3960, bayboykc.com