As the weather gets cooler and the evening's darkness comes on earlier, seasonal food trends toward richness and comfort: lighter summer fare gives way to roasted meats, hardy autumn vegetables and pies, as well as spiced drinks and dark beers. It is one of the best times of year to really tuck into a satisfying meal, and Kansas City's best chefs are happy to oblige. While there are a vast number of fall menus out there to sample, we suggest beginning with five of our favorite new fall menus. From braised bison ribs and duck breasts to a vegetable terrine and a spiced fairytale pumpkin soup, there's a little something out there this fall for every palate.
The Rieger
No slouch when it comes to comfort food, chef Howard Hanna has stacked The Rieger's menu with an array of hearty proteins including bison, rabbit duck and even walleye. Yet he doesn't stop with just protein, also offering five pasta dishes, three hearty soups, a gorgeous vegetable terrine and a duck breast salad.
In addition to The Rieger's signature pork soup (which is, without question, among the best soups in the city), Hanna is offering bison chili with hominy chips, crème fraiche and onions, as well as a lentil soup with Missouri jasmine rice, butternut squash, pickled apple and toasted squash seeds. His frisée salad includes a cured duck breast, crispy potatoes and a duck fat and cranberry vinaigrette. His picture-perfect vegetable terrine features raw, grilled and marinated vegetables, Green Dirt Farms cheese, a beet vinaigrette and Missouri Northern pecans – a lighter counterpart to what is a very robust menu.
A dish that Hanna has been refining for the past few years is his corzetti pasta, which is a traditional stamped pasta with origins in northwest Italy. Hanna's fall corzetti is stamped with the Rieger logo and is served with a sunflower and nettle pesto. He is also serving a red wine risotto, spinach lasagna made with a lamb ragu, Malfaldine with turkey sausage, local mushrooms, chili and a black garlic béchamel.
A star among Hanna's entrees is the Walleye, which is seared and served atop a coal-roasted acorn squash pureé, seven-grain rice and salsa verde. A bolder, richer option is the bison short ribs dish, which is served with smoked red onions, mashed potatoes and a silky bone marrow butter.
The Rieger, 1924 Main St., Crossroads Arts District, Kansas City, Missouri, 816.471.2177, theriegerkc.com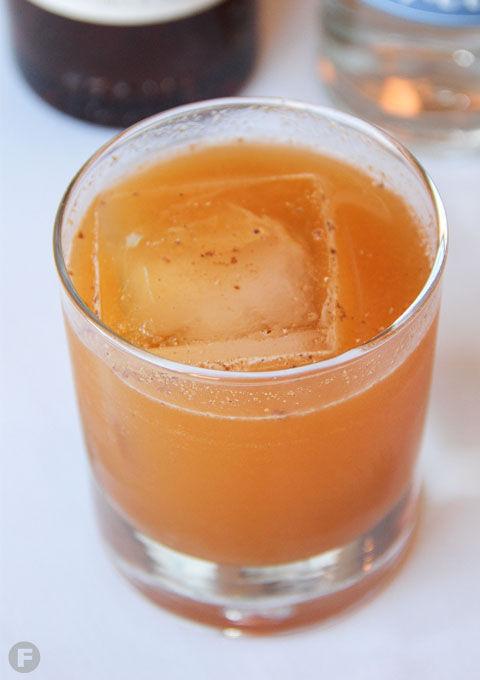 Hank Charcuterie
Chef Vaughn Good from Lawrence's Hank Charcuterie has looked to local farms for inspiration on his fall menu, utilizing local proteins, root vegetables, fruit and even bread (Hank serves bread baked at 1900 Barker).
One of the dishes he is most excited to serve this fall utilizes his unique skills as a butcher (his shop formerly operated as a butcher counter and restaurant and this past July, he eliminated his counter to focus on the restaurant side). So while a few of our featured menus here utilize duck, Good makes this poultry dish unique by creating a duck foie gras sausage, which he serves with crispy hen of the woods mushrooms, brown butter apples, chestnut and butternut squash.
"I think this dish represents fall in Kansas," says Good. "We use local duck, apples, chestnuts and butternut squash. We have also been using locally foraged hen of the woods mushrooms when available."
Good's fall menu reflects his expertise with meats. On offer are a ribeye served with roasted bone marrow butter and a pork shank with horseradish potatoes and ham hock gravy. A standout is the rabbit pot pie, which features braised Rare Hare Barns rabbit, mirepoix (roughly chopped vegetables) and rabbit gravy made with Wakarusa Farm shiitake mushrooms, all served in a cast iron pan topped with Good's flaky pie dough.
Hank Charcuterie's drink menu has also transitioned over to utilize fall ingredients. A housemade pear ginger shrub is paired with Union Horse Reunion Rye, for example. The "Martinez" features Milagro Silver, Dolin Blanc, orange butters, Luxardo maraschino cherries, tea and pickled champagne grapes – all festive enough to find a reason to celebrate.
Hank Charcuterie, 1900 Massachusetts St., Lawrence, Kansas, 785.832.8688, hankmeats.com
Krokstrom Klubb and Market
Chef Katee McLean and Josh Rogers of Krokstrom Klubb and Market have added six new menu items for fall, utilizing seasonal ingredients with, of course, a Nordic touch.
Rogers explains that two of McLean's dishes on this fall menu have been in the works since the couple began planning the restaurant, including the lingonberry duck breast with gourd puree, and the Swedish farmer pierogies.
"They are something we eat at home all the time," says Rogers of the pierogies. "They have been a runaway favorite since we debuted them. They have a little onion jam and a pickled mustard seed sour cream to dip them in." He also explains that the lingonberry duck breast was just waiting for the right time to debut.
"It plays on the sweet and savory idea but is rich and hearty; perfect for fall."
One of the restaurant's lighter (and vegetarian-friendly) dishes for fall is the Swede and Squash salad, which features rutabaga, squash and red oak lettuce, garnished with cider dressing and an aquavit honey. Another vegetarian-friendly addition is the mushroom strudel, served with a cream made with aquavit (an herbal Scandanavian spirit) and a glogg (mulled wine) reduction.
Once the weather does finally make a turn for the colder, Rogers notes that they will switch their glogg from cool to hot, and will add an apple cider liquer and mead cocktail to the menu, as well as a cocktail dubbed the "Old Norwegian," which is similar to an Old Fashioned yet is made with aquavit.
Krokstrom Klubb & Market, 3601 Broadway, Midtown, Kansas City, Missouri, 816.599.7531, klubbkrokstrom.com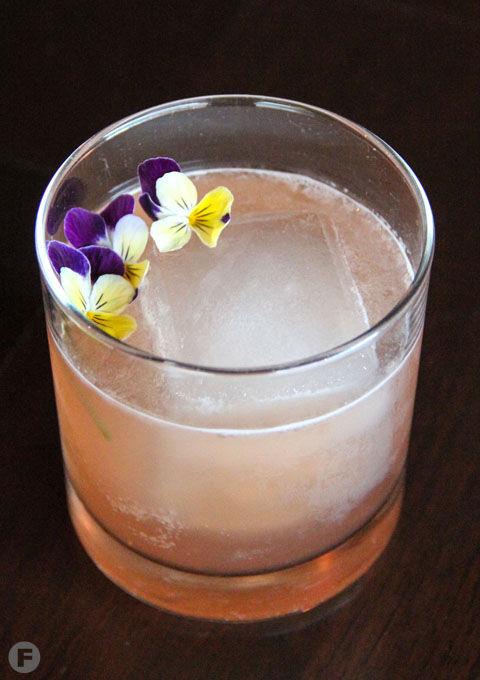 Michael Smith
In addition to his signature tasting menus, chef Michael Smith has transitioned his regular menu to reflect the season's changing fare. His offerings represent a mix of eclectic starters, seasonal salads, handmade pastas and proteins, including a bison ribeye, roasted pork, duck breast and a selection of sautéed and seared fish.
A must-sample treat that Smith is offering among his starters is a Spanish Iberico Ham plate. Iberico ham is aged for years – and is considered by many to be among the best ham in the world. Smith slices paper-thin pieces from an artfully displayed pork leg in the corner of the dining room, and the ham practically melts in your mouth. Other notable starters include the charred octopus with Castelvetrano olives and roasted African prawns served with an olive tapenade and leeks.
Among Smith's pasta dishes are a braised rabbit gnocchi served with shiitake mushrooms and Parmesan, a squid ink mafalde served with Laughing Bird shrimp, uni and Spanish piparra peppers. Guests may also sample a pear and stilton salad served with baby kale, a port reduction and candied pistachios or a roasted golden beet salad with goat cheese mousse.
Smith's classically prepared seared duck breast, served with plum sauce, sweet potato and a tempura broccolini, is what fall menus are created for – the rich duck breast is offset by the sweetness of the plum sauce, and the crispy broccolini cleanses your palate. Another standout is Smith's sautéed black cod, which is cooked to where the fish is light and flaky, while the fall flavors coming from the chestnut puree, figs and beurre blanc remind you what time of year it is.
Bar manager Alberto Santoro has designed a fall cocktail menu for Michael Smith and the adjoining Extra Virgin. Try the "Below the Hard Deck," which utilizes tequila ocho plata, ancho reyes, pumpkin butter and sherry, or the "Social Currency," a drink that sounds heavy but is dangerously light, made with Angel's Envy bourbon, J. Rieger Café Amaro and rosemary peppercorn.
Michael Smith Restaurant, 1900 Main St., Crossroads Arts District, Kansas City, Missouri, 816.842.2202, michaelsmithkc.com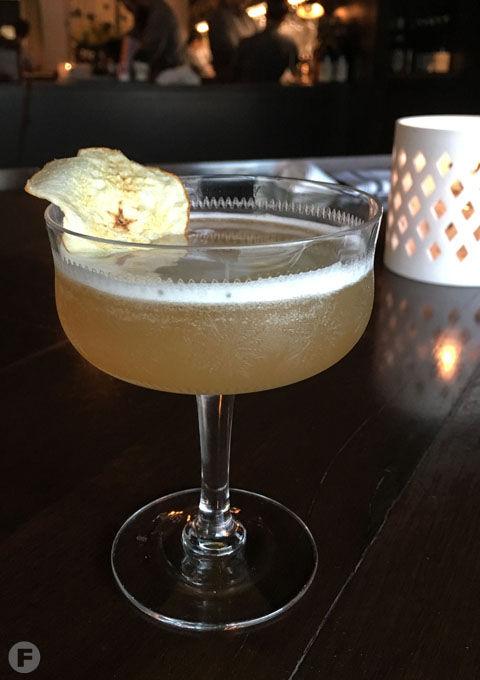 Bluestem
Bluestem's newly designated executive chef Andrew Longres notes that their menu doesn't make an immediate changeover when the seasons change. The Bluestem system, he notes, is such that the menus undergo a gradual shift, allowing the chef and his team to develop their dishes in a way more organic to them. The process involves testing and refinement, and when the items are ready, front of the house staff comes in to taste and learn before the dishes are offered to guests.
One example of this exacting refinement process is the aged Peking duck, now available on Bluestem's tasting menu. The dish is a work of art, arranged precisely with tweezers, and features gnudi, sorghum, smoked chili, butternut squash and radicchio, along with the perfectly sliced, juicy and lightly pink duck breast. A drizzle of duck fat completes the presentation.
No less refined is the spiced fairytale pumpkin soup, which is poured tableside from a steaming cauldron and is served with angostura, dried cherries and kale, as well as a dollop of meringue, its sweetness matching the rich spice of the soup.
Bluestem bar manager and award-winning mixologist Andrew Olsen has also come through with a new batch of seasonal cocktails, including the light and lovely Armonia, made with Diplomatico Reserva rum, a German muscat, Bruto Americano (a bitter spirit), plum and lemon, served with a few tiny violas as garnish. For bourbon lovers, Olsen offers the Pear Milk Punch, in which he blends Old Forester, ginger liqueur, pear, green tea and lemon with a pinch of salt. The drink is served with a dried pear chip.
Bluestem, 900 Westport Road, Midtown, Kansas City, Missouri, 816.561.1101, bluestemkc.com