Following its blowout opening party late last month, the founders and staff at Lawrence Beer Co. have taken a few weeks to collect themselves and prepare for the true opening of the brewery and restaurant, which occurs at 5pm today.
The large East Lawrence brewery, beer garden and restaurant is the result of a partnership between entrepreneurs Matt Williams and Adam Williams (no relation) and Brendon Allen, as well as Ken Baker, who serves as executive chef in addition to being a partner in the business. The brewery is also the showcase of the efforts of brewer Sam McClain, who has brewed beer for Half Acre Beer Co. in Chicago, as well as Boulevard Brewing Co. in Kansas City.
The first noticeable thing about Lawrence Beer Co. is its impressive renovation of the Seedco building, formerly a one-story, open art studio and warehouse in the burgeoning East Lawrence arts district. Over the past year, a second story has been added to the building, with bricks carefully chosen to match the more than 100-year-old base of the structure. During this process, the entire first floor was converted into the bar and restaurant space, which features gleaming polished concrete floors, exposed beams and natural wood tables and room dividers. A large mural depicting a thunderstorm rolling over the Kansas prairie hangs on the east side of the dining area. The restaurant also features a wraparound outdoor deck as well as a grassy beer garden area with picnic tables (Adirondack chairs and fire pits are coming to the space soon). The second story of the building is being converted into loft dwellings.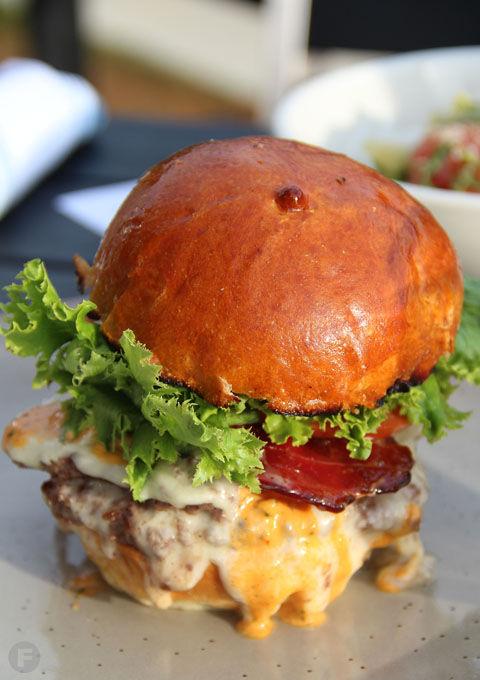 McClain's beer offerings are designed to be largely seasonal, and the brewing schedule nimble. Beers may be available for a few months at a time, or even for just a few days, depending on the success of the brew and how much of any given beer has been produced. Baker notes that he will often be collaborating with McClain on some of the beer menu's flavors, as well as to help the food menu complement the beer. The restaurant is opening with eight original beers on tap, including two pale ales, an IPA, one stout, three saisons (including one kettle-soured) and one English ale. An early standout is the kettle-soured Rascal King, a deliciously puckery beer with a clear saison base. Hop-lovers should opt for the 'Lectric, a bold, intensely hoppy IPA.
Baker has ensured that restaurant side of the business offers as much to look forward to as the brewery. Before joining the team, he came from the much-loved and missed Pachamama's, which closed in 2015; it seemed as though the opportunity to experience his cooking in a full-service setting had expired along with that establishment. Matt and Adam Williams' vision for the new business, however, convinced him that this was the right time to return to the industry.
"When I ended with Pach, I didn't think I would get back into it full force, but this seemed like the right time and the right team," he explains. "We'll have the same aesthetic, there will be nothing dumbed down – an ingredient-focused menu. The beer is the pivot point."
For its first week, the restaurant is offering a relatively limited menu, but one that well showcases the abilities of those in the kitchen. The ultra-fresh watermelon "poké," for example, features juicy hunks of the classic summer fruit in a salad with arugula, cucumbers, avocado and furikake seasoning, all bound together with a sweet onion-ginger dressing. The "chick"-arrones, a play on the traditional Mexican offering of fried pork skin, chicharrones, is a dish of fried chicken skins served with a buttermilk ranch-blue cheese hybrid.
Baker and his team have also developed an instant classic with Lawrence Beer Co.'s house cheeseburger – a tall order in a town with a lot of great burgers. Two house-ground smash patties are seared and served with applewood-smoked bacon, house pickles, lettuce, tomato and Larry sauce, which blends into a beautifully delicious, gooey mess as it melts into the restaurant's housemade white American cheese. It is one of the most impressive-looking (and tasting) burgers in recent memory. Another classic on offer is the BLAT, a BLT gussied up nicely with a serving of ripe avocado and bacon-fat aïoli.
As the restaurant begins to transition to its full fall menu, Baker plans to utilize the wood-fired grill built in to the restaurant's thoughtfully designed open kitchen. On average, explains Baker, there will be 15 to 20 items available at any given time. He's especially looking forward to some of the heartier dishes to come.
"We have a rotisserie, and I'm stoked about this porchetta we're [doing] – split open, rubbed with garlic, herbs and fennel. It's an unctuous meat, mostly pork belly," he says. "Smoked apple butter comes with that, fried capers and garlic. All of our sides also go with the large-format items, which serve two to four people. There are entrée plates as well, but by in large the menu is small-plate oriented."
Between the space itself and its initial offerings, there is little not to be impressed by at Lawrence Beer Co. With its full potential to be realized over the course of the next few months, there ought to be much, much more to look forward from the team.
Lawrence Beer Co. is open Tuesday through Thursday from 5 to 11pm, Friday and Saturday from 5pm to midnight, and Sunday from 5 to 10pm.
Lawrence Beer Co., 826 Pennsylvania St., Lawrence, Kansas, 785.856.0453, lawrencebeerco.com