Following several months of painstaking work, most of it done themselves, entrepreneurs and business partners Zaid Consuegra and Lydia Palma are finally set to open their all-vegan burger diner, Pirate's Bone Burgers, on Mon., Sept. 16. It is not the first business for the pair, but it is certainly their largest and most ambitious.
Prior to opening Pirate's Bone burgers, Consuegra in 2015 founded Pirate's Bone Coffee, located on East 59th Street in Brookside. There, Consuegra honed his skills in specialty coffee drinks, largely learning on the job. In about 2016, he brought on Palma, an interior architect and designer who had been looking for a career change. The two transitioned the coffee shop into an all-vegan shop, which did alienate some of its customers but appealed to an entirely new swath of coffee drinkers who had been clamoring for a plant-based business.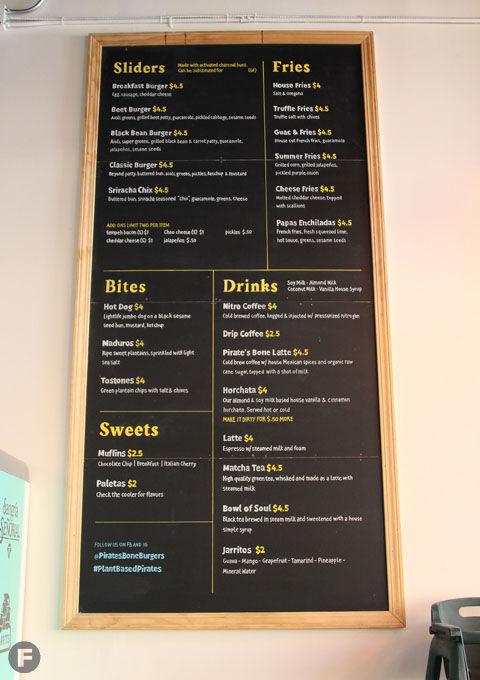 Consuegra began experimenting in the kitchen, fashioning vegan snacks, including soups, stews, tamales, and even waffles for his customers. But he knew that he had a hit when he introduced his burgers, including a beet-based burger and another option made from carrots and black beans. On days when he would offer his burgers, Pirate's Bone would be bursting at the seams with customers, and Consuegra says he couldn't keep up with demand. He and Palma knew they needed to expand in order to provide the level of service they felt their customers deserved.
Then, earlier this year, Brioche Pastry Shop in the Crossroads suddenly closed, and an opportunity presented itself to Consuegra and Palma to move into one of the city's highest-traffic, most in-demand neighborhoods. They seized their chance, and signed a lease. They closed Pirate's Bone Coffee, opening in its place The Littlest Bake Shop, a vegan bakery in which Consuegra and Palma partner with chef Iris Green.
The new concept partners with Pirate's Bone.
Consuegra and Palma quickly began work in their new Crossroads space. Without any major investors or financial backing, the pair have been working day and night on the buildout. They removed the room-darkening paint from the shop's windows, which face out onto the prime Crossroads corner at 20th and Main streets. They repainted the walls a bright white, and brought in live plants to freshen up the room. They built a long, mint-green diner counter, which runs from the front of the shop all the way to the back of the space. The fully ADA-accessible counter seats approximately 25 guests on height-adjustable, kid-friendly stools. Overall, the impression is bright and welcoming.
Pirate's Bone will be open all day, every day, serving a slate of slider-sized vegan burgers, including Consuegra's much-loved beet and black bean-carrot burgers, as well as a patty from Beyond Meat. Each of the burgers is topped with creamy vegan mayonnaise and fresh slaws and guacamole made in-house each day. A breakfast option, complete with egg, vegan sausage and cashew cheese, is also available. A Sriracha-flavored "chicken" patty is topped with greens, guacamole and cheese (all burgers are $4.50 apiece).
These local brands are giving Impossible Foods and Beyond Meat a run for their money.
Additional options at Pirate's Bone include soy-based hot dogs, topped with mustard and ketchup, and a variety of housemade fries, including truffle, garlic and cheese fries, as well as "summer" fries, topped with fresh corn, grilled jalapeños and pickled jalapeños. Plantains, served maduro-style (fresh, sprinkled with sea salt), or as tostones (plantain chips with sea salt and chives) are also available ($4-$4.50).
Fans of Pirate's Bone's coffee are also in luck here, with nitro coffee, drip and lattes available, in addition to horchata and Jarritos soda ($2-$4.50).
Consuegra and Palma have endeavored to make Pirate's Bone an exceptionally welcoming place for all customers, vegan or not. Their work has concentrated most on making delicious, approachable and affordable food, but the pair have also worked diligently to make Pirate's Bone as inclusive as they can. In addition to making the space safe and entirely ADA-friendly, menus are available in several languages, and seating is adjustable and kid-friendly.
Consuegra and Palma say that they just want to "feed more plants to more people," and note that they have worked to eliminate as many barriers to that as they can. It's an ambitious plan, but if their past success is any indication, they may well be on their way.
Pirate's Bone Burgers will be open Monday through Thursday from 7am to 7pm, Friday from 7am to 9pm, Saturday from 9am to 9pm and Sunday from 9am to 3pm.
Pirate's Bone Burgers, 2000 Main St., Crossroads Arts District, Kansas City, Missouri, 816.605.1014, piratesboneburgers.com