It didn't happen overnight, but when it happened, it happened in a spectacular way. What started as a boutique whiskey distillery operation, founded by Andy Rieger and Ryan Maybee in 2012, has grown over time into a national brand. Today at 3pm, J. Rieger & Co. takes a big next step with the debut of its grand expansion, one that includes two bar experiences, a massive new distillery operation, a historic exhibit and even a corkscrew slide that runs from the building's second to first floors.
When guests arrive at the J. Rieger & Co. distillery, the first thing they will encounter is a concierge desk, and just beyond that the 15,000-square-foot, glass-enclosed production facility, complete with massive copper stills, pumps and agitators. It was one of the last spots that master distiller Dave Pickerell (Maker's Mark, Whistle Pig and more) worked on before he passed away last November. Guests can opt to go on hourly guided tours, or check out the 3,000-square foot historic exhibit, which details the history of the brand.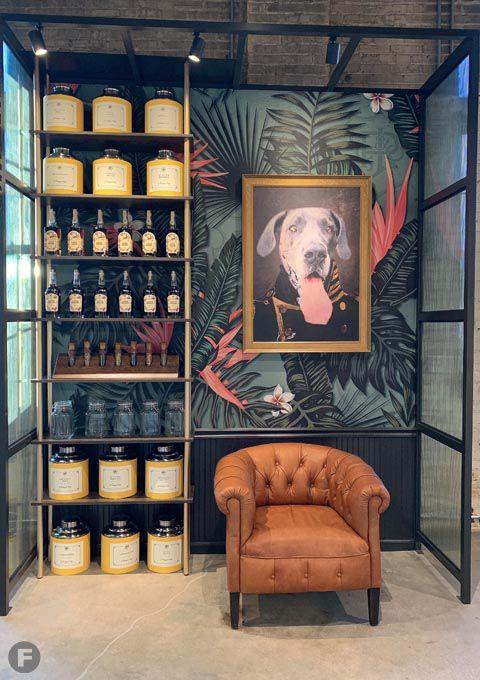 Upstairs, guests will find the plush yet casual Monogram Lounge. This is a day-to-night coffee and cocktails bar that will open each morning serving Thou Mayest coffee and breakfast items, including pastries. Throughout the day this will transition to small plates, including sandwiches, charcuterie and dips, as well as signature cocktails. Highballs of Rieger products, including its signature whiskey and Caffe Amaro, will be available, or guests can choose from a variety of cocktails on tap. Among the cocktails available in the Monogram Lounge are a classic Negroni, a seasonally-inspired Gin & Tonic, or the Kansas City Classic Horsefeather, made from Rieger's Kansas City Whiskey and topped with ginger beer and a squeeze of lemon. Heim Beer, brewed by KC Bier Co. specifically for the distillery, is also available. The crisp Pilsner also serves as tribute to the building's origins as the historic Heim Brewery bottling plant. The Monogram Lounge will be open seven days a week, from the distillery's opening to close.
Down in the basement, the showpiece Hey! Hey! Club, a tribute to KC's jazz club history, serves premium craft cocktails made by hand. The luxurious space features dim lighting, plush curved green velvet booths and masculine leather couches. It evokes gentlemen's clubs of the gilded age with a color scheme that includes deep greens, mahogany and tanned leather. Culinary director Marita Swift, who designed the food program for the Monogram Lounge, has also designed a specialty menu of small bites and plates for the Hey! Hey! Club. This experience is open from Tuesday through Thursday from 4 to 10pm, and Friday and Saturday from 4pm to midnight. Reservations are available via Tock.
Other experiences available at the distillery include the Jacob's Barrel Dining Room, a 16-seat private dining space located within the distillery's barrel storage. An expanded retail space is also open, serving Rieger merchandise as well as items including J. Rieger & Co. spirits-filled chocolates made by Andre's Confisserie Suisse. Then, of course, there's the slide, a tongue-in-cheek tribute to Electric Park's amusement park history.
The debut of the new J. Rieger & Co. distillery marks a new chapter in Kansas City drinks and dining, offering what substantially is an unparalleled experience in our city, much less our region. Today, after two years of design and construction, Kansas City can finally experience the realization of Rieger's and Maybee's dream.
J. Rieger & Co. is open Monday through Thursday from 9am to 10pm, Friday from 9am to midnight, Saturday from 10am to midnight and Sunday from 10am to 10pm.
J. Rieger & Co., 2700 Guinotte Ave., Electric Park, Kansas City, Missouri, jriegerco.com