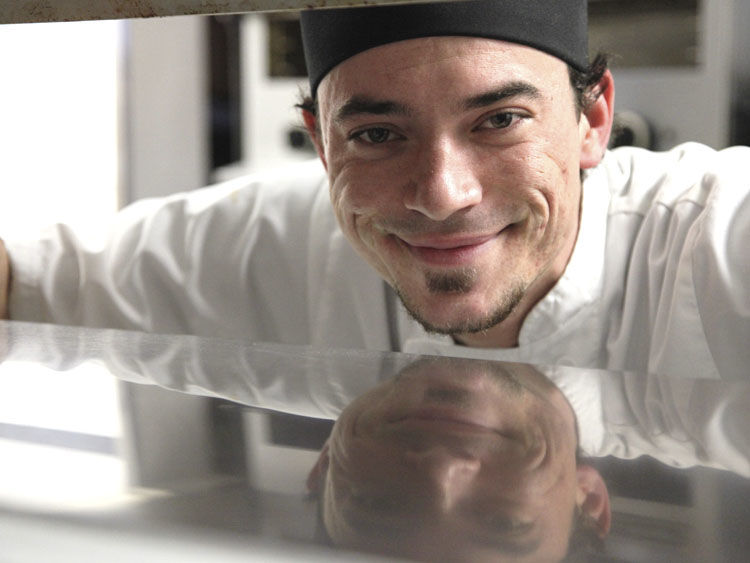 The Fontaine has announced that local chef Ryan Spruhan will take over as executive chef of the 132-room boutique hotel located just west of the Country Club Plaza.
The position is responsible for creating and overseeing all menus served out of The Fontaine's impressive rooftop restaurant, Parker, named after Charlie Parker, one of Kansas City's great jazz saxophonist and composers. In addition, Spruhan will also oversee all catering, special events and in-room dining.
He replaces former executive chef Kevin Nicholls, who was tapped for the position late last year when the hotel reopened as The Fontaine after a complete rebranding and redesign. Nicholls left his post at The Fontaine earlier this year.
"The opportunity to join the incredible leadership team at The Fontaine and use my own passion for creating food that brings people together felt like a natural fit," Spruhan says. "I'm excited to bring my local knowledge and love for Kansas City to the menu at Parker and create a memorable experience for our hotel guests and local fans alike."
Spruhan brings with him more than a decade of culinary experience. An alum of the Scottsdale Culinary Institute, he is also a Level II certified sommelier from the British Court of Master Sommeliers. He began his culinary career in 2005, working in the kitchen at The Phoenician Resort in Scottsdale, Arizona.
In 2007, he relocated to Kansas City to apprentice with James Beard Award-winning chef Celina Tio for four years at The American and later, Tio's first restaurant, Julian.
After leaving Kansas City for a period of time, Spruhan returned in 2015 and for the past three years has served as the executive chef and director of food and beverage at The Elms Hotel & Spa, a historic hotel in Excelsior Springs, Missouri. Most recently, the chef served as the culinary lead for the entire portfolio of Widewaters Hotels, which now owns The Elms Hotel & Spa.
Now back in Kansas City, Spruhan is looking forward to putting his own stamp on Parker's winter menu, which will reflect classic American dishes that speak with a slight Southern accent while focusing on local, seasonal ingredients. "The Fontaine is the right fit for my style of comforting dishes, consistently executed, with a bit of a Southern flare to them," Spruhan says.
Currently, Spruhan is looking to connect with local farmers and food artisans to add to his menu. He's also bringing his own, like Barham Family Farms in Kearney, Missouri, which will supply him chicken and quail for the new Parker menu.
Before his new menu rolls out after Thanksgiving, Spruhan will be shaking up the existing menu. He plans to bring it more in focus with the fall season while also adding more vegan and vegetarian options. "Our regulars have been asking for a new menu for quite a while, so my plan is to freshen the current menu up before my new menu rolls out this winter," Spruhan says.
In particular, he says guests can look forward to seeing a classic cassoulet made with local rabbit, pimento cheese fritters, black-eyed pea hummus with bacon jam and a new cocoa and pear pain perdu with red currents for dessert.
Parker, located on the rooftop of The Fontaine, is open daily for lunch from 11am to 2:30pm and dinner from 5:30 to 10pm (Friday and Saturday until 11pm). The bar is open Sunday through Thursday from 11am to 11pm and Friday and Saturday until midnight. Valet parking is available.
Parker at The Fontaine, 901 W 48th Place, Kansas City, Missouri, 816.753.8800, thefontainehotel.com