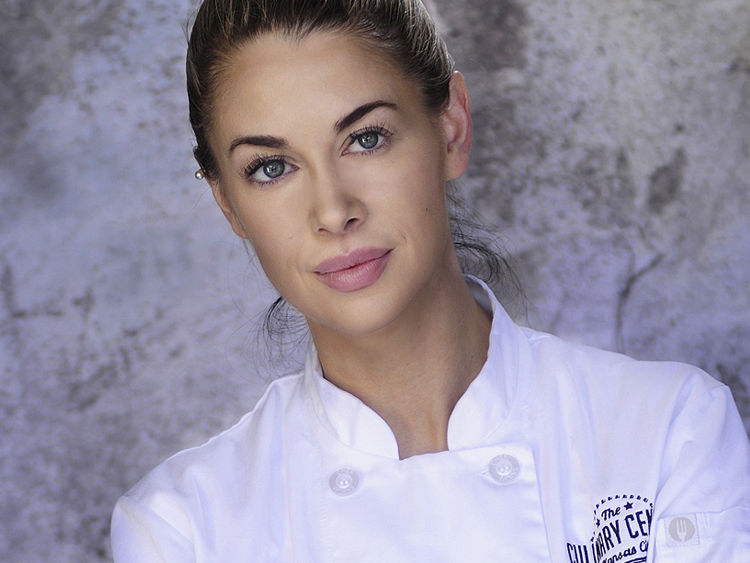 Molly Flynn's first kitchen job was cooking out of a chuck wagon on her parents' Montana cattle drive when she was 16. That led to restaurant jobs during her college years at Montana State University, followed by Seattle Central Culinary Academy. After 11 years cooking in Seattle, Flynn moved to Kansas City in late 2017 to be near her sister and her two nephews; she also snagged the lead chef gig at The Culinary Center of Kansas City. The former Miss Montana USA took some time to chat with us about farm-to-table cooking, Lawry's Seasoned Salt and why everything should be covered in cheese.
What is your favorite ingredient to cook with and why? Oh, vanilla! I love vanilla bean. I love it both sweet and savory. We do a really cool vegetable dish here in the French class where we have vanilla bean in the veg stock that we cook the vegetables in; it's amazing. I would use way more vanilla bean if it wasn't so expensive! My cheesecake recipes uses four vanilla beans in it. It's absolutely my favorite ingredient.
Do you have a secret weapon spice/ingredient/technique? Togarashi is my new favorite. It's a chile pepper spice; it's Japanese, I get it at Pan Asia here. We added it to the sauce [in a recent class] – it's good. It's one that recently got introduced to me. I find too that if you pull out the Lawry's Seasoned Salt, people are really, really impressed. No, they are! I put it in my gravy and my grandma did too. People love Lawry's, so I'm not gonna argue. I like it! So one fancy there to make me look sophisticated and then the truth [laughs].
What's your perfect day of eating in Kansas City? I would go to breakfast at First Watch. I honestly didn't know what they were about the first time someone took me there, but I really like the fact that you can go in and get a huge, yummy, super healthy breakfast. I like their commitment to providing both a substantial portion of food, but also something that's really good for you. I ate all this food yesterday, to be perfectly honest. Then there's this Thai restaurant called Hot Basil on 119th [Street]. They have an amazing pad Thai – seriously impressive. I could eat my way through River Market; there's so many places there that I haven't even tried yet. Basically, any day where I eat all day is a good day.
Who are Kansas City chefs you admire at the moment? I don't know anybody here yet! We have some amazing instructors here at the Culinary Center that I'm getting to know. Chef Richard McPeake has just been a huge ally and help to me as I've come into this position. Sandy DiGiovanni – both of them have immediately taken me under their wing and provided mentorship, and I'm always really, really grateful for that.
What concepts or styles of cooking do you hope to see added or expanded in Kansas City? I think where I'm really trying to come at it from is that no matter what dietary lifestyle people choose, I'm here to support that. if you wanna eat paleo or vegan or vegetarian, whatever you're going for, it's my job here as a chef at the Culinary Center to help you do it, to find good recipes that appeal to you. Any lifestyle should make you feel good. You should eat the way that you feel best, and I'm here to help you accommodate that and to do it and enjoy it.
What do you like to cook at home or on your day off? I can be a little lazy at home. Sometimes friends come over to my apartment and they're like, "Why do you have this in your fridge?" [laughs] My favorite style of cuisine is definitely Asian fusion. My first three chefs in Seattle – my first two chefs [I worked for] were from Japan, and then my third chef was from Korea, so I definitely still have a lot of that in my cooking. It's kind of my default; it's the food I enjoy going out to eat. But classic French and Asian fusion are kind of my go-tos. Like, if I wanna impress a dude that I'm gonna make dinner for, it's definitely gonna be Asian fusion.
What's your favorite comfort food? Probably Mexican, and it's because in the restaurant industry, we always eat food that's kinda sat out for a while and is like room temperature, and I like when they bring you food at a Mexican restaurant and they tell you, "Careful; don't touch the plate cause it's so hot." It's like my favorite thing ever. I'm like, yes! I want it hot! And just so much cheese – anything covered in melted cheese is gonna be good.
If you could tell home cooks one thing, what would it be? To clean as you go. And I know that we have people here in the kitchen helping us, but if you stop and take five minutes throughout the cooking process and clean as you go, then you don't have any huge intimidating pile of dishes at the end. 
What is your first food memory? Definitely my grandma's kitchen. I grew up on a cattle ranch in Montana, and it's funny how the farm-to-table thing is so trendy now, but that's how I grew up. My grandma had an acre garden, and we had chickens and an apple tree and cows and that's how we started making money, weeding my grandma's garden and eating peas and carrots fresh out of the garden and canning stuff. Even in Montana, she did an amazing job. It's not a long growing season there. She used to give us little cups and send us out to the raspberry bush, and we'd pick raspberries and go back in and she'd pour fresh cream and sugar on them. We made butter and bread and she made everything.
What's the most intriguing dish you've made recently, and why? I'm working on a dessert for a couple of dinners that we have coming up. It's a five-layer chocolate raspberry cake. The first layer is gonna be the vanilla bean cheesecake, [then] chocolate spongecake, chocolate ganache – we're picking which fruit we wanna use, raspberries or cherries – and there's gonna be a chocolate mousse layer, and then we are doing a chocolate mirror glaze on top. I'm kind of obsessed with mirror glaze right now. We're doing gold metallic-glazed truffles and raspberries or cherries to garnish with. I'm excited about it. I'm not the strongest baker, but I do enjoy it, and I definitely like playing with all the cool things I see on Instagram.
What inspires your cooking? How do you approach R&D at your restaurant, and what inspires that process? Especially coming from Seattle Central Culinary Academy, it's very seasonal. Like what looks good? What's at the store? What do I have right now to work with? What's the best? And part of that's growing up on the ranch too, where everything was fresh, and I really had that experience of [things being] better when it's fresh. So we're using what we have, and I just go to the store and look at ingredients and whatever looks good, I get in that chef brain where it's all I can think about it. "What am I gonna do with this?"
What are your future plans? I really hope to bring in more people from different dietary lifestyles. We're teaching a vegan cooking class right now, a paleo class. Here at the Culinary Center, we're a support for anybody in the community: Whatever it is they're trying to accomplish themselves and their goals, we're a support for them. Both [in] providing the dinners on demand and the education that can help them get what they want from the way they want to eat. 
The Culinary Center of Kansas City, 7920 Santa Fe Drive, Overland Park, Kansas, 913.341.4455, kcculinary.com