A new coffee shop is almost officially open for business inside Byers Mansion in Kansas City's Historic Northeast neighborhood.
Mansion Coffee has been pouring coffee for donations to anyone who stops in during the shop's "extended soft opening."
"During the first few months, the rule was if the first floor curtains to the mansion are open, Mansion Coffee is open. If the curtains were closed, then so are we," explains barista Loren Fleming.
Fleming owns and manages Mansion Coffee along with Cynthia Herrington and Johnny Lancaster, who also own Byers Mansion itself. The tall, stately gray house is located on Independence Avenue and opened to little fanfare around Thanksgiving last year. The trio has been waiting for the change of occupancy to finalize on the mansion, allowing the house to be zoned as a mixed-use space. Then, they will be able to officially open up the quirky retail coffee shop on the first floor of their new space.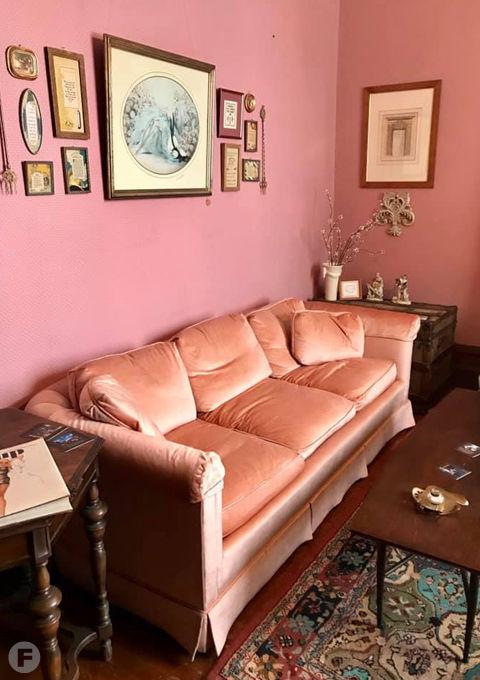 "We just decided to start inviting people into our space while we continue to wait," says Fleming. "It has been fun meeting new people who have wandered in to see what we are doing, and we hope of become a welcome new hangout in the community."
The buzz about this new coffee shop was first fueled by Facebook and Instagram photos of a house decked out top to bottom with antiques. First, a photo of a mysterious green typewriter holding a typed list of coffee drinks, with the name Mansion Coffee at the top, appeared on social media. Once the address was published, the people soon followed.
Inside the space, an American flag hangs over the fireplace mantle, and a guitar sits quietly in a corner of the main seating area, which is filled with furniture. The space feels familiar, as if you are having coffee in someone's home. A small parlor room is painted pink with a mid-century feel and a large jukebox in the corner. Head toward the back of the house, where the kitchen is located, and you'll find a counter where Fleming stands ready to take your coffee order.
Fleming recently installed a new espresso machine at the coffee bar, which offers a full selection of espresso drinks in addition to hot and iced tea, cocoa and cold-brew coffee. He originally purchased the espresso machine from his neighbor, and most diligent supporter, Kansas City barman Ryan Maybee (of The Rieger, Manifesto and J. Rieger & Co.).
"We had met Ryan as our neighbor, then we decided to go down to The Rieger and have a bite and some drinks while we finalized our plans for Mansion Coffee," Fleming says. "He overheard us talking about our need for an espresso machine and immediately offered to sell us the one he had in the basement of the restaurant. It worked out beautifully for everyone."
Fleming is currently serving Broadway Coffee at Mansion Coffee, but is open to switching it up and trying other local beans. Eventually, he'd like to partner with a local business to add baked goods to the menu at the coffee shop. For now, though, he just wants to focus on meeting people and making coffee.
"I love coffee culture because it is community building, and it feels like I have been preparing to open a place like this my whole life," Fleming says. "I have been low-key manifesting this for a while now."
Fleming first started making coffee when he was 18 years old working for Starbucks in Texas, where he grew up. Within nine months on the job, he transferred to another Starbucks location in Chicago, and from there made his way to New York City, where he started working for independent third-wave coffee shops. "I loved coffee because it was a skill that I knew I could do anywhere in the world," he says.
After living in San Francisco for a while, Fleming got the call from Herrington and Lancaster, who he knew from his days working as a barista at Black Brick Coffee in New York City. The couple were cooking up plans to open a new coffee shop inside Byers Mansion in Kansas City and wanted Fleming's help.
"I came to visit them, stayed for a few weeks, and then went home and packed up all of my things and moved to Kansas City immediately," says Fleming. "It just felt like I was meant to do this, in this space."
Now, Fleming is ready to introduce himself, and the mansion, to anyone who chooses to stop by for cup a coffee and some conversation.
Mansion Coffee is open Monday through Thursday from 7 to 11am, Friday from 7am to 4pm and Saturday and Sunday from 10am to 4pm.
Mansion Coffee, 2821 Independence Ave., Kansas City, Missouri, 816.915.8140,  facebook.com/mansioncoffeekcmo