For the past few weeks, Julep's new head chef Charles Barr has been quietly reinventing the club's southern-influenced menu to marry with cocktails and spirits that already pay homage to the South. Namesake cocktails at the Westport bar include The Apple of My Eye, which blends applewood-smoked Cardinal Calvados, sugar and mint served with a dehydrated apple wheel garnish and the Garden & Gun, a gin-based sipper with honey, lavender and lemon.
But forget collard greens, sweet potatoes, fried chicken and pecan pie; now is the time to shed assumptions about food from the South. As Barr brings a white circular rimmed plate of chicken liver mezzelune from the kitchen to a black dining table, late afternoon light washes over the arrangement. Clearly, he takes care when arranging food on the plate. "It should be a feast for your eyes," he says. "I take extra time to make it look beautiful so it is artful food."
His interpretation and presentation of this plated dish represents a studied calculation of familiar southern flavors elevated with a chef's touch. The dish features white pepper pasta, bacon, pickled garlic and whiskey butter sauce. Barr fills the mezzelune, petite half-moon stuffed pasta similar to ravioli, with creamy chicken liver mousse.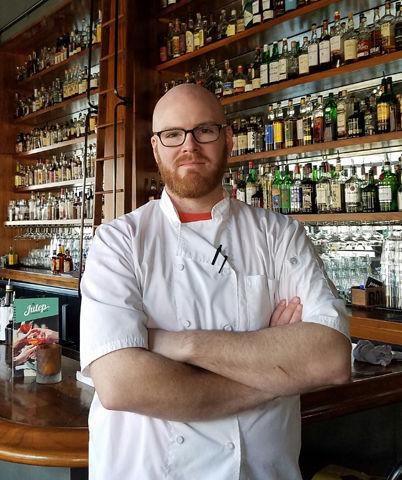 Rather than settling for a southern-fried version of chicken liver with gravy, Barr transforms humble innards in a subtle manner that work with other flavors found in the southern palate. Peppery nasturtium leaves not only add subdued color to the dish, but also echo the delicate savoriness of white pepper pasta. Barr's pickled garlic gel dots the plate along with crispy bacon and whiskey butter sauce.
Barr's food skirts along the axis of southern culture and cuisine without being wholly bound by it. His culinary skills, upbringing and food memories are reference points as well. "I was into food history growing up," says Barr, who was raised in Tawas City, Michigan. "It's not the culinary capital of the world."
After more than four years of service in the Army and brief studies at Kansas State University, Barr headed to The Art Institute's culinary school. "I also worked and learned on the job," he says. "I'm a hands-on learner."
In Kansas City, Barr worked as a sous chef at Krokstrom Klubb and Market, cooked at Port Fonda and spent 18 months cooking at The American Restaurant under former executive chef Michael Corvino. "Julep is a chance to do my own food," he says. "I want to get my name out there and build my own cuisine."
Bourbon pork sausage, one of the plate selections, is complemented with celery root, potato, ginger and house mustard. Beef tataki, served with charred slaw, house ponzu and egg, reveals Barr's interest in Asian dishes and flavors. Traditionally, tataki is a portion of seared meat or fish, left rare inside, that is sliced thin and served with a citrusy or vinegar-based sauce.
"The ponzu acts like a Carolina barbecue sauce made with apple cider vinegar to pair with the beef tataki," Barr says.
Barr also adapts a rustic food from his youth: cabbage rolls. At Julep, he fills them with farro and serves them with a mushroom tomato sauce. Smaller bites include southern touches such as pimento cheese balls, bourbon sorbet and smoked ham dip, a nod to Barr's grandfather Nicholas.
"For holidays, he used to make ham roll-ups," recalls Barr. "I combine cream cheese, Duroc ham and chive cream, and serve it with a buttermilk chive flatbread that is like a biscuit."
On weekends, the Bluegrass Brunch includes homespun favorites like a cornmeal waffle with Champagne cranberry syrup and house-whipped sour cream, and a sassy edition of shrimp and grits with a touch of citrusy ponzu sauce.
Barr plans to introduce a complete new mid-winter menu around mid-March. 
Julep, 4141 Pennsylvania Avenue #104, Westport, Kansas City, Missouri, 816.216.7000, julepkc.com