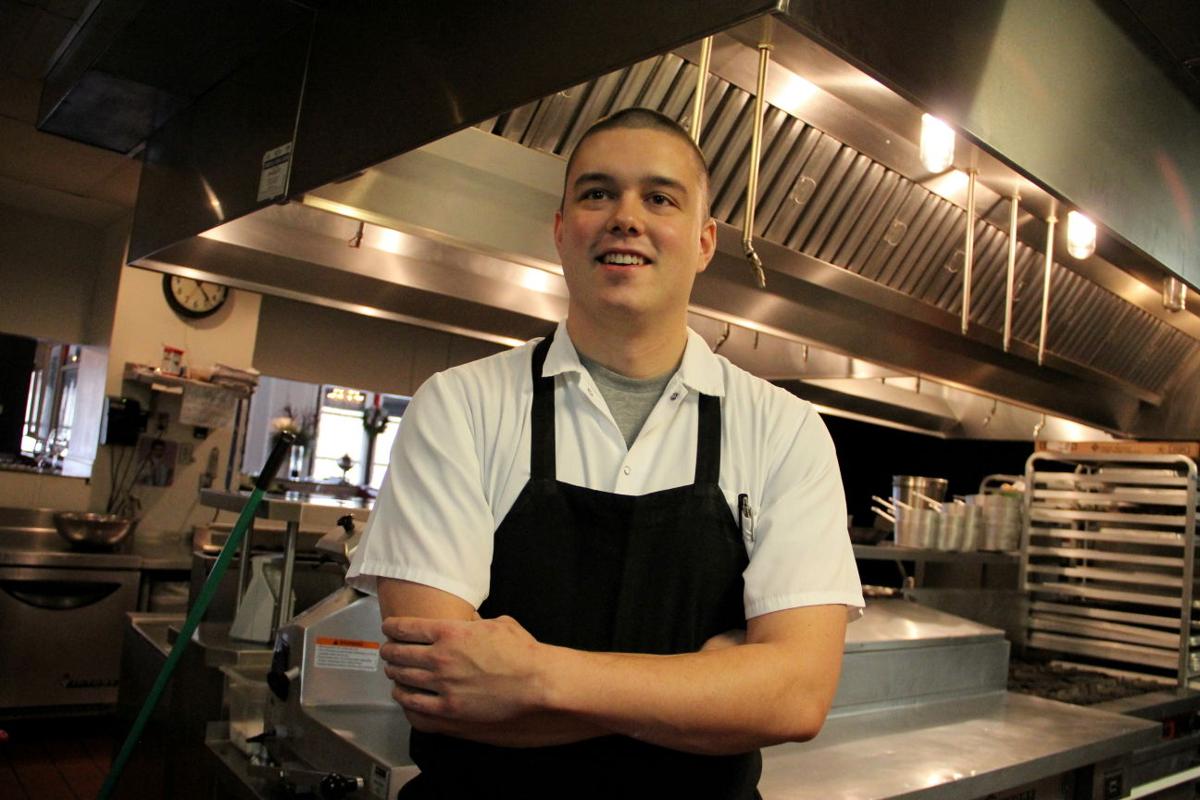 Sean Turner is the sous chef at Blood & Sand. This is part of an occasional series highlighting the work of unsung restaurant professionals.
At age 26, Sean Turner has quickly moved through all manner of kitchen experience, spending his last five months in the employ of two chefs that he worked under and admired during a previous stint at Central Table. Nick Martinkovic and David Rosenfeld lured Turner away from one of St. Louis' most-admired pop-up operations, Kitchen Kulture. The chance to work with them again — and the ability to work again in a set kitchen — brought Turner to Blood & Sand five months ago.
Unlike professionals who tuck aside mention of a teenaged job as, say, a fast food fry cook, Turner brings a refreshing sense of honesty to a conversation about his career. Thinking back to the time when he washed dishes at Kirkwood's PJ's Tavern, he notes that it was a "a year-and-a-half before they let me cook. In its own way, it was an important time in my life. I've treated dishwashers differently every day because of that. I'm very grateful to every place that I've worked. All have given me support. I'm happy to mention anybody I've ever worked for, since they've all been invaluable to getting me to where I am now."
Turner's also had stints at Brasserie by Niche and "the submarine kitchen" at The Royale, where he transitioned from "just working bar-and-grill jobs" to fine dining. We sat down with Turner over a couple of Schlitzes, as he wound down from a day-long shift at Blood & Sand.
What would you say is your strength at this point?
I enjoy the nerdy aspects of technique. The finesse, doing things over-and-over again until it's perfect. That's something I learned from the chef at Brasserie, Michael Petres. He instilled in me the idea of technique. With my Brasserie experience, it was my first step into real line cooking, fine dining. It was very formidable, the most-intense growing period of my life. I learned more in the year-and-a-half that was there than anywhere. It was crucial to who I am today. The people who worked there were really amazing, and Michael was one of them. I was there at the right time, with the right crew of people. It changed my life.
What's a challenge you'd like to explore?
I've travelled, but I would really like to live somewhere briefly, spend a year, or two, somewhere else. I love it here, but I wouldn't mind seeing what it's like to be in a bigger city: L.A., San Francisco, New York, Portland. Not to downplay what we have here, but I would think the eating/dining scenes in some of these bigger cities is more intense, which would be a good thing. When you work in big cities, you don't earn a lot. It's like boot camp. It would be a miserable, wonderful learning experience.
Are you interested in more exploration of the locavore movement here?
I think so. Being in the Midwest, there're obviously a lot of people raising animals. Agriculture's a big deal here. Lately, some of the newer things that are interesting are Dirty Girl Farms and Hot Skillet Farms. They're growing quality herbs and produce in the city. They're doing it on farms and in ways that people in St. Louis haven't done yet. … It is particularly hard where we are, as seasonal as we are. It's easier down south, or out west. But it's happening more and more. I really like what Niche is doing right now; they're going completely hyper-local, like making their own butter in-house, with all products from Missouri and Illinois. That's the climate in which we're heading. It's really hard, but that makes it more exciting, more rewarding.
Do you cook at home?
I do. If I'm off, I like to go back to rustic, country food. I like French foods, braises that take a long time. You can start a meal, walk away, do laundry and dishes, then when you're done you have a delicious meal.
Is there a dish in which you have total confidence?
Trout almondine. I dunno if I should say that… it's a really simple dish. But it's also one of the best-ever, so, yeah, that's alright to say!
Do you read a lot of media for inspiration? Do watch the cable food programming? Or do get most of your information given you hand-to-hand?
Initially, it came hand-to-hand. I do have an obsession with cookbooks. That's also something instilled in me by to Michael. He was always bringing me books, making me look at them. I don't watch the Food Network. Not to say that it doesn't have its merits, but it's not what I do.
Where do you eat out? And drink?
Taste Bar in the Central West End. I think the food is incredible and the drinks are really good. I like The Vine on South Grand. It's cheap and it's the kind of food I really like. The Everest Cafe's buffet is a guilty pleasure. And Rosie's Place in the West end is a guilty pleasure, for sure. I love that place.
Blood & Sand, 1500 St. Charles St., Downtown, St. Louis, Missouri. 314.241.7263, bloodandsandstl.com
---
MORE FEAST!
Hungry for more Midwest food-scene news? Follow us on:
Click here to subscribe and each month you'll receive a delicious serving of Feast delivered directly to your home, hot off the presses!
Subscribe to our weekly enewsletter here!