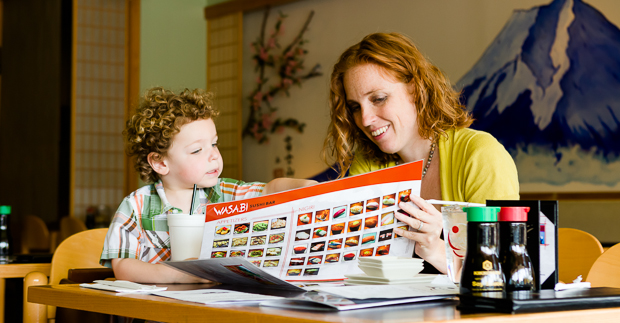 A St. Louis-based food blogger, Stefani Pollack of Cupcake Project, shares what works – and what doesn't – in dining out with her 3-year-old son Myles.
When Myles, my now 3-year-old son, was born, I learned through a playgroup friend about baby-led weaning, and my husband Jonathan and I decided to take that approach in introducing him to food (read more about it here). As such, when we started Myles on solids around 6 months old, he joined us at the table, where he could choose to eat - or not eat - whatever was presented to him.
Much of the time, the table wasn't at our home but at a St. Louis-area restaurant, as Jonathan and I took - and continue to take - Myles out to lunch almost every day. We both work from home and any time spent cooking and cleaning is time not spent working. Eating out is one of the ways we manage our time. Yes, we could make time to cook. But, we love the excuse to get out of the house, relax and be served. I know many people wouldn't find dining out with a toddler to be relaxing, but we love it, and the best part is that it's allowed us to introduce to Myles to all types of different foods.
Here are some tips and approaches that have worked for us:
1. Enjoy Each Other's Company
If Myles gets bored while waiting for the food, we'll read a book together. No electronics at the table (that applies to Mom and Dad, too). Dining is about being with each other and enjoying the company and the flavors.
2. No Food From Home
We don't bring food from home to restaurants. Myles would have been thrilled if we served him Cheerios every time we went out to eat. But, we wanted to get him used to eating different foods, so that wasn't an option.
3. Long Wait? Ask for Snacks
We noticed that if we fed Myles as soon as he sat down, he would be bored by the time our restaurant food arrived. The whole goal is to be able to eat together, so his food needed to show up when our food showed up. If there was a long wait, we'd ask our server to bring some crackers or fruit that we could all nosh on. Without exception, they were happy to help out. A side note: Even this can be a good way to explore new tastes. Myles's fruit plate from Milagro Modern Mexican contained jicama, something he'd never tried before!
4. Have Your Kid Eat What You Eat
When you ask Myles what he had for lunch, his response is often, "I ate all of Daddy's food!" This isn't a bad thing. We get two plates of food for the three of us. This helps Jonathan and me with portion control and forces Myles to try new things. As he's gotten older and developed more of his own tastes, we now take his preferences into account when we decide what to order, and sometimes even allow him to select which restaurant we go to.
5. Skip Snack Time at Home
Unlike most of his peers, Myles doesn't have a regular snack time. No snacks means that he is hungry and ready to eat at mealtimes.
6. Limit the Amount of Time at the Restaurant
We don't have long dining experiences. We know better than to order multiple courses with a toddler in tow, but Myles is perfectly capable of sitting through a one-course meal, and we hold him to it. When the meal is over, if he's getting antsy, one of us will get up with him while the other pays the check. Other than that, he's learned that he has to stay put.
7. Avoid Naptime and Bedtime
We never dine out near naptime or bedtime. We know the times that are best for Myles. When we strayed from that and tried to dine out later at night or when he should have been taking his afternoon nap, it wasn't pretty.
Even with these guidelines, there have been banging-the-fork-on-the-plate days and days where Myles has been so loud that we've had to leave the restaurant. But, in his three years of life dining out almost every day, I can count those moments on one hand.
So, where do we dine? Check back here next Wednesday to find out!
---
With a stronger-than-ever national focus on what kids are eating, we're looking at how local culinary instructors, educators, chefs and food-savvy parents are getting children excited about cooking and making smart food choices. Every week, we bring you weekly tips, recipes, dining-out ideas, hands-on activities and more.