Is any meal lazier, or more pleasant, than brunch? Breakfast is for getting up and getting moving. Lunch is for fueling up to get back to work. Even dinner, with its social demands, can have its stresses. But brunch? Brunch is pure bliss.
From Southwestern-focused diners to classic greasy spoons, from farm-to-table cuisine just steps from a greenhouse to an authentic Scottish feast, St. Louis has a brunch spot for everyone. Here are our 10 favorites.
Did we miss yours? Let us know in the comment section below.
10. Whitebox Eatery
The fast-casual trend is taking the local dining scene by storm, and Whitebox Eatery is a textbook example of how to master the style. The sleek Clayton spot, which opened in August, serves breakfast, lunch and weekend brunch. The latter includes sandwiches found on the weekday breakfast and lunch menus, as well as additional plates like biscuits and gravy with peppery turkey sausage gravy, the Whitebox Breakfast (eggs, meat, bread with housemade preserves and fruit) or corned beef hash. Housemade latte syrups in flavors like vanilla and chai are a nice added touch to the beverage program, which includes the now-popular flat white as well as fresh juice blends in flavors like sweet potato and pear or beet and carrot. Order at the counter and grab a seat at one of the earthy wooden tables, or take your meal to-go in one of the restaurant's signature – and namesake – white boxes. Whitebox Eatery, 176 Carondelet Plaza, Clayton, Missouri, 314.862.2802, whiteboxeatery.com — Heather Riske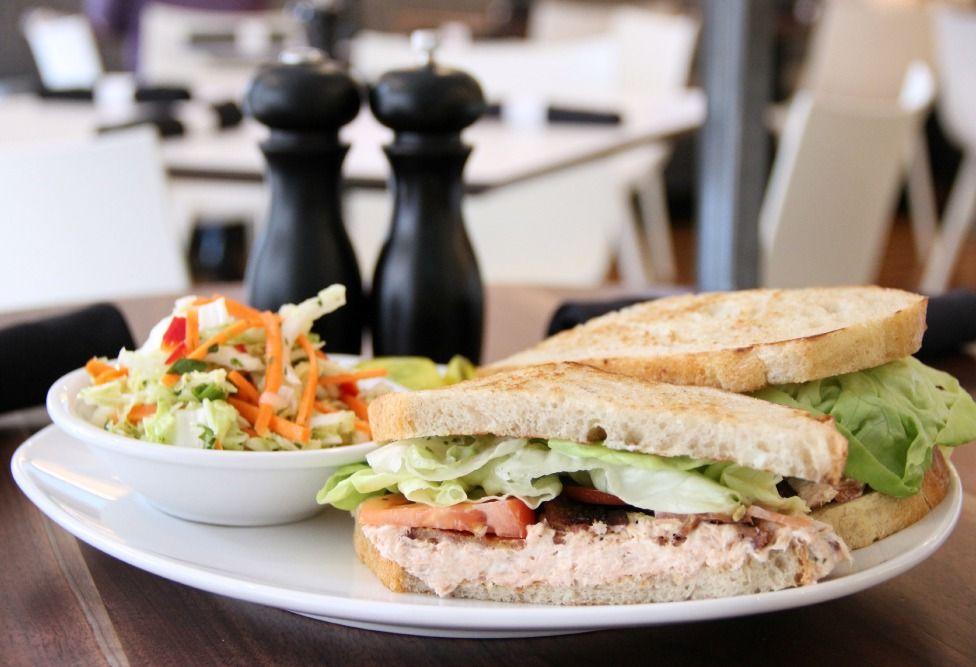 9. Soulard Coffee Garden
This quaint café in Soulard is a casual cool brunch spot perfect for a large group or a table for two. Searching for the perfect omelet? You can choose from six different combos on the menu or create your own. Or try the Eggs Benedict, which has become a popular menu item thanks to versions such as the Eggs California or the Veggie Bennie. If it's a chilly morning, head upstairs and nestle into a booth by a window overlooking Geyer Avenue. But if the weather is nice, opt to dine in the restaurant's private backyard while sipping a Bloody Mary. And don't worry if your Saturday morning started a bit later than usual — breakfast here is served all day. 910 Geyer Ave., Soulard, St. Louis, Missouri, 314.241.1464, soulardcoffeegarden.com — Anna Beck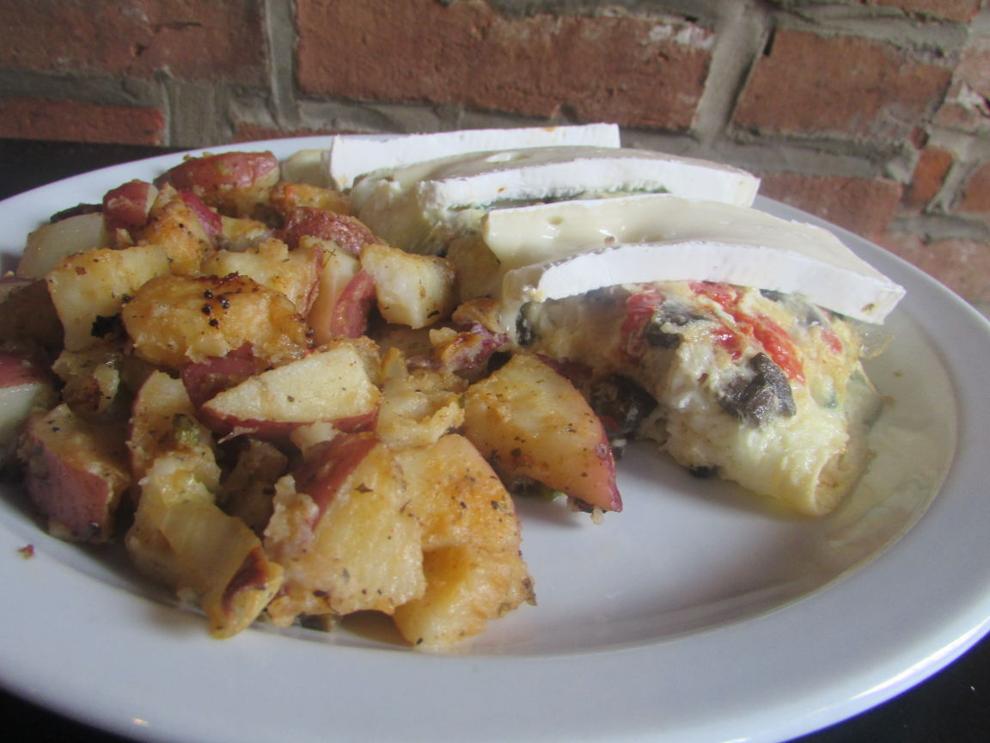 8. Goody Goody Diner
Goody Goody has been in business since 1948, making it one of St. Louis' oldest diners. Open seven days a week in the Wells/Goodfellow neighborhood, the no-frills kitchen serves up traditional breakfast fare. The hotcakes, French toast and breakfast potatoes are popular favorites — but Goody Goody may be best known for its chicken & waffles. This classic combination pairs half of a fried chicken with a piping hot Belgian waffle, and at only $11.95, this hearty meal doesn't break the bank. Be sure to ask for extra maple syrup – and napkins! 5900 Natural Bridge Ave, Wells/Goodfellow, St. Louis, Missouri, 314.383.3333, goodygoodydiner.com — Stephanie Shepard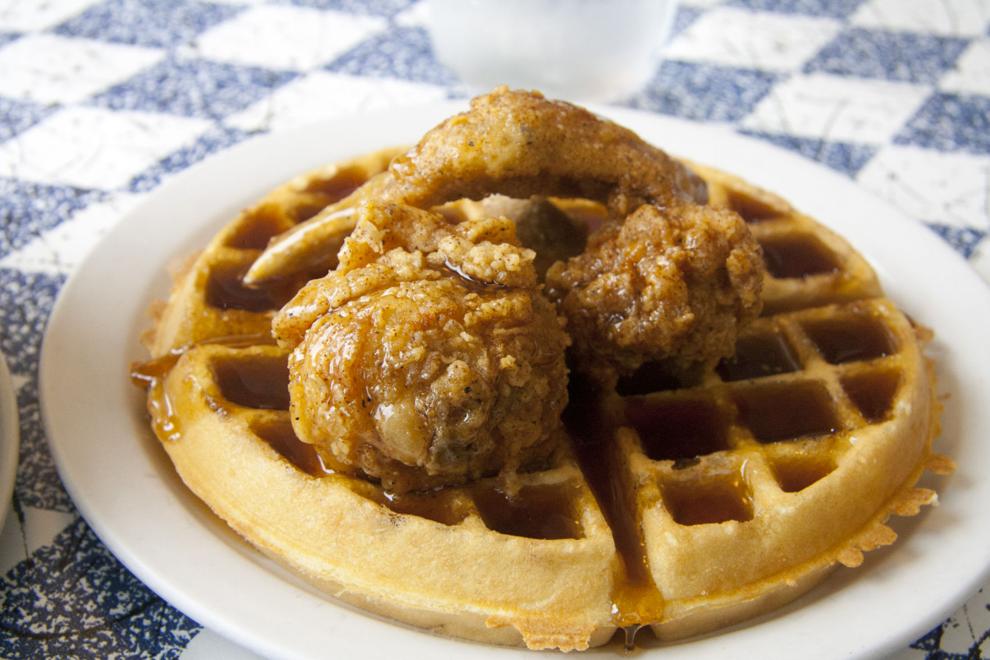 7. Café Osage
For a brunch that tastes as fresh as it looks, head to Café Osage on the northern edge of the Central West End. Located within the repurposed greenhouse/warehouse Bowood Farms, this bright and chic cafe serves picture-perfect dishes made with produce and herbs grown in the on-site gardens. (After you eat, stroll around Bowood Farms' home and garden store or peruse the greenhouse, where you can purchase herbs for your own garden.) For brunch, order the Osage Scramble, and be sure to ask for the homemade jam with your side of toast. Or try the Mixed Grain Pancakes with Fruit Compote. Then take a peek at their cocktail menu for drinks such as the Secret Garden. The mix of tarragon simple syrup, fresh lime juice, gin and Secco Brut is a fitting end to your weekend brunch. As you receive your check tucked away inside a vintage book, you'll wonder why brunch can't always be this perfect. 4605 Olive Street, Central West End, St. Louis, Missouri, 314.454.6868, bowoodfarms.com — Anna Beck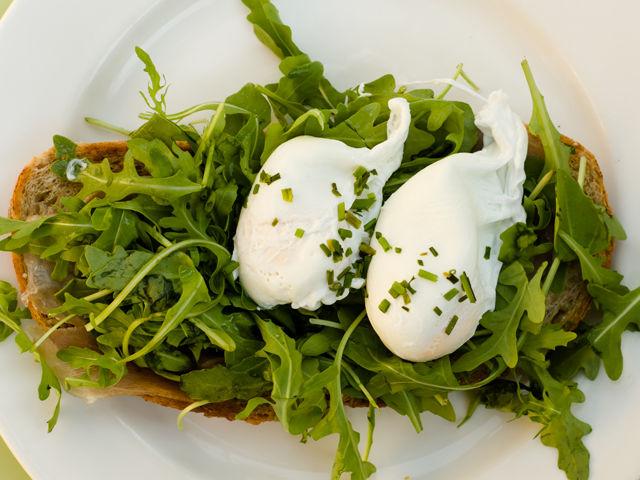 6. Winslow's Home
Ann Sheehan Lipton and Randy Lipton's cafe-slash-marketplace just east of the Delmar Loop feels both modern and retro – and both in the best possible way. You can get a nifty bridal shower gift or kitchen gadget here, but that's almost always incidental to our real reasons for visiting, which are the food and that glorious patio. The Liptons know how to hire great chefs, as evidenced by the big names who've worked in their kitchen (Ben Poremba, Cary McDowell). And with food fresh off their farm in Augusta, Missouri, the results couldn't be tastier. The breakfast options are terrific, yet we still find ourselves ordering the brisket sandwich time and time again. Hey, if you get it with a side of bacon, does that make it more brunch-worthy? Winslow's Home, 7213 Delmar Blvd., University City, Missouri, 314.725.7559, winslowshome.com — Sarah Fenske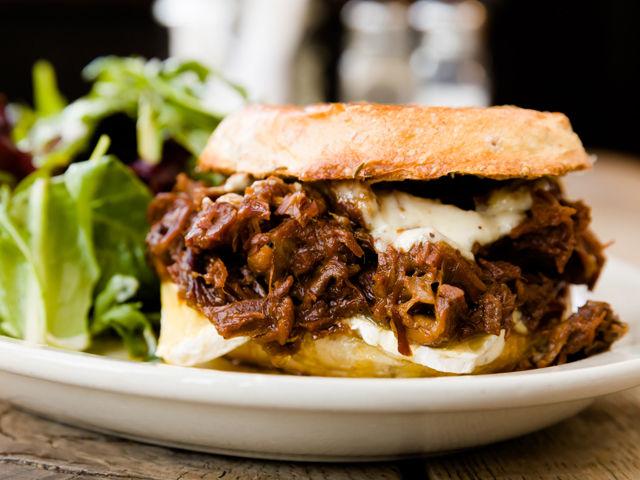 5. Retreat Gastropub
If you want to snag a seat at Retreat Gastropub for brunch, you better head there early. Since opening in October 2015, the modern-yet-rustic pub has won fans for its weekend brunch, featuring dishes like a poutine slinger with mushroom gravy, salmon cake Benedict, farmhouse burger topped with a fried egg and a weekly rotating quiche. In January 2016, Retreat brought in a pastry chef who switched up a couple items – owner Travis Howard says the house biscuits used in the biscuits and gravy and chicken biscuit sandwich are much improved – and also added beignet-like donut holes filled with pastry cream and berry coulis that are served with chocolate sauce. In addition to the perennial Bloody Mary, Retreat offers some seriously creative cocktails, including a Cold Fashioned with Sump Coffee's cold brew, sugar and bitters, as well as several housemade shrubs in flavors like Pineapple Sage, Orange Vanilla and Cherry Balsamic. Pair them with gin or vodka and ginger beer for a hair of the dog, or simply add tonic for a fun nonalcoholic thirst-quencher. — Heather Riske 
Retreat Gastropub, 2 N. Sarah St., Central West End, St. Louis, Missouri, 314.261.4497, retreatgastropub.com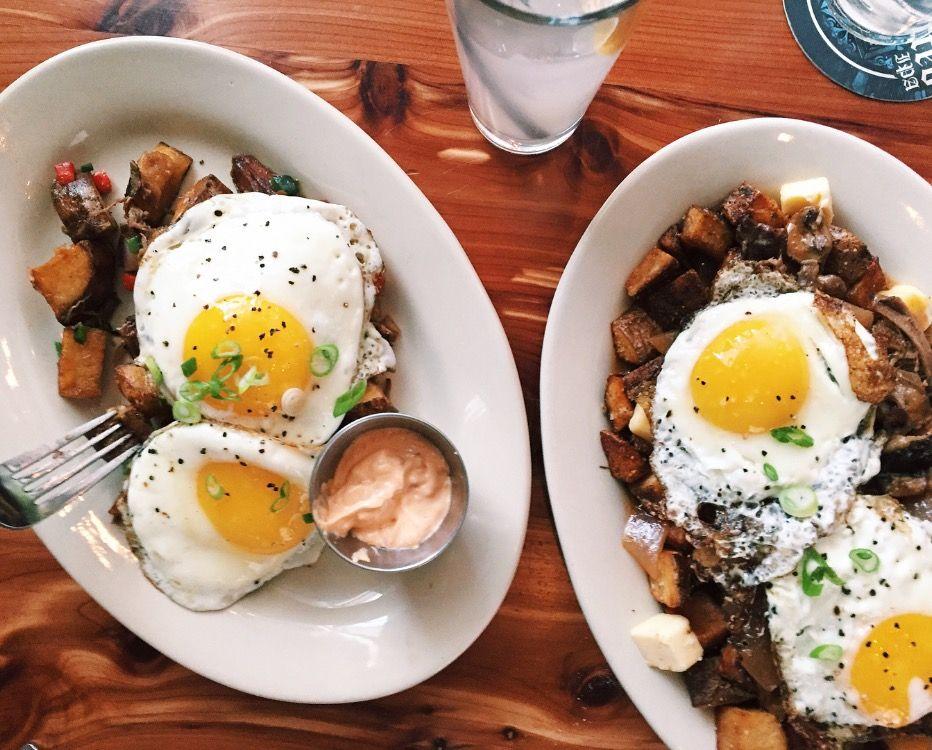 4. The Scottish Arms
If sidling up in a cozy wooden booth with a plate of authentic pub grub and a beer is your idea of a Sunday morning cure-all, you'd be hard-pressed to find a better spot than The Scottish Arms in the Central West End. Brunch highlights here include the apple and pork banger omelet, duck confit hash and the aptly named Highland Hangover – a platter featuring a massive Scotch egg, forfar bridies (Scottish meat pastries), smoked salmon and home fries. The food is tasty, filling and truly authentic – it's likely even brought to your table by a server in a striped kilt. Wash it all down with a beermosa made with orange juice and a Hefeweizen, "endless" mimosas or a trip to the Bloody Mary bar, where you can garnish the eye-opener to your liking. For the true pub experience, stop in when a soccer match is playing on one of the pub's many screens and stick around for a pint or two. The Scottish Arms, 8 S. Sarah, Central West End, St. Louis, Missouri, 314.535.0551, thescottisharms.com — Heather Riske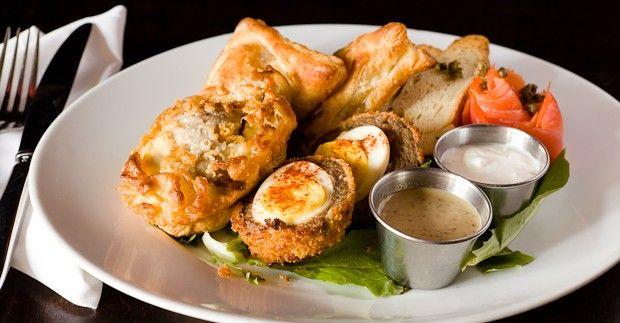 3. Southwest Diner
Located on the corner of Southwest and Abbott just a stone's throw from Maplewood, this popular brunch spot features traditional diner items with a Tex-Mex flare. Featuring everything from buttermilk cornmeal pancakes to carne adovada, or red chile braised pork shoulder, Southwest Diner has something for everyone. While there are plenty of delicious options, we recommend Johnathan's Famous Fiery Scramble, a generous platter of spicy, cheesy scrambled eggs, sausage or bacon, home fries and toast. Waiting for a table? No need to shiver in the cold (or swelter in the heat). Now they have a bus for that, and it's adorable. 680 Southwest Ave, Ellendale, St. Louis, Missouri, 314.260.7244, southwestdinerstl.com – Stephanie Shepard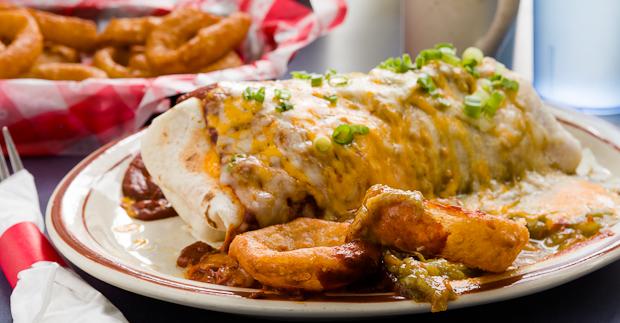 2. Rooster
Dave Bailey's restaurants do everything well – from decadent desserts (Bailey's Chocolate Bar) to whiskey-and-vegetarian offerings (Small Batch). Our favorite of the Baileys' Restaurant joints, though, is Rooster, a bustling downtown breakfast-and-lunch spot that recently added a second, bigger location in Tower Grove. There's a huge roster of crepes here, but we've never quite gotten around to ordering one, so obsessed are we with the scrambles: three eggs and a bunch of inspired combinations (bacon, mushrooms, Emmenthaler and arugula, anyone?) served over potatoes. We also firmly believe the Bloody Marys, with no less than five options, are the best in town. Cock-a-doodle-do! Rooster, 1104 S. Locust, Downtown St. Louis, Missouri. 314.241.8118, Also Rooster South Grand, 3150 South Grand Blvd., South City, St. Louis, Missouri, 314.772.3447, roosterstl.com — Sarah Fenske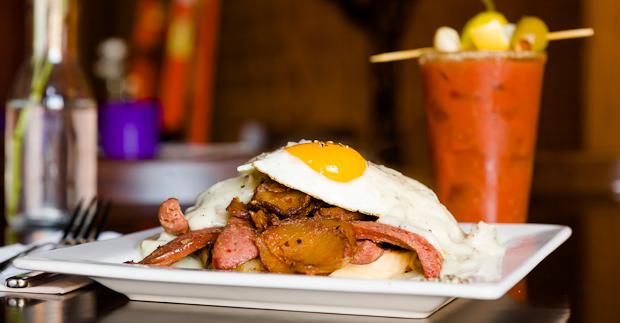 1. Half & Half
If the line snaking around the door each Saturday and Sunday is any indication, the brunch at Half & Half in Clayton just can't be missed. Crowds pour in for weekend specials that focus on fresh, seasonal ingredients, like sweet potato hash with Swiss chard and mushroom, banana bread French toast or pumpkin pancakes served with cinnamon honey butter and crème anglaise. So while the restaurant's interior might be simple, the menu is anything but. Classic breakfast comfort dishes get a sophisticated spin, like Eggs Benedict topped with chorizo and avocado or the popular Clara cakes infused with raspberry, mascarpone and granola. Standard brunch cocktails, like Bloody Marys and mimosas, are on offer, but the coffee program is what really stands out here. Several varieties are available from local roaster Blueprint Coffee (whose co-owner Mike Marquard developed Half & Half's impressive coffee program) and those in need of a caffeine fix can choose from the standard drip coffee, espresso, pour-over or cold brew. Half & Half, 8135 Maryland Ave., Clayton, St. Louis, Missouri, 314.725.0719, halfandhalfstl.com — Heather Riske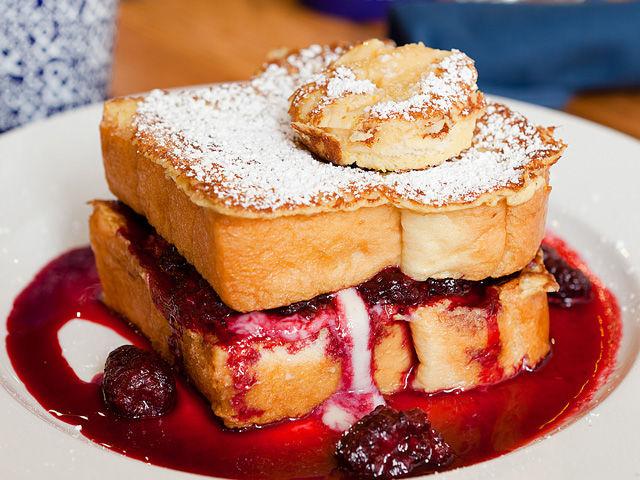 Editor's note: This post was updated in March 2016 to reflect the closing of Jimmy's on the Park.